Our first wedding anniversary is on Monday! I just cannot believe that this year has passed by so quickly. Here is a list of things I've learned this past year in no certain order.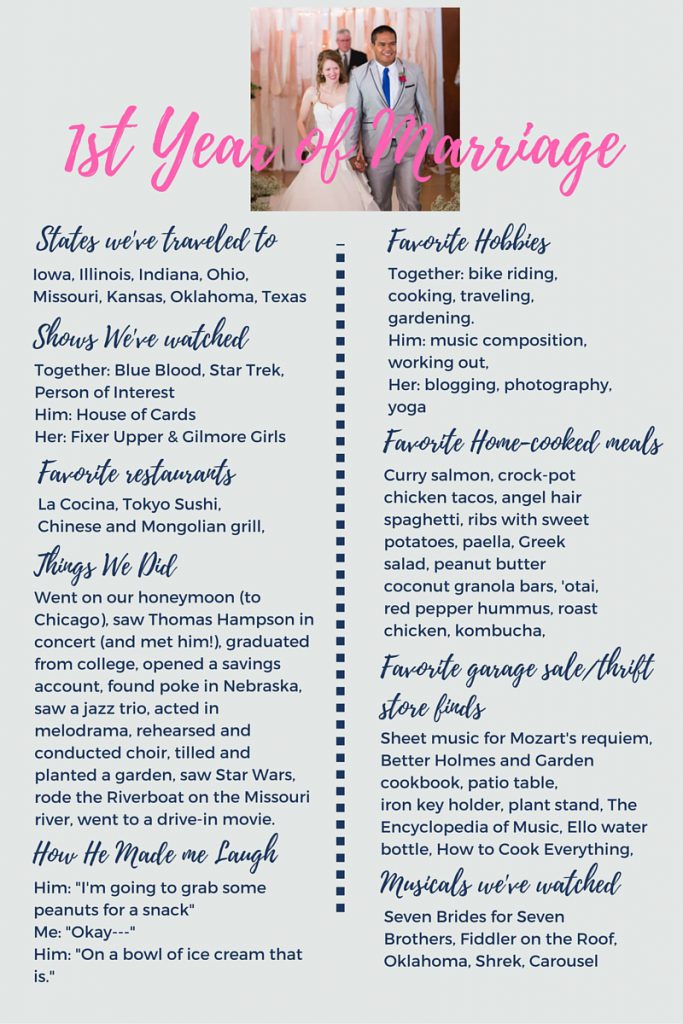 Marriage
Don't talk to anyone about an argument until it hits the twenty-four hour mark. I used to call up my family/friends when I argued with my hubs to talk it out. We decided that we would use a 24 hour rule. If the argument lasts less than a day we won't talk to anyone about it. If it extends into the next day then we can bring in outside help. This rule not only has helped us to deal with newlywed disagreements on our own, but also has made me realize that most of our arguments are short-lived.
If you happen to marry a man who will willingly clean the bathroom, and weed the garden then cook him lots of delicious food. He's worth it.
He will mess up. You will mess up. Marry a good forgiver, and be one yourself.
I used to have a long list of what I wanted in a man. If I was advising a single woman now, I would include these things only: he loves the Lord, he is kind, and he makes you laugh. Those three things are what I have been most grateful for this year.
Trust your husband. Trust his judgments. His insight. His ethic. Unless he's wrong. Then call him out. There are two of you in this marriage for a reason.
You can both have rich friendships outside of your marriage. Invest in your friends.
Seek out things that delight your husband (like finding some traditional Hawaiian food smack dab in the middle of Nebraska).
About Myself
I talk in my sleep, laugh in my sleep, and get extremely angry if someone tries to wake me up (so he says).
I need structure in my daily routine, but not too much structure.
I have baby fever. And puppy fever. Don't lend me a parakeet or I might get parakeet fever too.
Homemaking
Boldly ask your landlord for 1). The permission to put nails in the wall 2). The ability to till a garden. Then enjoy those things to the hilt.
Homemaking will come step by step. Let your routine evolve naturally.
It is perfectly okay to eat homemade tacos every single day.
Budgeting
There are a few things that are worth paying a bit more money for, even on a tight budget: toilet paper, grass-fed beef, and a clothes drying rack (that won't collapse under a load of towels).
No matter how painstakingly frugal you are in every other area of your budget, if you don't get your eating out under control you'll never have any extra money.
Budgets are no fun, but they allow you to have a peace of mind. Keep trying until you find something that works.
In Hindsight…
There are a few things you should never procrastinate on. Consider: changing your car brakes, saying "I'm sorry", and training for a half-marathon.
When you leave on a trip for Christmas be sure that the fridge door is completely closed. Otherwise you will arrive home to the odious smell of half of a rotten turkey decomposing in your fridge, and cry as you lug a trash bag full of food out the door.
What are a few things you have learned in the past year? What would you add to this list?