I cheated on my favorite grocery store this last weekend.
If you have been reading Dandelion Pie for awhile, you know how much I love to shop at Aldi, and why I make an effort to drive over an hour to get my Aldi fix at least once a month. We live in a small town where the biggest grocery store is Wal-Mart, and as I have edged closer to living a life centered around real foods, I have found my shopping list needs not being met at good there. Even worse, I have often been dismayed by the depleted, wilted veggies and prices higher than I would have expected. Therefore, a few months ago, I gave up on Wal-Mart and decided to make the effort to shop from stores that would satisfy my grocery needs.
I have never grown weary of Aldi, but when I heard about the new organic, budget-friendly store that had recently opened up only five minutes from Aldi's I knew that I had to try it out.
Our First Shopping Trip in Fresh Thyme
I looked forward to this shopping excursion as if I was a child going to a theme park. I read every blog I could find about Fresh Thyme, printed off the sales ad for that week, and made sure I had lots of money in our grocery budget (since one of my goals this month is sticking to our budget). We drove in, went to church, and headed to Fresh Thyme right after.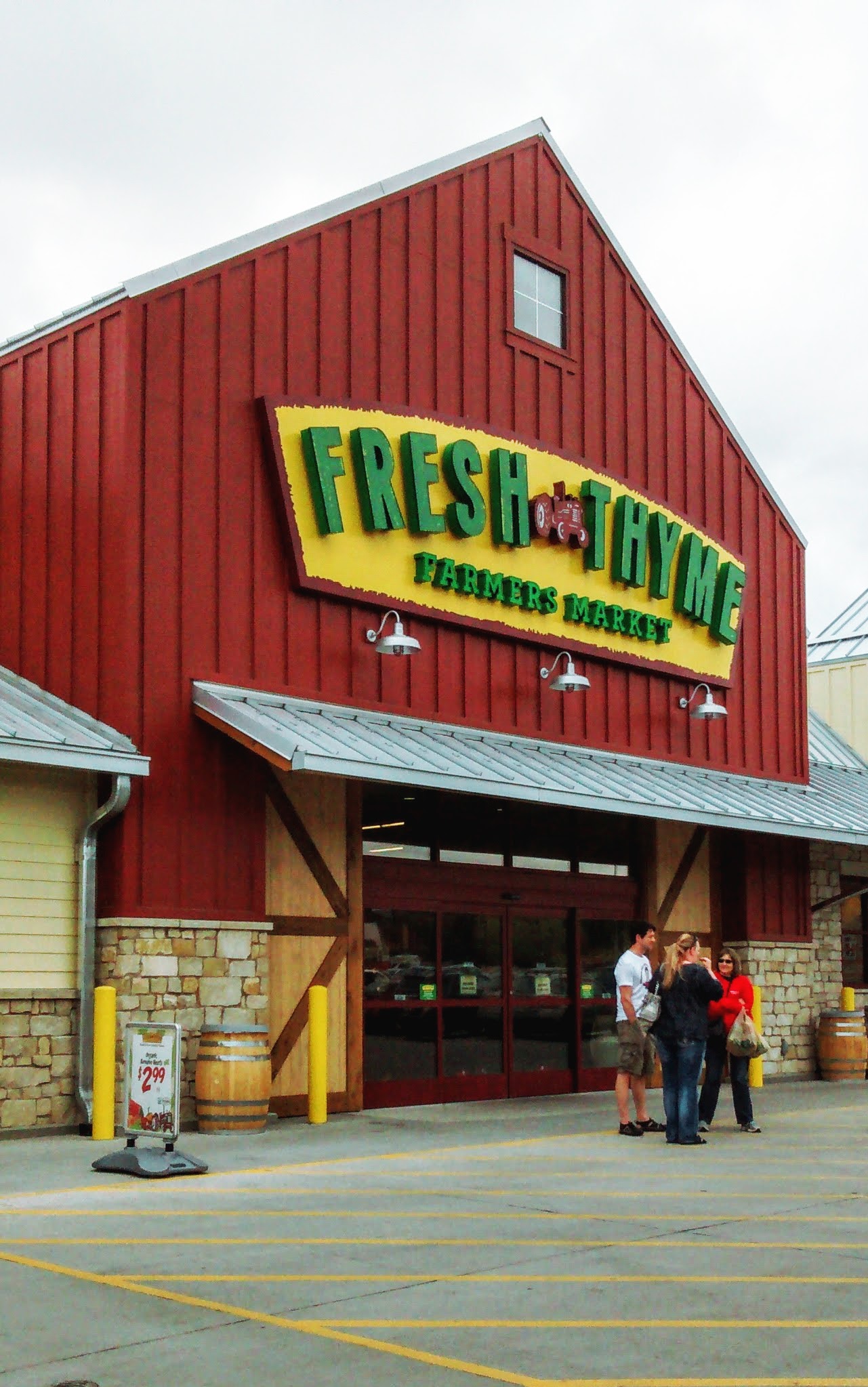 I did a little jig as we walked in with our reusable grocery bags, and a full pocketbook. I was just that excited! However, despite my initial excitement, once we stepped through the doors I immediately felt overwhelmed by the variety, colors, and sales. I was used to Aldi with its clear path through the store, wide open aisles, and minimal options. In Fresh Thyme, the aisles were smaller, there seemed to be sales signs everywhere, and I kept running in to people. Ack! I had to stop, take a deep breath, and figure out which direction to walk first. Once I slowed myself down I navigated the store a lot better. What I noticed was that they had several big displays of produce that were on sale in the front of the store which would be helpful if you were a seasoned shopper just running in to grab the sales items, but very confusing for a first time shopper. After I picked out some veggies (49 cent per pound red potatoes!!) and fruit (five kiwis for a dollar?!) we walked past the salad bar, sushi bar, and pizza station.
We meandered into the back corner of the store where we found a fish and meat counter that boasted of a wide variety of chicken sausage, and my hubby found fresh, homemade poke (a cold, raw fish salad from Hawaii). I cannot tell you how incredibly excited my hubs was to find some traditional local food from Maui here smack dab in the middle of Nebraska. He was beaming.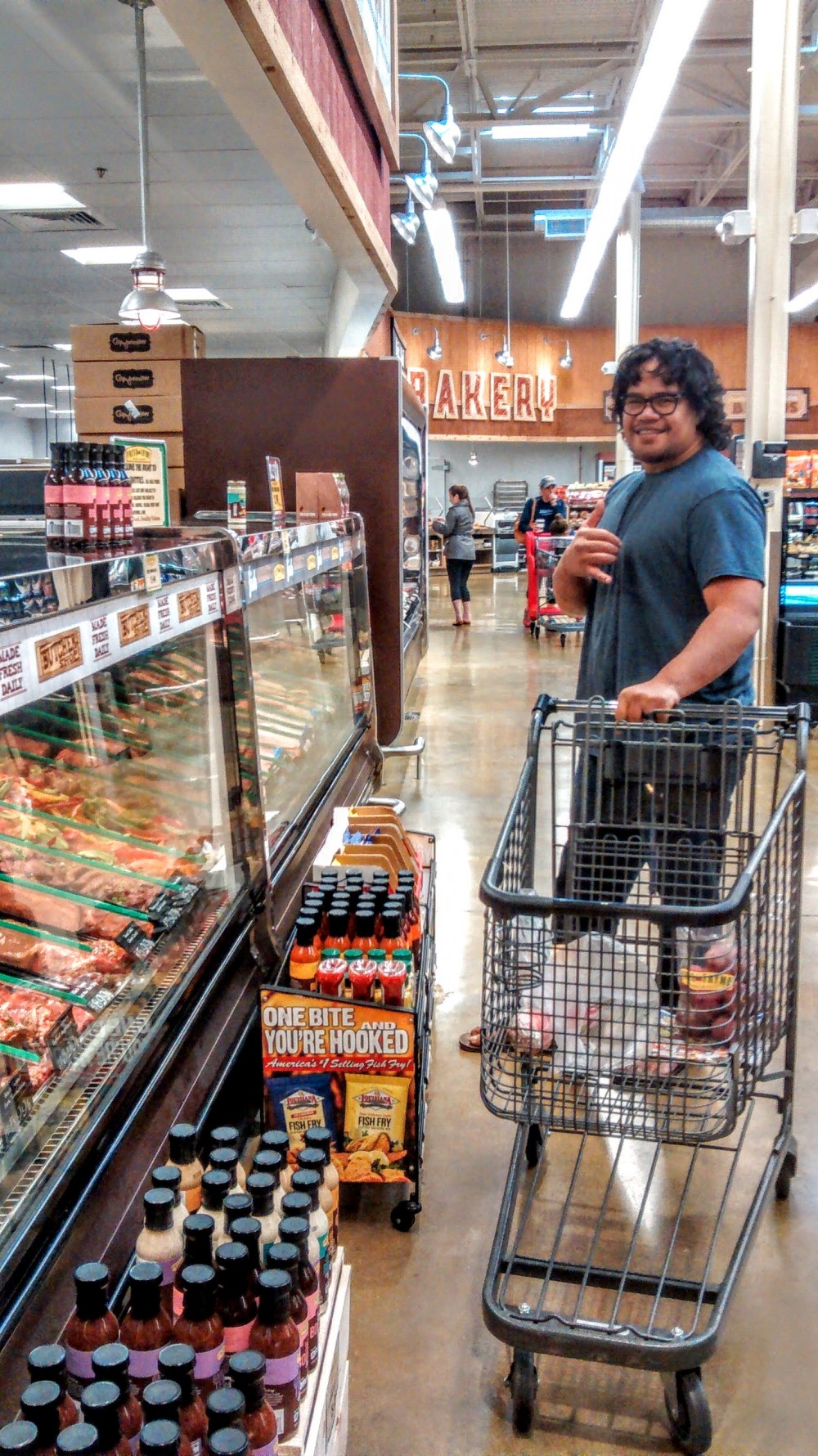 The fish, and meat counter was one of my two favorite areas of the store. Not only did we find fresh poke (major wifey points here!) we also bought a lot of chicken sausage (made in the store!) on sale for less than $2 a lb. They had a lot of different flavors (we are cooking the buffalo sausage tonight.) There is just something about getting a bunch of fresh sausage wrapped up in brown paper that makes me incredibly happy.
They also offer a lot of grass-fed beef, venison, goat, and even lamb! The prices were a bit too high for my liking, but their variety really impressed me. After we hit up the meat department I walked into the produce area (my second favorite part of the store!) which, again, had incredible variety with prices that rivaled Aldi. I grabbed lettuce for 99 cents a head, large avocados for 77 cents each, and carrots for 99 cents a bag. I was really impressed by the quality of the produce, and the fact that I could buy inexpensive organic food! A crate of organic strawberries was only $2!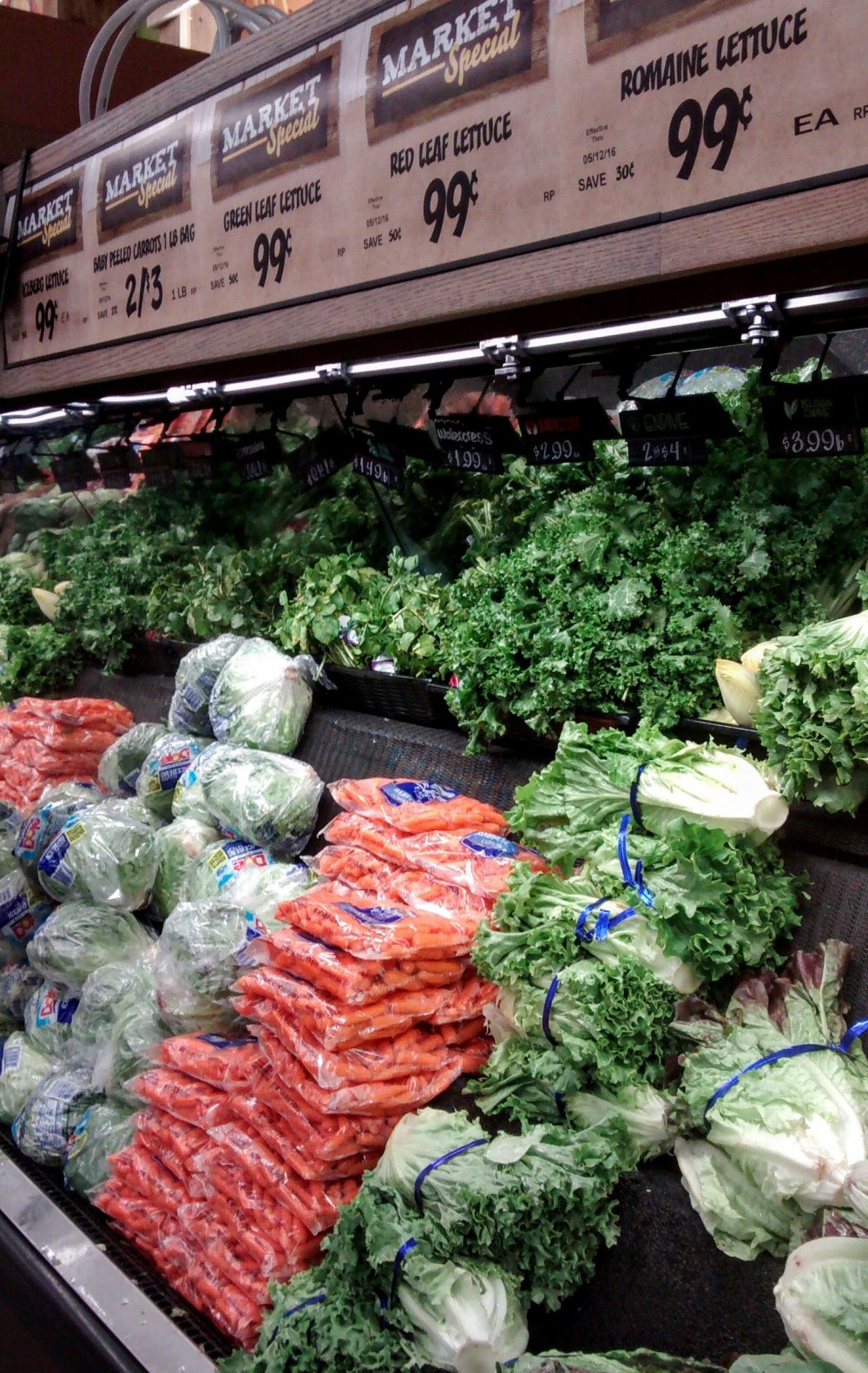 While I was hitting up the produce, hubs perused the dry goods aisles and found some curry seasoning, as well as a large bottle of Liquid Aminos (which we use in place of soy sauce) for half the price I have found anywhere else. He also happened upon his favorite brand of ramen, and stocked up.
Overall, I felt really happy with the entire experience. Everything we have eaten from that shopping trip has proven just as tasty as it was budget-friendly. This is what $65 at Fresh Thyme looks like. Granted, we bought a few higher priced items ($8 for a lb of poke, and about $16 worth of ramen).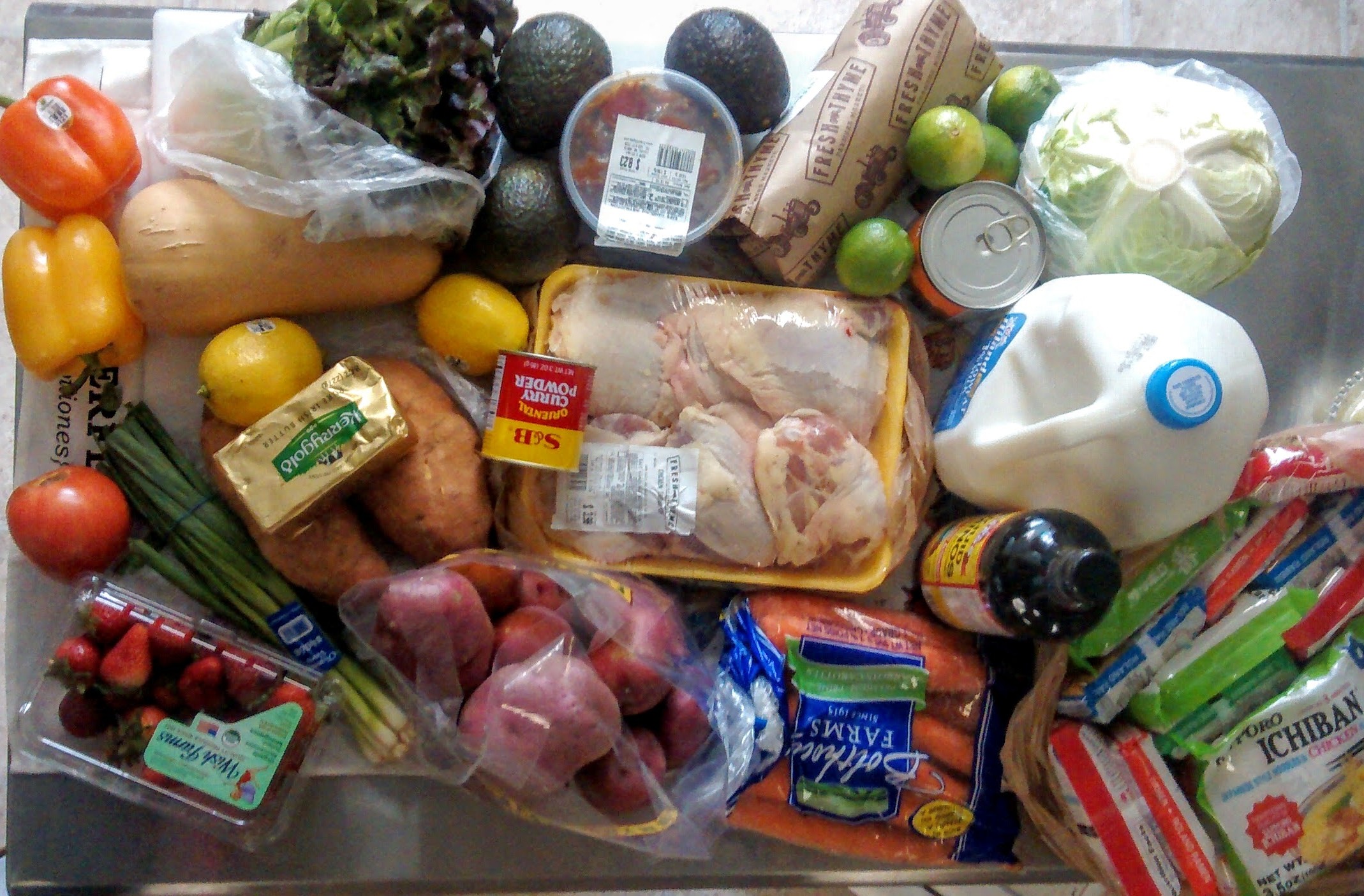 Fresh Thyme Pros
They have incredible sales for produce and select meat. I stocked up on so many fruits, and veggies not to mention all those chicken sausages! 

Wednesday is the day to go! They have a double ad day every week where they honor both ads.
They sell fresh poke (this is my hubby's new favorite store).
They have a bulk honey station where they sell local honey in a variety of containers and sizes as well as a station where you could grind your own peanut butter, cashew butter, or almond butter.
They have a fresh sushi counter, a juice station (where all fresh juice is made in-house), and even a pizza counter. So if you are as famished as we were you can grab something to eat (or just eat the samples, like we did. Good sushi!).
They had great sales on organic produce (even better than Aldi!) making it easier to grab the organic items versus the non-organic.
They carry a lot of natural food specialty items such as liquid aminos, grass fed meats, nutritional yeast, etc…
A lot of their fresh produce was just better quality than Aldi. Their avocados were bigger, they had more varieties of lettuces, and even specialty items like taro root and yucca.
They offer samples!
Fresh Thyme Cons
I felt as though they had incredible prices in some areas (hello produce!), but not in others (dairy, beef, boxed products). This store definitely is not a one-stop-shop for me. Aldi, as a whole, provides the best budget-shopping in all areas making it easier to get my whole grocery list crossed off.
A lot of their specialty counters (sushi, pizza, fresh juice) were pretty pricey. I felt like there was definitely a lack of continuity between the super inexpensive sales items and even regularly priced fresh produce and the rest of the store.
The Bottom Line
I will keep Fresh Thyme in my rotation of grocery stores. I will probably keep an eye on the ad every week, and when I have a bit more time to shop I will run in there before I complete the bulk of my shopping at Aldi. Aldi will remain my grocery store of choice. Aldi just meets my day-to-day needs better (in half the time), but Fresh Thyme offers incredible prices in produce, a lot of variety, and many specialty items for a lot cheaper than comparable health food stores.
Have you ever shopped at Fresh Thyme or Aldi? Which is your favorite? Why?