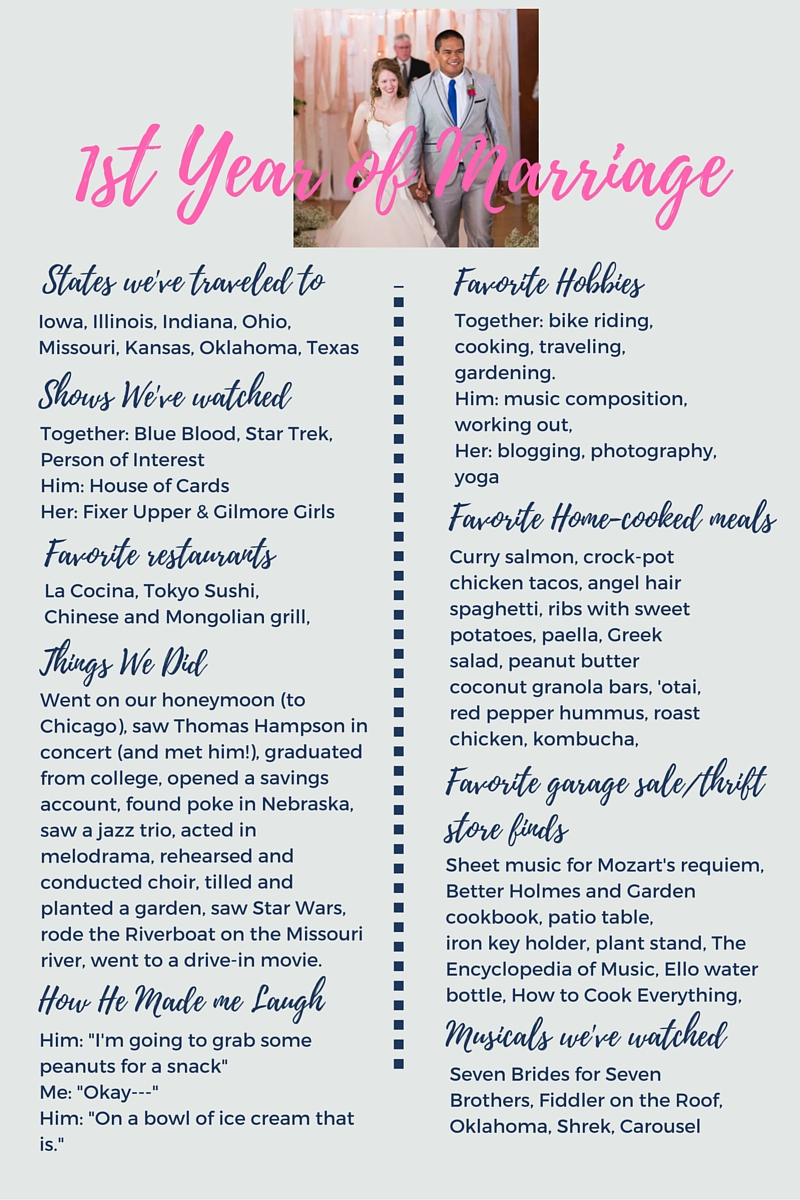 It crept up on me.
We reunited after a summer apart. We got married. Went on our honeymoon. Moved into our apartment, and started the fall semester. We made it through a whirlwind semester full of lasts, and firsts. We drove to Ohio for Thanksgiving. I graduated from college. We road tripped to Texas for Christmas. He finished his school year. We fixed our car. We tilled the garden. He got summer jobs. We laughed, fought, and lived. And today is our first anniversary.
Worry, for me, is a default. Most days, I have to relax my clenched fists, and remind myself to roll with the punches. When I got married I had a list of fears about wedded life. They said the first year of marriage is the hardest, that real life can be so disappointing, and to enjoy the honeymoon while it lasted. And there was truth in those whispered cautions. And yet, I love this year's version of us about a million times more than the two people who stood at the altar a year ago. Him in his gray suit, and her in the classic white tulle.


We've grown up a bit. Learned that we can make it through anything that comes our way. Lost a bit of selfishness, and gained a little more compassion. Counseled each other through rough times. Forgiven when we wanted to hold a grudge. Chosen to work on it. To love. To let go.
He's opened jars when my small hands couldn't pry the lid off, and I've whipped up food when he's been exhausted. We have stumbled, and fallen, but the other person has always been there with a box of tissues, and an extended hand.
Marriage is often looked down upon in America. The rates of married couples continue to drop as cohabitation rises. Marriage is seen as restrictive, unnecessary, and old-fashioned. Millennials are encouraged to put off tieing the knot so that they can get travel, invest in their career, and fully enjoy their unencumbered 20's.
However, marriage is not an anchor that keeps you tied to land when you want to travel. It is the weight that keeps you safe when storms try to send you overboard. Marriage is not a dead-weight in regards to your career. It is the candle burning in the window at the end of a long work day. Marriage is old-fashioned only in the sense that apple pie, coffee, and the ocean are as well: they've been around a lot longer than us, and that's a good thing.
If given the choice again, I would choose this musical Tongan warrior again and again. I am so glad I married him. He was exactly who I was missing, and I didn't even know it until I met him.
What did you do for your first anniversary?