Happy Wednesday, my faithful readers! I hope that you are experiencing a restful week. I am nearing the end of my semester, and with only two weeks left, I have been looking back over the last few months. There have been times that school has drained the last few drops of sanity I had left in my parched cup of life. But now that I am back from Thanksgiving break (and the oodles of sleep that I enjoyed) I am feeling a greater zest for life.

It seems like I have been wandering about, lost in a forest for the past few months, with prickly fir trees closing me in on every side, and now I am just about to step into a beautiful clearing of trees where the sky is sapphire blue, and a stream merrily trickles by.
In essence, my sweet friends, life is beginning to slow down just a bit, and I am already dreaming about having time for people again, having a few less meltdowns in front of Warrior Man, making cinnamon rolls and other homemade food on a regular basis, reading a book for pleasure, and mayhaps watching a good movie now and then (Jane Austen, anyone?).
[Tweet "Oh the inexplicable joy of at last having the time to listen to Car Talk on a Saturday morning while homemade pumpkin cinnamon rolls rise in the clean countertop."]
And because I am so excited about life once more, I am teaming up with Accessodium to run a sweet little giveaway starting this Monday! So be sure to check back to enter, once I reveal what we are giving away, and check out the shop!
Exciting things are ahead, and today I wanted to share my Christmas wish list to aid you in your holiday shopping.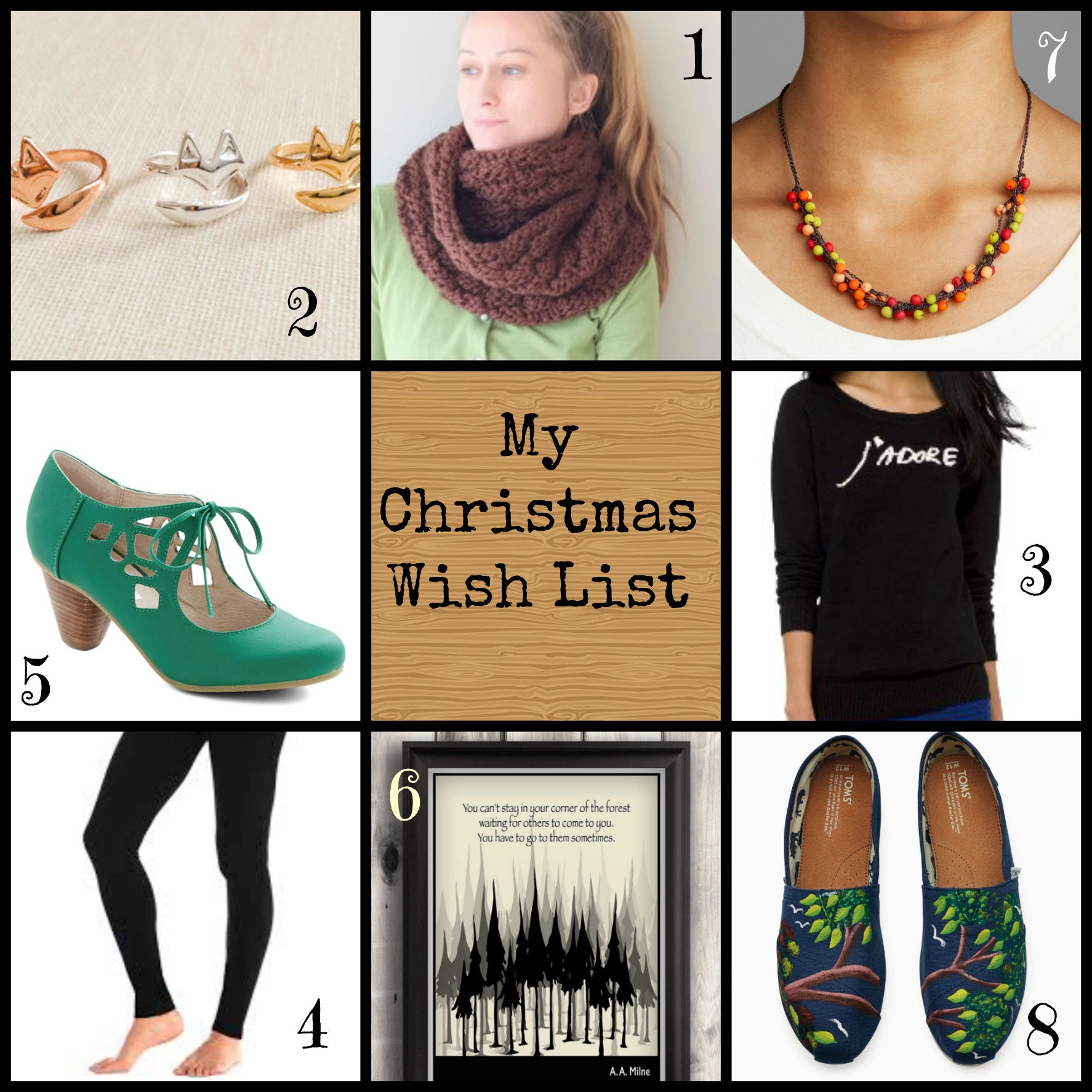 1. Chunky Brown Cowel:  I am in love with this chunky cowel from Accessodium! Also, if you want to make one yourself you can buy the pattern for less than $5 here!
Dandelion Pie readers can, for a limited time only, get 15% off any order from Accessodium when you use this code: 15FORPIEREADERS
2. Fox Ring:  I think these fox rings are utterly adorable, and they are less than $6 which is hard to beat!
3. J'Adore Sweater: I fell in love with this sweater the moment I saw it. So elegant, and classy.
4. Fur Lined Leggings (black): One of my friends on campus has been raving about her new fur lined leggings. She says she will never take them off. They are supposed to be warm, comfy, and stylish. What could be better?
5. Strutting Your Stuff Heels: I am a big fan of vintage clothing, and I just know that if I owned these shoes that adventures would occur daily. Aren't they lovlely?
6. Literary Framed Poster, A.A.Milne: I think these literary quotes set with a piece of art are so quirky, and would look great on any wall. My favorite is this A.A.Milne quote, because I love Winnie the Pooh books.
7. Good Deeds and Seeds Necklace: Americans spend so much on Christmas, it is wise to think about where all that money is going. This necklace helps give women jobs who are struggling in other countries. Isn't it beautiful? It was made in Columbia by a woman for a woman!
8. Navy Hilaire Breezy Tree Haiti Artist TOMS: this company gives one pair of shoes to children who do not have a pair for every set that you buy. I have always wanted a pair, and these hand painted, quirky shoes would fit the bill. 🙂
9. Fiddle Leaf Fig Tree: We have already established I love this plant. Buy one for less than $15 here!
What do you want for Christmas? I would love to hear about it! Comment below, 🙂
This post does include affiliate links. If you want to read more about that check my post here.