As I write this I have just gotten back from my honeymoon in Chicago. My wedding manicure is beginning to get a bit ragged, I unwrapped my last pile of wedding gifts, and tomorrow Warrior Man and I will move into our apartment.
All the planning, stressing, and waiting has inexplicably drawn to a close. This wild and sparkly journey that I have been on for the last eleven months since my honey asked, and I said yes is over.
In the months to come I will be diving back into blogging–I have many posts I am working on including book reviews, wedding planning ideas (and tips!!), half marathon training, and photography challenges. But for today I just want to gather up the rose petals of my wedding day, and give them one last lingering glance.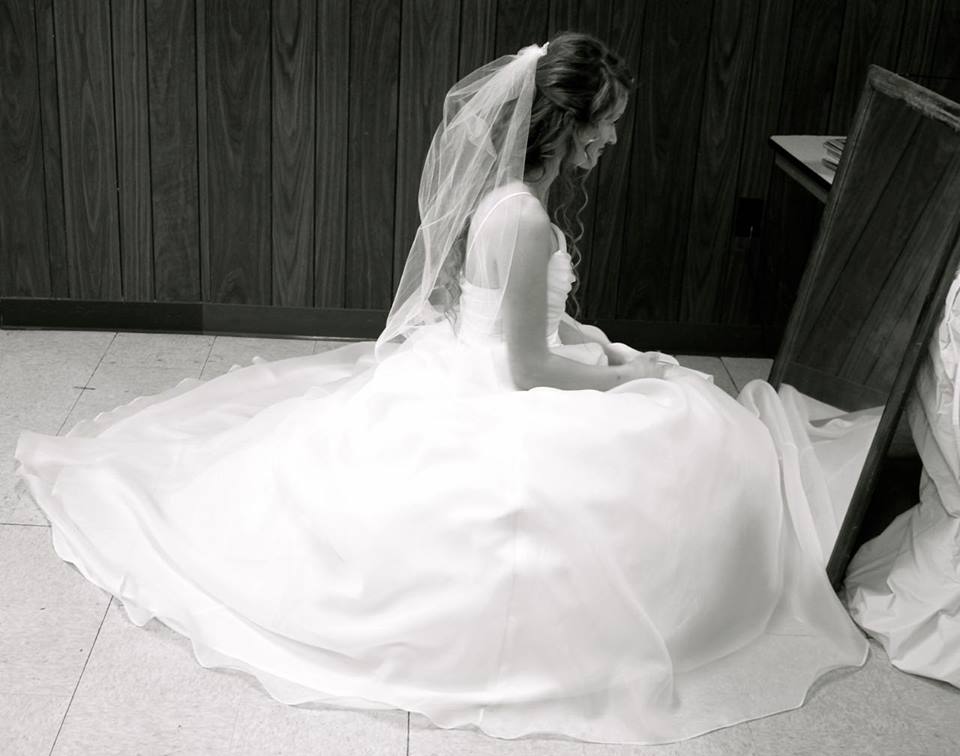 As I reflect on the day that I became I Mrs, the one thing that I return to again and again is not how perfect the venue looked (it was magical) or how fun the dance was (swing music meets small town Midwest equals perfection!) what I dwell on the most is how incredibly blessed I was by a handful of friends and family who went above and beyond to make this day the best.
My wedding day was all that it should be, because of the beautiful people who surrounded me and did all that needed to be done.
To you, my sweet friends and family, I wish warm cookies and millk, a sweet spring rain, the crunch of autumn leaves under your birkenstocks. I wish you an umbrella on a rainy day, a spare tire when you need one, and a good friend when the day is dark.
You make me what I am, and I am exceedingly grateful for you.
// The mother who gave up sleep, and dealt with the grumpy bride and lent her artistic talents to make the day perfection.
// The father who built the backdrop, always lent out encouragement, and was a calm presence throughout. 
// The brother who climbed up on top of the roundhouse (and sliced up his arms in the process) to hang lights from the ceiling. And who gifted us an incredible present for the future.

// The sister who took pictures (including the one in this post!), and calmly went about being the servant she is in myriad ways. 
// The brother and sis in law who couldn't make it, but have always been there for me through thick and thin. And who gave us a new nephew as a wedding gift. 🙂
// The brother and sis in law who decorated my car. Those balloons litter three states now.
// The Lotulelei family who spent so much time and resources to come all the way from Maui (and Texas!) to be with us. We love you all dearly.
// The grandpa who made his signature potato salad, and hunted down the perfect bowls to match the decor.
// The aunties who created the most perfect surprise pizza rehearsal dinner (gyro pizza, yes please!).
// The woman cousin many states away who reached out to try to assuage this bride's frazzled nerves.
// The tall boy cousin who borrowed the camera from the church to film the day for the bride on a shoestring budget.
// The Nebraskan family and friends who made massive amounts of cookies, rolls, cowboy caviar, and potato salad so we had less of a burden in regards to food.
// The florist who is also a friend who spent her days creating the perfect, glorious flowers for this day. 
// My sister's besties who manned the gift table and made sure each guest gave us a thumbprint for our guest book.
// The sister of a friend who spent a day teaching me makeup and hair tricks for the Big Day.
// The minister who made the ceremony absolute perfection, and was encouraging all along the way.
// The sweetest bridesmaids who did everything from holding my skirt in the bathroom (our friendship is on a whole new level now) to planning an epic bachelorette party that couldn't have been more perfect.

// The friend who stayed with us for three days and pitched in to do everything from gluing hundreds of doilies cones for popcorn to buying makeup for the bride.
// The friend and bridesmaid across the sea who wrote words of substance and truth in the midst of an overwhelming time. 
// The coworker who worked long hours and endured lots of stress in order for the bride to take a few weeks off. 
// The church family and friends who overwhelmed us with generosity in regards to gifts and cards.
// The Lord who was there throughout, and who sweetens every day through His presence. 
To all these people, and to many unmentioned, I want to say a big thank you. Your sweetness, generosity, and creativity did not go unnoticed. I love you all.