Who knew that making body butter could be so easy?
For the past six months, I've been on the lookout for a natural lotion or body butter. Hubby has perpetually dry skin (Polynesian skin + Nebraska weather doesn't mix too well), and with my growing bump, I've been moisturizing like never before to try to avoid getting too many stretch marks.
At first, we both used conventional lotions, but then I made the mistake of reading the ingredients list. Boy there are A LOT of chemicals in them that I can't even pronounce!
According to the Environmental Working Group, "80 percent of all [personal care] products may be contaminated with one or more of the two dozen recognized cosmetic impurities that are linked to cancer and other health concerns." Chemicals used in beauty products aren't regulated very closely, and it is tough to find a product that is both safe and inexpensive.
So we used up the rest of the lotion, and didn't buy any more. Then we tried using coconut oil, but it took forever for my skin to absorb it, and I constantly had to wash the stinky rancid coconut oil smell out of our clothes, and bedding. I love the smell of coconut oil, but try leaving it on a blanket for a few days, and that sweet smell turns into a terrible odor.
So I began my quest for a homemade body butter…
This post may contain affiliate links.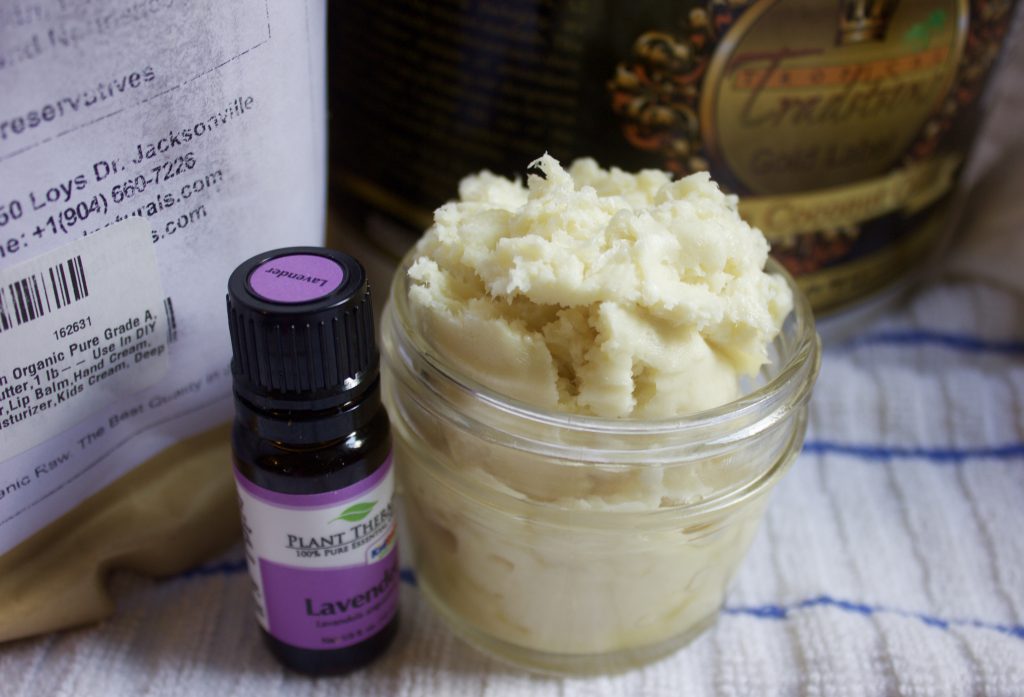 When I finally spring for the good, natural stuff at the store, it was so pricey, and we used it up so quickly, that I knew I needed to look for an alternative.
I was so nervous about trying my hand at making a beauty product. I love baking, but mixing up lotion seemed tricky, time-consuming and greasy! I bought a bunch of the ingredients, but I didn't begin experimenting for weeks.
Why I Chose These Ingredients
When I began my search for a homemade body butter recipe, my goals were:
 It had to be fairly inexpensive (I didn't want to plunk down $20 for a four ounce bottle! No thank you!)
 It needed to be nourishing for the skin (both for hubby's psoriasis and my preggo belly)
 It had to smell good.
I did my research, and settled on these three ingredients: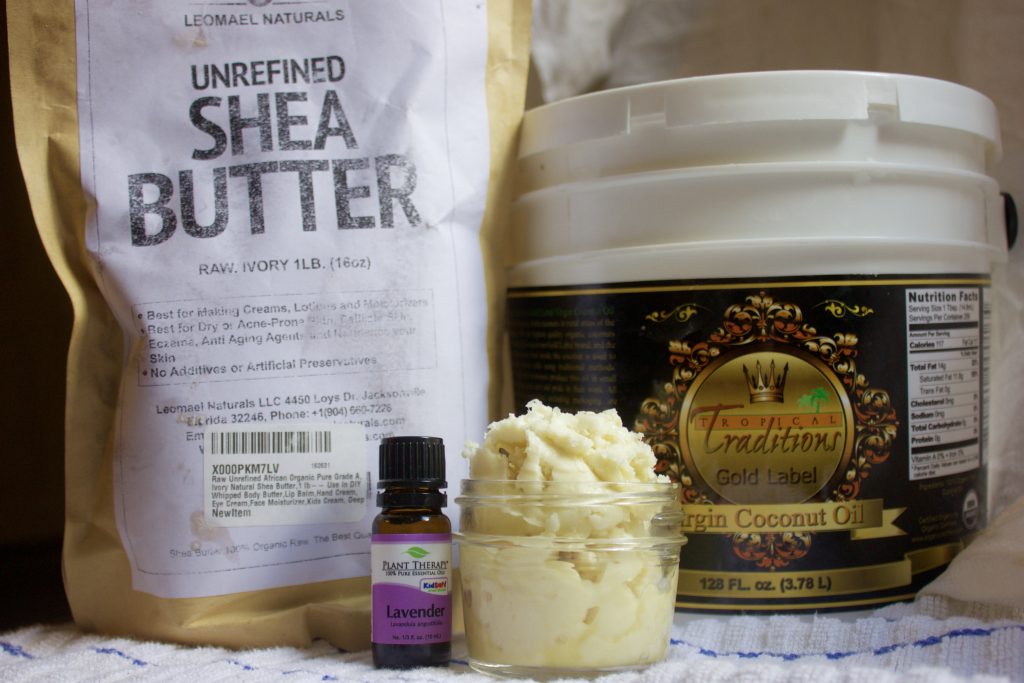 Raw Shea butter (this is my favorite): shea butter is a fatty substance that comes from the nuts of the Shea tree grown in West Africa. Shea butter is known to be high in both vitamins A and E(the two most widely known nutrients for repairing skin), contains anti-inflammatory and anti-tumor growth compounds, boosts collagen production, and is anti-aging. Raw shea butter is silky smooth, is soft and malleable at room temperature, and feels great on the skin!
Coconut oil (Tropical Traditions is the best!): I have long been a huge fan of coconut oil, used both in my cooking as well as my skin care. Coconut oil has a great deal of benefits for the skin as well. In Hubby's Polynesian culture, they have been used coconut oil as a skin moisturizer for hundreds of years. Coconut oil is deeply penetrating, and moisturizes skin much more thoroughly than a lot of other oils, contains high concentrations of vitamin E, is naturally antibacterial, and smells amazing. 🙂
Lavender oil (love this stuff): besides just smelling delicious, lavender oil is reduces anxiety, heals burns and wounds, reduces acne, improves psoriasis and eczema, and is full of antioxidants.
Melt it. Chill it. Whip it. Use it!
I held on to the ingredients for weeks before I finally mixed it up. Hubby was suffering from dry skin, and he kept asking me when I was going to make it, but I kept putting it off, because it sounded so intimidating to make a homemade body butter! Little did I know, that it was so incredibly easy, and fun!
It is not only easy, but really price effective. My pound of Shea butter is going to go a long way, and I only used a few drops of the essential oil per jar of body butter. We can now slather on as much body butter as either of us will ever need without worrying about our pocketbook!
This whipped body butter is silky smooth, deeply penetrates, and is made with only three (count 'em! Three!) ingredients. That's my type of minimalism.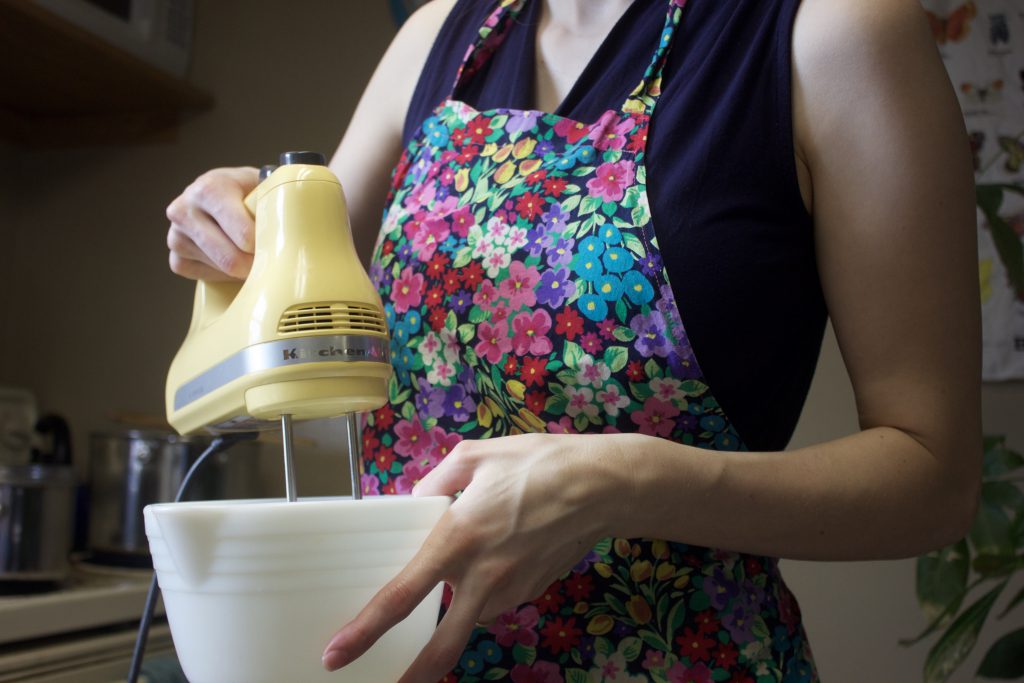 Easy Homemade Whipped Body Butter
Author:
Bethany Lotulelei
Prep time:
Cook time:
Total time:
Ingredients
¾ cup Raw Shea Butter
¼ cup Coconut Oil
5-10 drops essential oil of choice (I used lavender)
Instructions
In a double boiler or glass bowl, combine all ingredients except essential oils.
Bring to medium heat and stir constantly until all ingredients are melted.
Remove from heat.
Put bowl in the freezer to harden, about 30 minutes.
Once the mixture is semi-solid again (you should be able to press your finger into it, and it should be about the consistency of frosting), add your essential oil of choice.
Then put it in a food processor or Kitchenmaid mixer and whip it up.
Whip about 5 minutes, or until it is fluffy, white, and stiff.
Spoon it into a clean jar or container. It will keep for 3 months.
Enjoy!
Want to save the recipe for later? Pin it below!

What is your moisturizer/lotion of choice?