Spring is finally here!
As I write this, baby is kicking away in my tummy, our patio door is propped open, and the birds are singing. Spring has finally sprung!
I have craved all things spring: spring colored clothes, spring/summer foods (BLTs, watermelon, lemonade), and spring cleaning. I have had more energy in the last few days then I have experienced for months, and it has been so wonderful. I am hoping that this energy sticks around for a little while!
This post may contain affiliate links.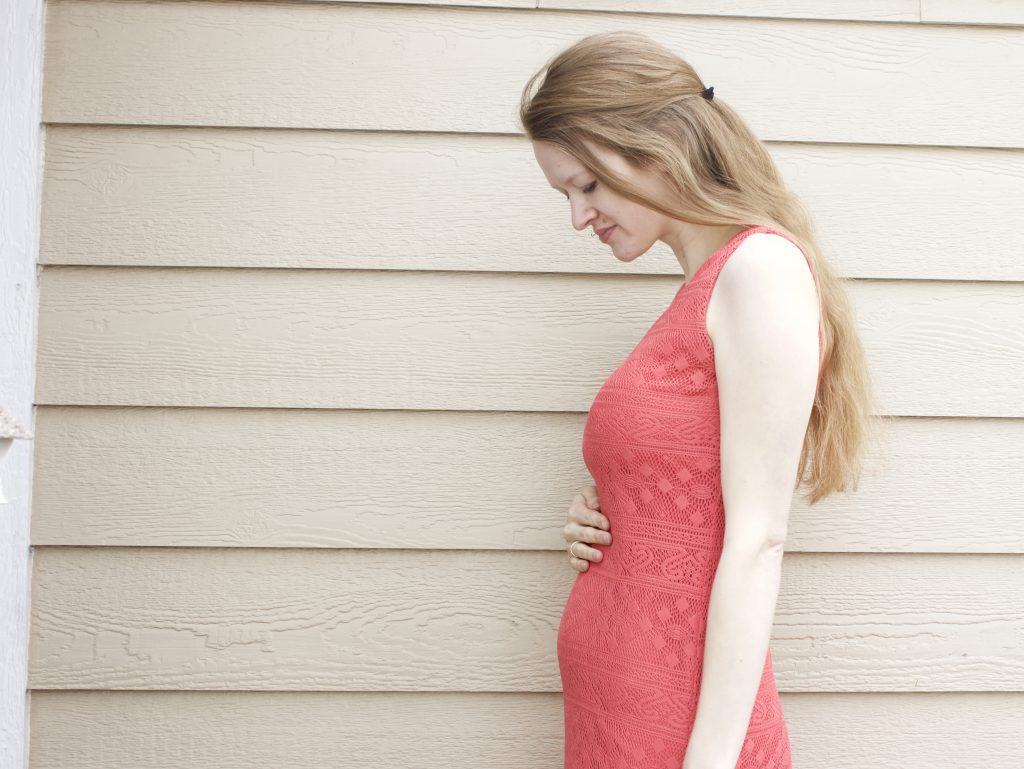 How far along: 19 Weeks
Due date: August 29th
Gender: Hubs and I both have a strong feeling that baby is a girl, but we don't know!
How big is baby? Baby is six inches long, and just over half a pound. Baby is as big as a mango or an heirloom tomato this week!
This week, baby: Baby is developing a protective coating over his/her skin called vernix caseosa. Baby is busy developing his/her five senses this week.
What I'm googling: I've watched a lot of videos of twenty week ultrasounds on youtube this week, because I am just SO excited to see baby in a few weeks for the first time. This video of this couple finding out they are having twins is by far my favorite, and I've watched it a few times.
Purchases I've made: So, I haven't really bought much of anything for baby yet. I've been waiting for garage sale season. At this point, I have two onesies that I purchased when I found out we were pregnant, and that's it. I know babies don't need tons of stuff, but they probably need more than just two onesies, yes? Ha! Well, garage sale season has now begun! We went garage saying this morning, and there was a sale with tons of baby boy clothes. Now, we don't know what we are having, but I couldn't help myself from buying a few neutral items, and also THIS: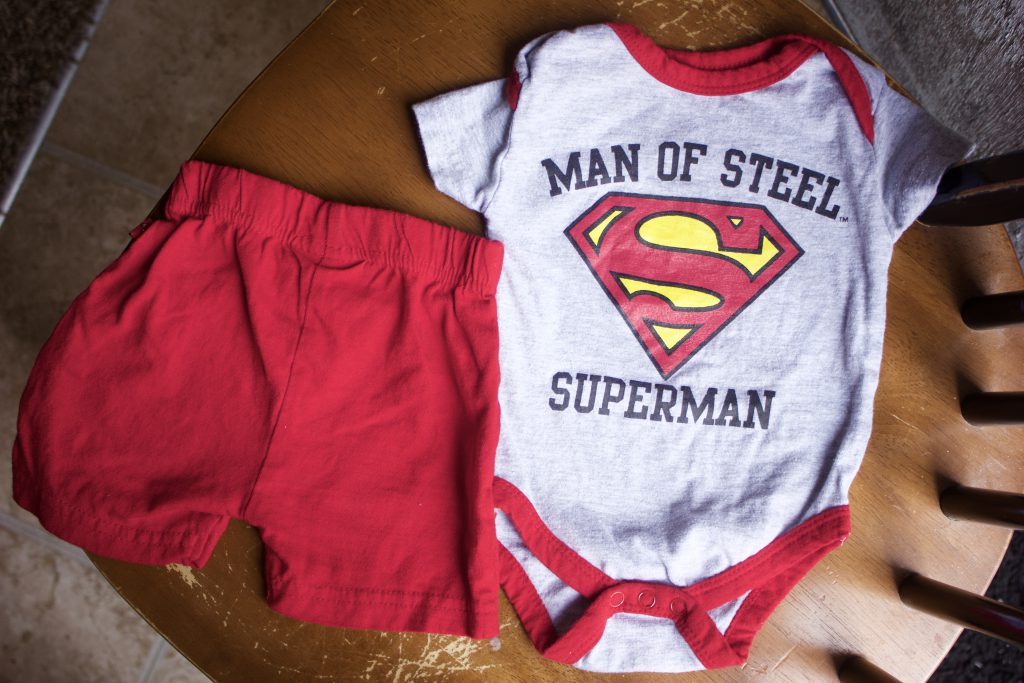 Seriously, how cute is this? And it is a newborn size, so it is so sweet, and small. It was only fifty cents, and cute boy clothes are hard to come by, and I figured we'll have a boy eventually (hopefully) so it won't go to waste. THIS is why I haven't shopped for baby stuff yet. I know that I will be buying girl and boy stuff left and right, because so much of the neutral clothing is pretty boring.
How are you feeling? The first part of the week I was pretty miserable with a headache/neck pain that lingered for almost three days. Blah. But then Thursday I woke up, and I felt powerful, rested, and invigorated! Since then, I have had several really good days where I feel SO energetic, optimistic, and excited about life. Not sure where this energy is coming from, but I am enjoying it to the hilt! I hope it sticks around for a while.
Maternity clothes: I did go to Goodwill, and bought one maternity shirt. But the thing is, my belly is so small at this point that the maternity shirts that fit me aren't much different from buying a size small shirt cut a little looser. So I bought a few regular shirts too, AND I bought a bunch of spring dresses!
Sleep: Sleep's been great!
Best moment this week: Waking up with energy again! Last week, I was drawing all week, and I felt like I'd been hit by a truck. This energy thing is so much better!
Worst moment this week: brushing my teeth causing me to throw up my breakfast just before I started to teach one morning. Blah.
Miss anything? Lots of coffee. I've cut it down to about twice a week. So coffee is really just a special occasion thing, and I'm trying to avoid it most of the time. I drank some last Sunday, and I felt baby just wiggling around like crazy. I felt pretty guilty about it. I don't think it is good for baby to be caffeinated.
Movement: All the time. Baby has made me gasp a few times this week with how strong the kicks are: they just take me by surprise! They seem to have moved higher up on my belly, so either baby has flipped, and that's why his/her feet are nearer my belly button, or baby has just grown. Either way, I am noticing movement a lot higher in my tummy.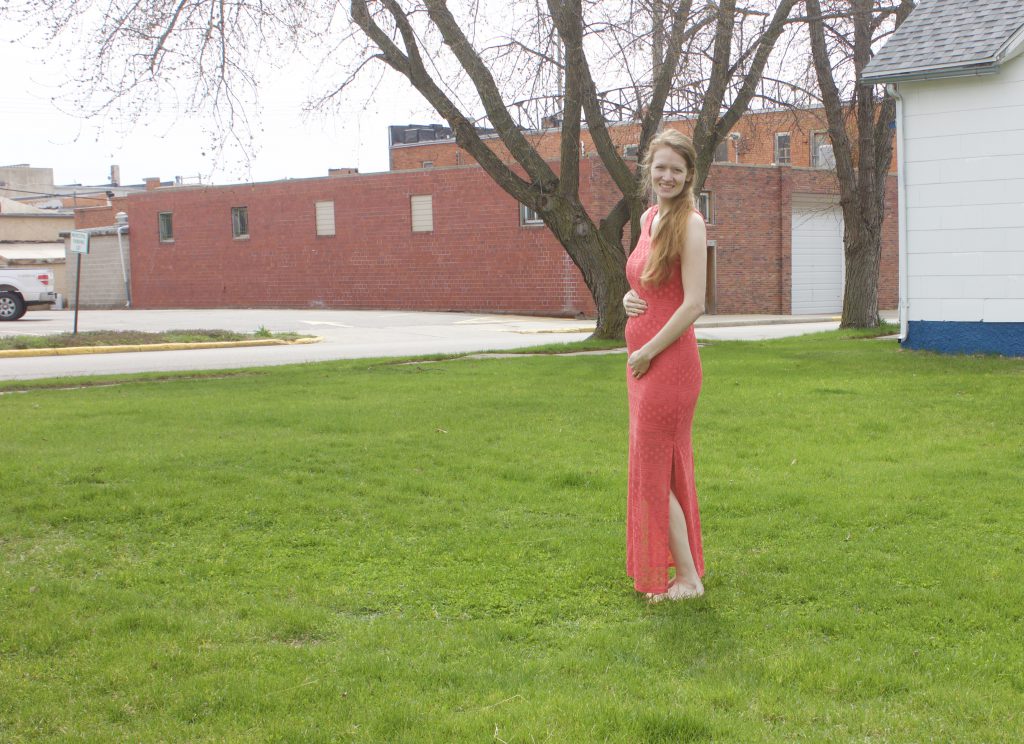 Cravings: A BLT with lots of mayo and mustard. Seriously, I saw a picture of a BLT, and I couldn't stop thinking about it. I toasted the bread, hubs cooked the bacon, I sliced up a tomato and some lettuce, and doused that baby in mustard and mayo. So good. Also, a BLT and some watermelon is a perfect meal in the spring and summertime! We've now run out of bacon (probably because I was taking it as a snack to work, ha ha!), and I need to pick up some more today so I can have another BLT! Yum!!
Symptoms: using the bathroom five times an hour. Our bathroom is unfortunately across the apartment from our bedroom, which has become increasingly frustrating. I told hubs this week that I had been considering beginning to use a chamber pot. Ha ha! Neck pain/headache. Quick gag reflex. Alternating between feeling like I am about to die of hunger, and feeling uncomfortably full.
How's Daddy doing? He has been so good this week: bringing me snacks and meals at work, doing laundry, cleaning the bathroom, making me laugh constantly. I am so glad to go through this journey with him!
Looking forward to: Our first ultrasound in two weeks! Yippee!
What are you looking forward to right now?