Ever since I started dating my hubs, I have wondered what our kids would look like.
We are about as opposite in appearance as you can possibly be.
He has curly black hair, dark brown eyes, brown skin, and a large, muscular build. I, on the other hand, have straight dark blonde hair, greenish blue eyes (never been able to decide what color my eyes are), very white skin, and a thin, very non-muscular build. Ha! I have googled Tongan-Caucasian babies, but very little comes up. Rather a rare combination I would guess.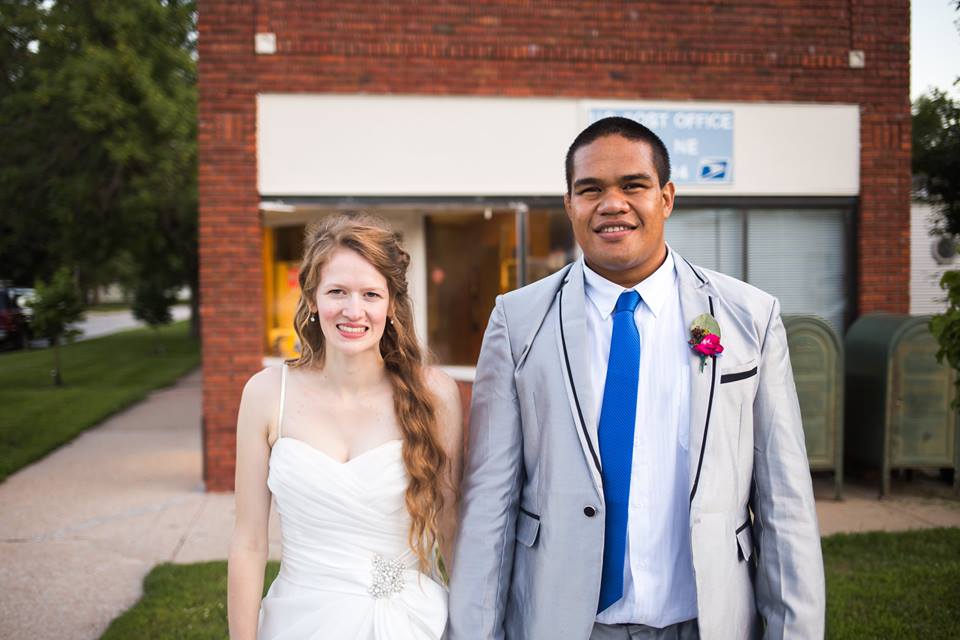 I figured I would just have to wait and see, but I was wrong! There exists a magical website that will take your pic + your hubby's pic, and show you what your babies might look like! I stumbled across this brilliant invention when I was at one of my recent melodrama performances.
I was waiting for my entrance, whiling away my time on my phone, and stumbled across a baby picture generator. Since I am in the dregs of baby fever I did what any curious, baby-besotted gal would do: cropped a few pics of my hubs and I, uploaded them to the website, and waited for the theater's wi-fi to load a picture of what our future child will look like.
I chose to leave all the details up to fate (fate = makemebabies.com in this case). I let the website choose the baby's gender, name, and even skin color.
In fact, the generator stated that it was 90% accurate in determining the shade of skin our baby would have. I pondered this for a few moments: do they mean that they are 90% successful at matching the skin color in the pictures I provided or in successfully predicting my real baby's skin color? Regardless, my curiosity had to be sated, and I cheerfully allowed the generator to make full use of its powers without any input from me.
As I waited for the picture of our future baby to be generated, a message popped up, and informed me that "we are processing your baby" which I found somewhat humorous. If only labor and delivery were as easy as an internet connection.
[Tweet "My first time using a baby generator. If only birth was as easy as an internet connection."]
Finally, after many long minutes of waiting, the pic of our baby appeared, and I just about imploded from holding in my laughter backstage. I showed it to my sister, and, she too, was beset upon with merriment. All the other actors glanced at us curiously, wondering if we had finally lost it.
Personally, I think there should be a warning on the Make Me Babies website: Do NOT use backstage, in a library, or in a business meeting. We will not be held liable for any social faux-pas, shame, or lost jobs resulting from the explosive mirth these images might cause. 
Do you want to see what our first babe will look like, sweet readers?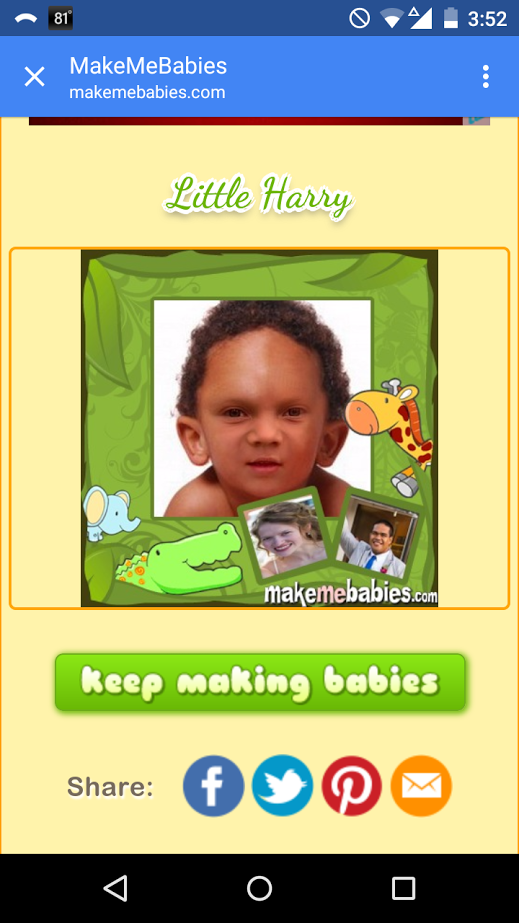 Ay yi yi. Where do I begin? First of all, check out the two pics from our wedding I chose. I am definitely white, and hubs is brown. But why does our future baby have a two-toned face? You can see a line down his forehead where the two shades of skin color meet. Poor baby. Also, why on earth did we name him Harry?
Deciding that there was definitely a glitch in the system, and thinking that the second time around would be better than the first, I confidently pressed the bright green "keep making babies" button to find out what our second child would look like…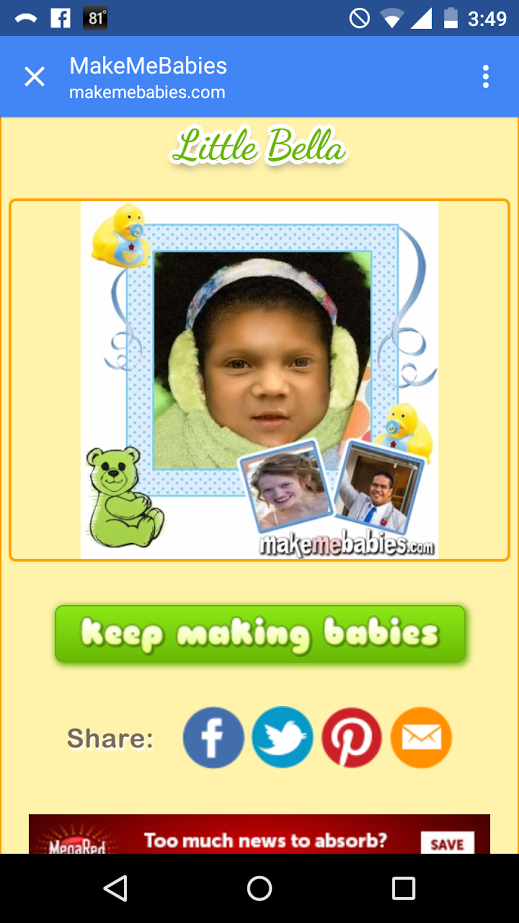 Granted, Little Bella definitely has an evener skin tone than her brother (thank goodness). But her eyes are rather other-worldly, and unbabylike don't you agree?
After smothering my laughter, I figured that perhaps it was not the generator's fault, but the pictures I had chosen to represent hubs and I. I quickly found two more pics, from my graduation this time, and started generating a new baby.
The change was shocking to say the least….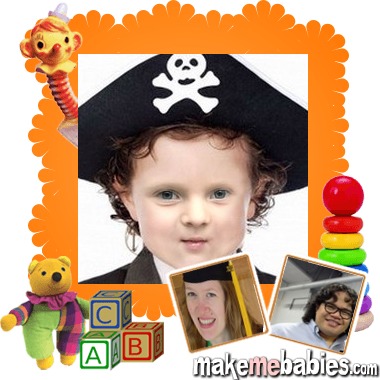 Tell me, who put my child in a pirate hat? I want to know!
Why is Hadley in a pirate hat? Also, evidently, the computer decided that our babies should now be white not brown.
I began to wonder about the 90% accuracy the website bragged about.
Granted, Hadley does have my small mouth, I will give him that, and I would love a curly-haired baby (like his dad), but I see no other resemblance whatsoever. Do you?
Last try…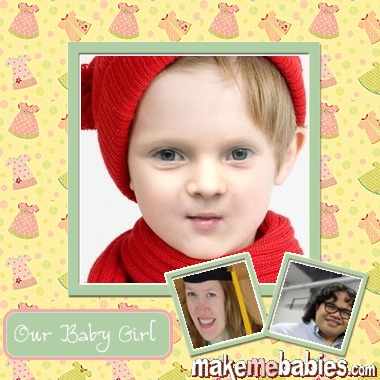 Ariel is, probably, the first name generated by this website that I have liked (I am an avid Little Mermaid fan after all) whether my hubs would let a child be named Ariel is debatable. She does look a bit like Hadley doesn't she? Poor thing must have cut her own hair, because she is rocking an asymmetrical bang thing going on there. We must have given her the stocking cap to try to cover up her self-inflicted haircut.
So there you have it. Four Lotulelei babies.
Granted, any baby we have, we will love: pirate hat, asymmetrical bangs, two-toned face and all.
Have you ever tried using a baby generator? Try it out here and let me know what you think!