We made it to 34 Weeks pregnant!!
If you heard a gusty sigh of relief, that was me after I read in my weekly Mama Natural update that "babies born at 34 weeks with no other health issues are usually healthy and need nothing more than a little time in the neonatal nursery. Phew!".
Phew, indeed!
When I had my 28-week ultrasound, and found out about the placenta previa, my midwife told me that if I could make it to 35 weeks that baby might not even have to spend time in the NICU. So from that point on, I set my sights on 35 weeks. It felt SO far away, and I wondered how on earth I was going to make it through the next seven weeks of worry, and fear.
This week, when I reached 34 weeks, I felt a large amount of fear fall off my shoulders. I feel like I am on the cusp of making it. At this point, baby's lungs are a lot more developed, and he/she is a lot more prepared for life on the outside. I still want to keep baby cooking for another four weeks, but I feel so much relief knowing that if the worst happened–that baby would probably be okay.
This post may contain affiliate links.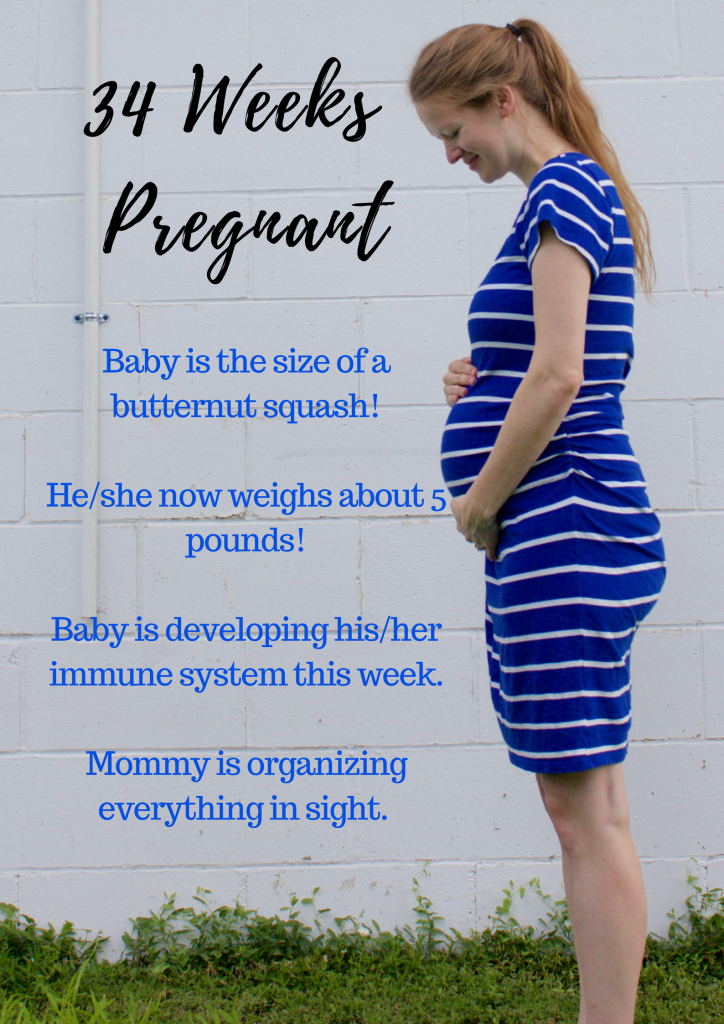 How far along: 34 weeks.
Due date: August 29 is my due date. My scheduled C-section is set, but the date is a surprise!
Gender: It's a surprise! What do you think? The old wives' tales predict that baby is a boy!
How big is baby? Baby L is the size of a butternut squash this week. Baby is about 19 inches long, and close to 5 lbs!! Whoa! That is a good-sized baby right there. No wonder my back has been hurting. Ha ha!
This week, baby: Baby's lungs are almost mature, and he/she is filling out, and becoming chunkier. Baby has begun receiving my antibodies to prepare his/her immune system.
Physical: I've been getting adjusted a couple times a week (working at a chiropractor's office makes this easy), but the Dr. uses an activator so that it is a gentle adjustment. I, also, snuck in a massage this week as well, it was my first massage sitting in a massage chair, and while it took a little while to figure out how to get comfortable (a real struggle no matter what I'm doing these days) it felt great during and after! And that night I felt SO much better. I didn't even grab the ice pack from the freezer. So, I think I might just make use of my employee-discount (since the massage therapist is employed at the office where I work), and schedule a weekly massage until baby's birth day.
What I'm googling: "how to organize your home". I am still working on cleaning, de-junking, and–my latest hobby–organizing our apartment. My family came by a week or two ago and helped me attack our main closet, and my sis came over this week and helped me with our big clothes closet. We pulled everything out, sorted clothes into Goodwill/trash/keep, and then used these six cubes I bought on Prime day to organize the deep shelves I have in the closet. It looks SO MUCH BETTER. My family is the best for helping me, even when I am in crazy-pregnancy-nesting-mode.
Purchases I've made/nesting update: My Mom came over this past weekend to go to one last local Garage Sale Day with me. I am getting to the point where the few things we still need, aren't to be found at garage sales, but I still wanted to do one last round of sleuthing. I bought a few blankets, a few items of clothing, and my Mom bought this Snugabunny Fisher Price Rock and Play for me, for $5! I have heard so many good things about rock and plays, and I did buy one a few weeks ago, but it was heavily damaged with smoke, stains, and wear and tear. I took it all apart, and washed the washable pieces, and scrubbed everything else–but the part that couldn't be washed still had a smell, and some other marks on it. I figured that it would work okay, because every Rock and Play I saw at a garage sale was still $40. I am so excited to have this Snugabunny in such great condition! Yay!
How are you feeling? I'm feeling pregnant. I really skated through a lot of my pregnancy without too much discomfort, but I am beginning to pay the piper now. 😉 I just have a lot more aches, and pains these days. Getting comfortable at night has gotten tougher, and I have started crying at a drop of a hat. I cry when I don't have supper ready for Saia (because I should–sob!–be able to feed him at least–sniff!–) to which my poor, sweet hubby comforts me, and runs to get carry out. I cry when we watch Madam Secretary together. I cry when I hear a beautiful song. The emotions are suddenly just there–all the time.
Maternity clothes: I've already started getting rid of a few pieces of maternity wear that never worked for me, and I've stopped buying clothes. It is funny to me that I really haven't needed a lot of maternity clothes until fairly recently, and now that I do need them, I am almost done with them.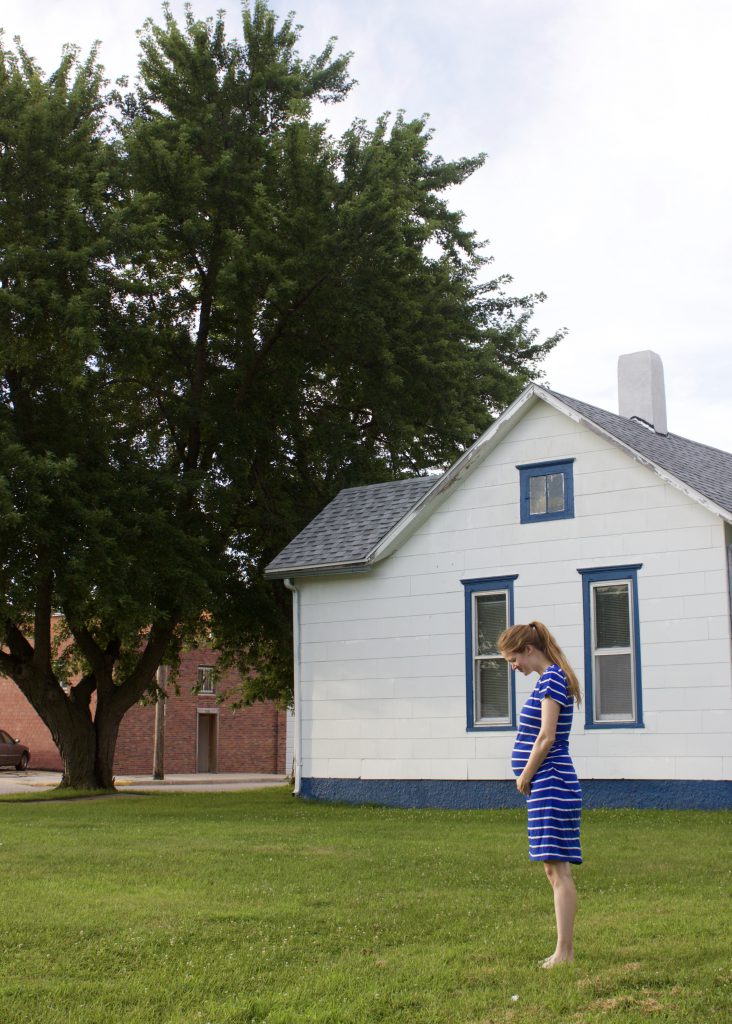 Sleep: Once I am asleep, I do fairly well. It is just getting comfortable enough to sleep. Every evening, I pull out my trusty ice pack, put a legwarmer (left over from my ballet days) on it as a type of cloth sleeve, and strap it on whatever part of me is the sorest–neck, ribs, lower back, etc… then I arrange approximately six pillows around me–wedged in various formations, and lie on my left side. Until my hip hurts, then I have to make a four-point turn, and switch to my right side, and arrange all the pillows again. At which point I need to use the restroom, so I roll myself off the bed, and when I come back, I am struck with intense thirst. And the whole process repeats itself. Until I finally fall asleep.
Best moment this week: Garage saling with my Mom, hanging out with my family at my brother's birthday party, and organizing our closet with my sis!
Worst moment this week: The couple of emotional breakdowns that have burst out of me this week.
Movement: Baby is still moving plenty! I read that he/she a lot of times will make less movement now that he/she is getting so big, and his/her room is getting more cramped, but I haven't noticed the movement abate any! In fact, there have been a few kicks that have been so violent, and sudden–that I have gasped loudly (much to my husband's consternation–"What's wrong?!"). His/her feet are up in my ribs, and little hands are down in my hips, so there is a lot of action.
Cravings/Eating: In the last week or two, I've noticed a bit of nausea if I get hungry. I haven't had this symptom since my first trimester, so it is new! I think baby just is absorbing a lot of nutrition right now, and my body doesn't like it when I am not full. I am eating more often, and smaller amounts, to accommodate my belly. When I eat too much, I am extremely uncomfortable!
Symptoms: Rib, low back, neck and hip pain.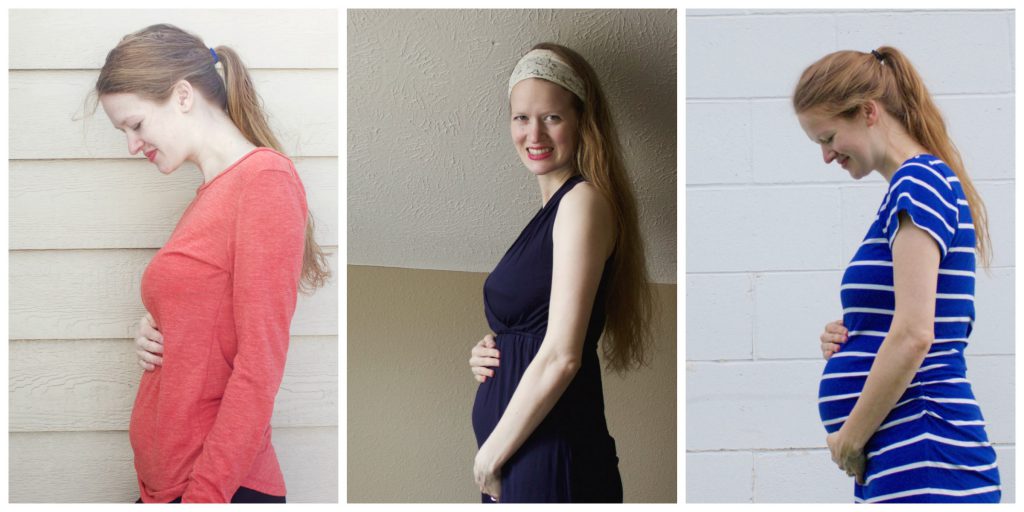 How's Daddy doing? I've said it before, but he has been such a rock throughout everything this pregnancy has thrown our way. He is so ready to meet this baby!!
Looking forward to: meeting this baby in a few weeks (weeks?! Aaah!).
To-dos from last week: pick up the dresser from my parents', rearrange our bedroom, sort through baby clothes and organize, build and fill the bookshelves, get rid of the headboard, and make those pesky phone calls I've been putting off.
To-dos for this week:
Build and fill the bookshelves + get rid of headboard
Make those pesky phone calls
Renew license
Take boxes to Goodwill
Install carseat
Any suggestions for these last few weeks of pregnancy?