Two years of marriage. 
It seems like I just wrote our first year anniversary post, and here I am reflecting on year two, and preparing for year three!
These past twelve months have been packed to the brim: Saia finished his last semester of classes, completed his Senior recital, worked as Assistant Wrestling Coach, and graduated college. I ran a 10k, got my wisdom teeth taken out, and taught remedial Math and English classes at our Alma Mater. In December, I took a pregnancy test and–much to our joy–was pregnant! This ushered in a new season of life, as Hubs cooked, cleaned, and worked full-time while I struggled to balance all the symptoms of growing a new life while holding down two part-time jobs.
In spite of it all, we found some time for fun outings–we went to our first Husker's game, traveled to Dallas to see family, and flew to Los Angelos for our baby-moon. We drove across the plains of Oklahoma, went on a river cruise in Omaha, and dipped our toes in the chilly Pacific Ocean. We went on a picnic by the lake, caught a few good movies (Rogue One, Moana), and a few that we were divided about (Beauty and the Beast, and Guardians of the Galaxy Vol. II), and went to the new Broadway-version of Cinderella.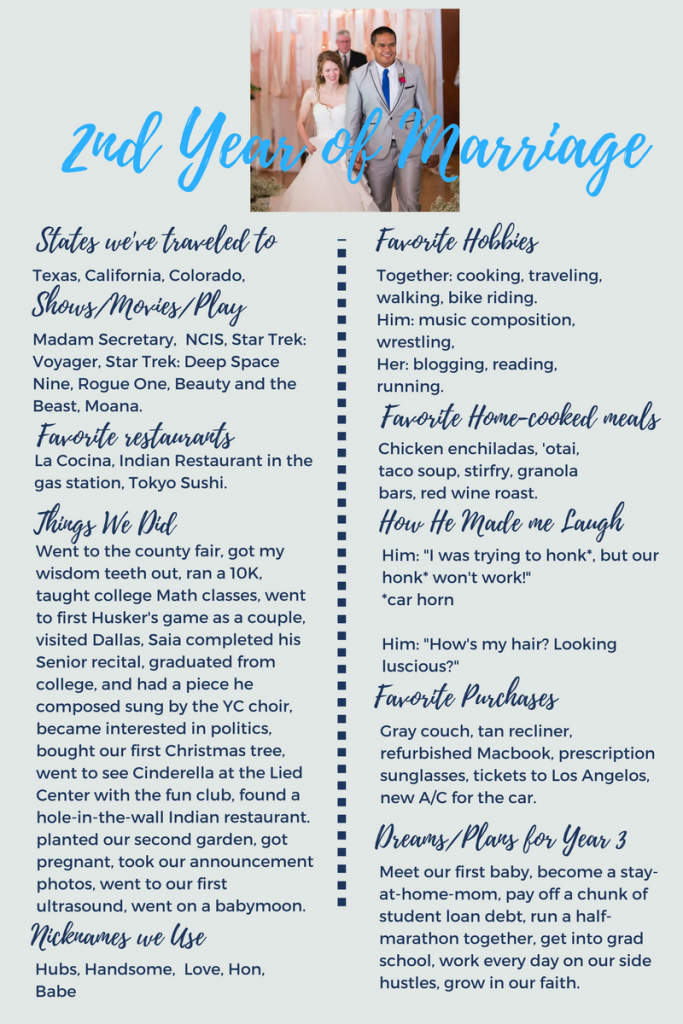 Yearly Reflections
This has been a big year for us: for the first time in our entire five-year relationship–neither of us are in college anymore, we have journeyed together through eight months of pregnancy, and we've both gone through job transitions.
I have no hopes that this next year will be any less busy, but I do know that it will be just as meaningful: we will finally get to meet our velvety little baby in August, I will become a stay-at-home mom, we will watch my brother and best friend get married in October, apply to grad schools in November, sneak a trip to Maui in the spring to visit family (hopefully!), and pay off some of our loans. In the midst of all that, we will continue working on our hobbies and side hustles: Hubs will continue composing music, wrestling, and studying music history. I will work on building my virtual assistant side jobs, start a podcast, and keep on blogging!
What Romance Looks Like
There's no way I can look at this upcoming year without thinking about welcoming a new little person into our home. This pregnancy journey has been really good for our marriage. I know that there is so much to be said for waiting, and having time as just the two of you before welcoming a babe into the mix, and I am glad we've had two years before welcoming a baby, but at the same time, pregnancy has just made me realize over and over again what a very good man I married. When I was in high school, I thought true romance always looked like bouquets of flowers, grand gestures, and phenomenal surprise outings. I thought that romance was pink, and red, and sparkly. Now that I've been married for two years, I know that while that is a piece of romance–that is not the majority of it. It isn't even the most satisfying part.
Romance is him supporting my head when pregnancy makes me ill, romance is him getting off work and running all over town to track down the various foods that I am craving. Romance is him shouldering the burden of grocery shopping, laundry doing, and holding down a full-time job when I have to put my feet up due to placenta previa.
This baby, my complications, and how I've felt has stretched our marriage in new directions. We've both had to practice selflessness, but he's bore the brunt of it all. And every day, again and again, I find myself thinking: "I am so glad that I married such a good man. I don't know what this would be like if I'd made the wrong choice. I am so, so happy I married him".
On Becoming Three
With less than a month left before Baby Lotulelei makes his or her appearance, I find myself eyeing down this huge life change that we are about to embark on. As hubs has told me "We've had this baby with us, since December", which is absolutely true. But, somehow, I think that having the baby outside rather than inside will be a bit different. 😉
So many people tell you that kids change marriage: to be careful before committing to children, and to put it off as long as possible. Hubs and I are both so crazy about kids, that I just can't help but think that this is all going to be okay. I know that there will be stress, lack of sleep, and tempers flaring at times–but I am so excited to be Daddy and Mommy as well as Husband and Wife.
One thing I know for sure, is that God has carefully crafted this little stranger that we are going to be meeting soon. Only a few short weeks left!
It's been a very good year, and I know that year three will be the best yet!