Have I mentioned that my Mom and I are launching a podcast?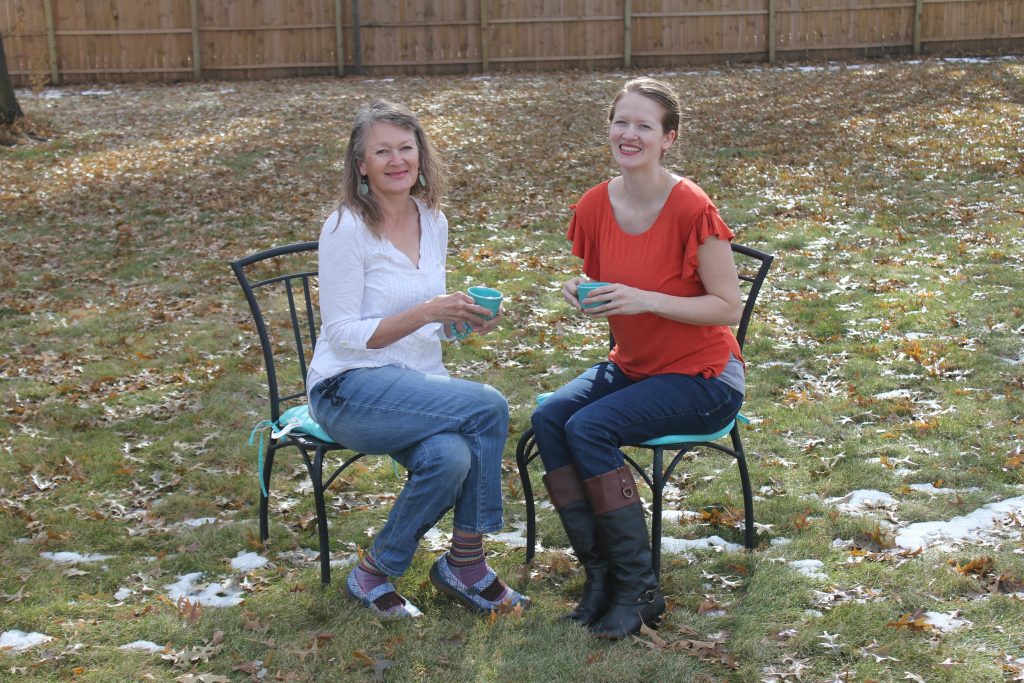 The Why Behind the Podcast
When I was a new mama of one, there were a few things that kept me (mostly) sane that first year. One of them was my podcast app.
I would download a several podcasts, and go on long walks all over town. I would listen to podcasts as I sat for hours nursing my baby or when I was trying to toss some semblance of dinner in the crock pot in the morning. I would laugh along with the podcast hosts while I bounced my baby or swung him on the swing at the park.
I was new to this stay-at-home mom gig, and with a hubby working long hours: I was lonely. But all I had to do was open my podcast app, and I had instant connection with other moms all over the world.
Those podcasts educated me, consoled me, and lifted my spirits. I listened to podcasts about motherhood that made me feel that I was not alone, I listened to podcasts about business that fed my mind, and I listened to podcasts that were funny for comedic relief.
The Who Behind the Podcast
Somewhere along the way, I started thinking about launching my own podcast. And, even better, I started thinking about launching a show with my Mom! She and I would have these long, funny conversations on the phone, and I just couldn't shake the feeling that we could create a really fun podcast between the two of us.
That was three years ago.
For the past few years, we have worked on and off on our podcast. My brother Timothy composed our theme music. My brother Andrew drew us a logo. My brother Malachi helped us with the tech side of things. We would record a bunch of podcasts, get closer and closer to launching, and then something would happen.
Our first round of podcasts, we scrapped, because we didn't feel like they were good enough. Our second round of podcasts were lost in a technical malfunction. Our third round of podcasts we recorded back in December, and were outdated by the time we were almost ready to launch (one of our episodes was on what we wanted for Christmas, ha!). There were episodes that we would try to record, and then my current youngest baby (Gideon or Eloise) would be inconsolable during a recording session, and we couldn't finish. Or weeks that our two schedules just didn't align.
We've had times when we got so close to launching, and then something major like an illness would occur in our family, and the podcast would have to be set on the back burner.
Through it all, we kept talking about it. Kept brainstorming new episode ideas. Kept pushing record over and over again.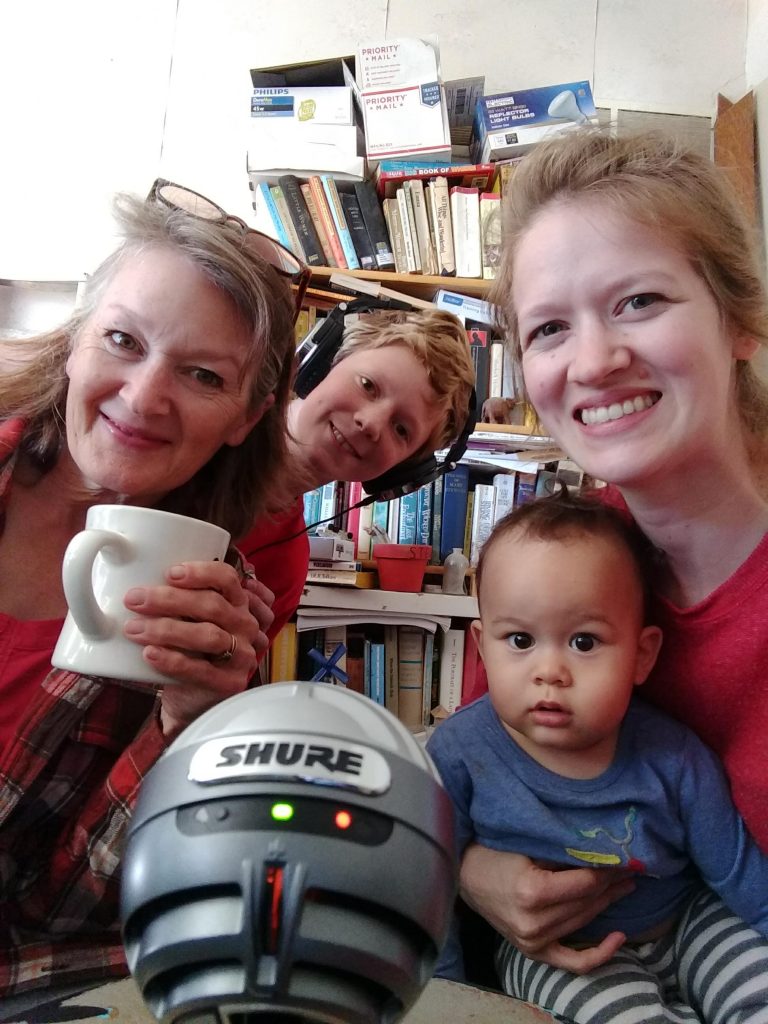 You would think all the starts and stops would eventually discourage Mom, and I, but we kept pressing on. We're stubborn.
Along the way, we learned how to feel more comfortable on mic. We discovered that having an outline worked a lot better for us than ad-libbing the whole show. We figured out the best way to record remotely, so that the stars didn't have to align every time we got together (let me tell you, figuring out a time that works for both of our schedules, and with childcare for my kids was TOUGH!). We did a photo shoot for branded photos. We started our social media channels. We hit upon the best software to use to record, and the best editing software. Finally, we figured out how to upload the episodes, and prepare them for the launch.
We're Finally Here
Here we are. At the finish line. Or is it the starting line? Four podcast episodes are ready to be launched, all I have to do is push "publish", and they'll be live. There's also an additional episode queued up, and ready to go.
Sweet readers, I am SO excited to finally get this podcast out to you! Mom and I have so much to share with you: both in the episodes we will be releasing right away, and with our myriad ideas for the future. We cannot wait to hear your feedback, and start a conversation about all things decluttering, gardening, cooking, homeschooling and more!
I am SO excited!
We've spent the last three years talking about this, and we have a small number of people who've been patiently asking us for the last year or two how our podcast prep is going. I am so excited to finally be launching this thing that we've been dreaming about for so long! If you are one of the people who have patiently supported us as we've talked about this thing over and over again, thank you.
Do the Thing
So, reader, I guess what I'm saying as I type out this stream of consciousness while the rest of my family is sleeping in their beds is  this: if there is something that's been niggling at your heart for weeks, or months, or years maybe start working on that thing.
Maybe it scares the living daylights out of you, and maybe you will meet a million roadblocks along the way. Maybe it won't end up working out quite like you thought or maybe it will end up being the best experience of your life, either way, do the thing.
Do the thing because you learn by taking action. Do the thing because the world needs your talent, your ideas, YOU. Do the thing because life is short, and we only get so many days on this earth.
Do the thing because I will be waiting in the wings clapping until my hands hurt, cheering you on.
What's one of your dreams? I would really love to hear about it!