I always dreamed of becoming a stay-at-home mom. I would imagine what an amazing homemaker I would be one day. I could picture it: me standing in a spotless kitchen, pulling a pan of cinnamon rolls out of the oven, a rosy-cheeked baby snoozing in the corner. Ah, what a beautiful life it would be.
Now that I am a SAHM, it definitely is a beautiful life, but it isn't as peaceful and tidy as I had imagined years ago. As it turns out, being a mom of two littles ages two and under is hard work. Who knew? 😉 It's not an opportunity to perfect my baking skills or tons of time to work on fun house projects, it is a lot of diaper changing, laundry washing, and baby bouncing.
Over the past three years, I've been pregnant, had a baby, recovered from having a baby, been pregnant again, had another baby, and now am in recovery number two.
Through it all, I have tried various schedules. Here is what has worked for me.
Why SAHMs Need a Schedule
I need a schedule, because I found very quickly that I am a lot happier with my day if I treat it as a job rather than a vacation.
If I treat my work as a SAHM as a vacation, then my day will go like this: I wake up to the cries of one of my children. I stay in yoga pants all day, because they are the most comfortable. I watch TV or listen to podcasts, because I'm too tired to do anything else. I feel grumpy and unmotivated. I take tons of pictures of my children. I go to bed feeling tired.
If I treat my work as a SAHM as the job it actually is, then my day goes like this: I wake up early so I can have a few minutes to prepare for work before my tiny little "co-workers" wake up. I get dressed, and swipe on mascara, because I feel most like myself when I do. I make pancakes while entertaining the toddler, and bouncing the baby which is hard, but worth it. I slurp my coffee while I feed the babies. I take the babies out into the yard to soak up some sun. The rest of the day consists with alternating between childcare and housework. During nap time, I work on my virtual assistant work or my prep for the ESL classes I teach. I go to bed feeling tired.*
*Side note: if you are a mom of a newborn, then you definitely shouldn't be thinking about staying productive. If you have a new baby, then none of this applies! Just try to survive! Life will return to normal. Okay, PSA over.
I, personally, thrive on a schedule because:
I need structure in my day.
I am A LOT happier if I feel like I've accomplished something with my time.
I have a lot on my plate, and I can easily feel overwhelmed if I haven't decided ahead of time how I will use my free time (the babies' nap time).
Because my babies deserve the best version of me.
What does an average day in my life look like? I'm so glad you asked!
The Morning
Five days a week my day starts at 6 a.m. I wake up to nurse the baby (who is seven months old), and then teach two ESL classes for VIPKid.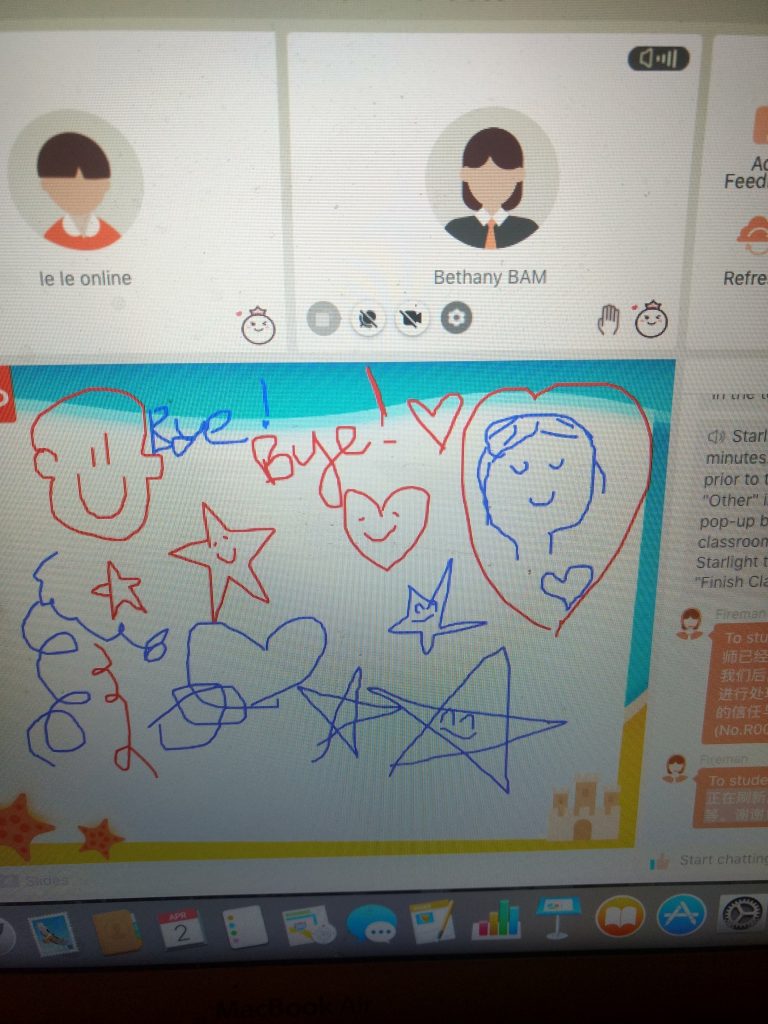 After I've finished up my classes, I'll close the laptop. Throw in a load of laundry, and go upstairs. The toddler and baby will be up by then, and I'll grab them to get them ready for the day while my hubby gets ready for work.
My days go A LOT better when I take the time to get dressed, and put together. It can be so tempting to stay in loungewear all day, but I never feel like myself, and my productivity lags!
We generally eat some version of eggs or pancakes for breakfast, and I always make coffee in the Moka pot, and use it to make myself an iced latte.
Hubby runs his own masonry company, and he'll leave shortly after breakfast. He works all over (sometimes minutes away, sometimes an hour), so a lot of times we won't see him again until supper.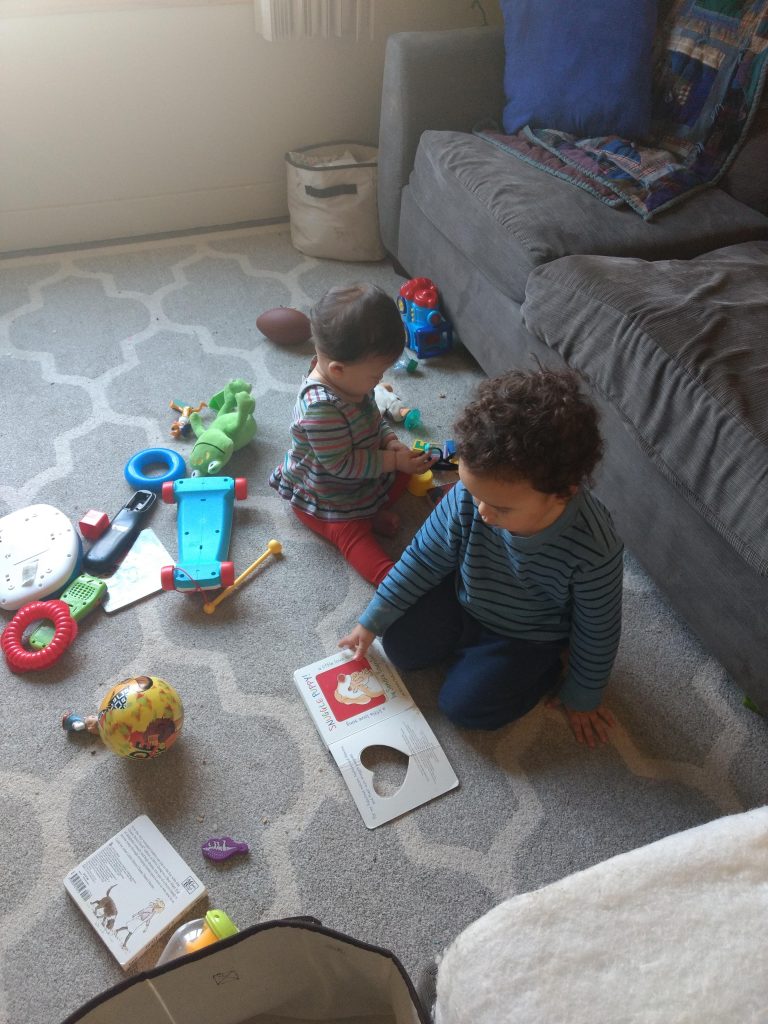 In the early part of the morning, I'll tidy up the living room and bedrooms, keeping a watchful eye on the kids while I'm doing so. They can't be left along, even for a minute. Gideon is 2.5 and is a little too active to leave along with a 7 month old. They are just beginning to start to play together a little bit, which is so fun! Eloise crawls all over the place, and I've constantly got to grab her away from the electrical cords or fish leaves out of her mouth.
If it is warm enough outside, then I'll check that I have a good podcast downloaded on my phone, and pop the kids in the stroller. I just got a Double Bob Stroller, and I LOVE it to pieces. I'll walk two miles around town, and let Gideon out to run on the bridge.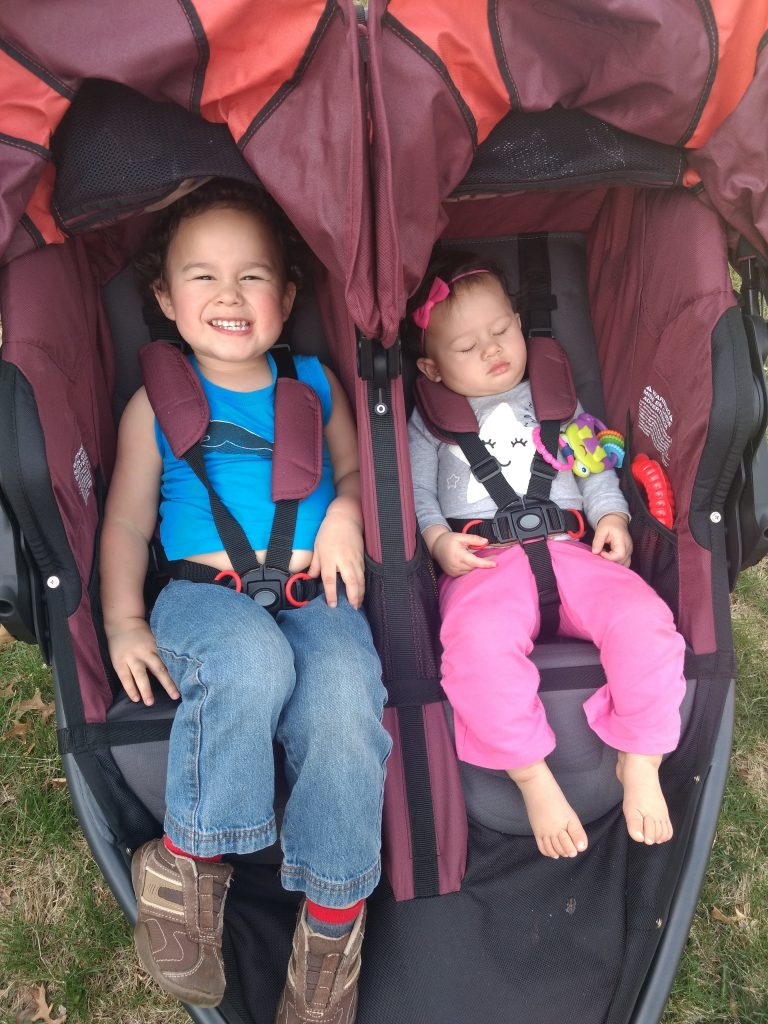 The Afternoon
When we get home, it'll be almost lunch time. I often make pasta, or simply pull out leftovers. Gideon goes down for a nap at noon, so I start lunch prep at 11:30. We eat, then Gid goes to his room for naps, and I hang out with Eloise.
It is amazing how much easier it feels with one kiddo as opposed to two! I'll eat a snack or drink another cup of coffee, sit with her on the floor, and often watch a new episode of This is Us or The Voice.
If I'm REALLY lucky, her nap will line up with Gideon's, and I'll get an actually 30-60 minute break while they are both sleeping. I protect this time fiercely. When they are both sleeping at the same time, I don't answer the door or my phone or get on social media or even housework. I'll work on my virtual assistant work (I work, part-time, for a blogger).
I do five hours of virtual assistant per week, and I try to get that done throughout the day, so I don't have to stay up late.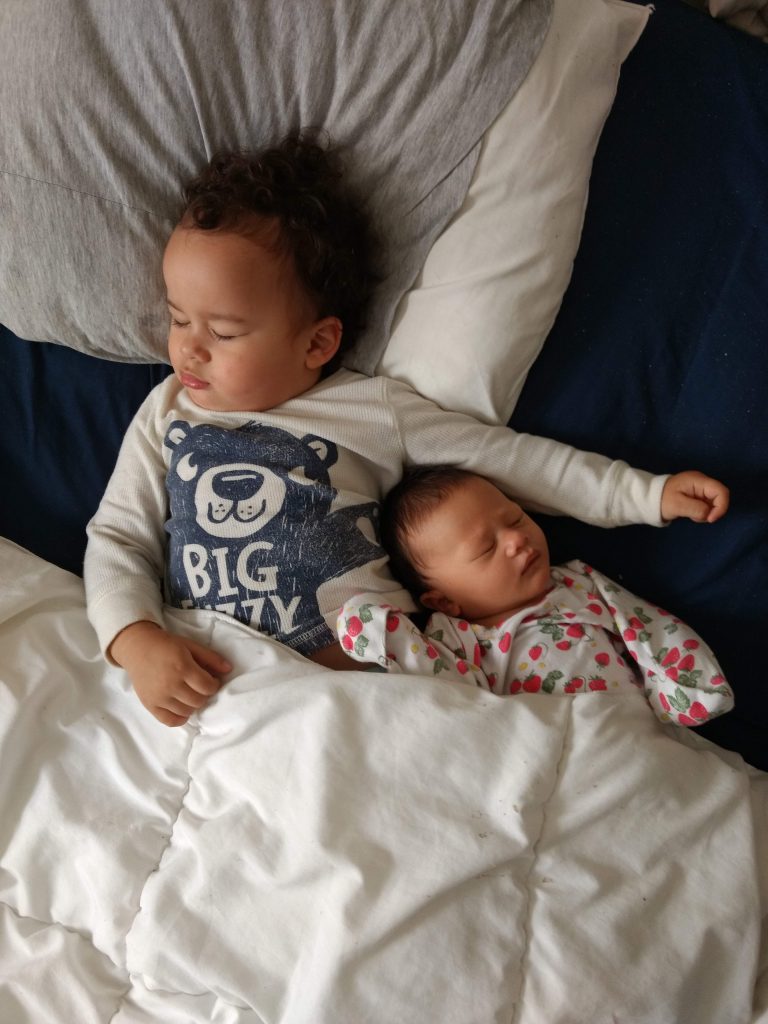 After one or both of them wakes up, it is off to the races again. We play, we might go into the backyard, we might go on another walk or to the park.
The Evening
When it starts getting close to supper time, I'll put on a video for Gid, and I'll work on throwing together a simple supper.
We do supper, TV time, and then Gid goes to bed at 7:30, E is usually asleep by 8:30, and I'll stay up to watch TV with Hubs or work on my blog/podcast, then go to bed by 9:30.
Being a work-from-home mama is the hardest, most exhausting thing I've ever done. I work all day, but some days it feels like very little is actually accomplished. And yet I wouldn't trade it for anything in the world! It is a very hard thing to explain. I love my kids to pieces, and this is what I've chosen, and yet sometimes I desperately need a break! My part-time jobs are exhausting, and yet I definitely need them to feel like myself. Makes sense? No?
The FREE Printable!
My days consist of a lot of diaper changing, book reading, discipline facilitating, and food prep. What I didn't consider before I became a mom? How much time goes into actual momming, especially when your kids are tiny.
As it turns out, keeping them safe, thriving, fed, and happy takes A LOT of time. The bits of the day left over are spent on housework and–if I'm lucky–projects I am chipping away on.
And now: a free printable just for you! I created this printable so you could print it off, laminate it, and post it on your fridge to reuse. Just fill in your email address, and I'll send it to you! Enjoy!