As I saw the elderly man approaching us, I knew it was coming, and my mouth twisted into a crooked little smile. I knew that this weathered old gentlemen would only want one thing: to exchange Hawaii stories.
We were eating at a local Mexican restaurant this past week, and Warrior Man was paying for our meal when I saw out of the corner of my eye, this man approaching us. He slowly walked up, and put a slight hand on Warrior Man's shoulder "Excuse me, sir" he drawled slowly "where are you from?". And in that moment, I knew for certain that the next fifteen minutes were gone.
About once a week someone in a grocery store, a local park, or a restaurant will approach Warrior Man, and ask if he is from Hawaii. As soon as he replies in an affirmative, this person or persons will proceed to gush about their recent vacation in Hawaii, their son's job in Hawaii, or their trip to Hawaii in the future.
On this particular occasion, this man eventually brought his wife over to us too, and we quickly discovered that their daughter just moved to the very town in Maui that my Fella  grew up in. This sweet couple chattered on, and on with Warrior Man, and he began telling them the sights they had to see when they visited her later this winter.
This elderly couples' eyes were sparkling, their face took on a new glow, and they soaked in all the advice Warrior Man could give them. This is only one of many such occurrences since I began dating this man.
I never would have guessed it, but dating him involves learning to be gracious, and enjoying the "paparazzi".
In the Midwest, my fiance is a super star all because of where he grew up. He spreads happiness wherever he goes, and people simply want to be part of that joy. He is a magnet for vacation stories, engagement trips, and recent moves to the land of the white sands, and smiling islanders. If there is someone within two hundred feet radius of him who has been to Hawaii at any point in their lives, you can be assured that they will find, and talk with him. And while I may never be the one in the limelight (for some reason, no one comes rushing up to me, and asks me if I am from Nebraska), I must say that I greatly enjoy being a small part of this whole experience.
One of the most beautiful things about relationships is that they broaden our circle of friends, widen our reach of experiences, and just generally make life more diverse, and fun. This is true for friendships, as well as romantic relationships.
So if you are in Wal-Mart, and you see a good looking Hawaiian guy walking by, go ahead and hurry to him to exchange stories about your summer trip. I will be the girl standing by his side, grinning to beat the band.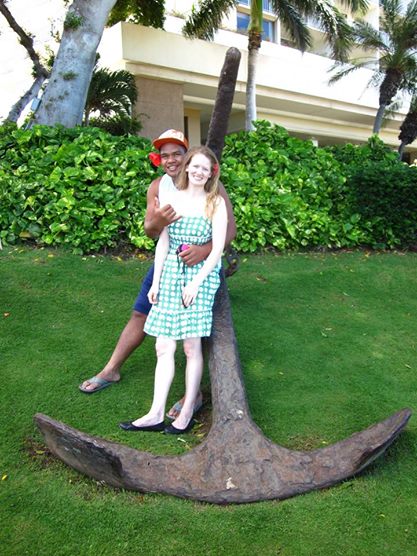 I would love to hear about your vacation stories, have you ever been to Hawaii? Or another neat vacation spot?