This short love languages quiz radically changed how I approach loving my husband. I always used to buy him a lot of little gifts throughout the year. I would grab a bag of pistachio nuts, a couple hymnals for his collection or a rugby shirt. He was so sweet about the gifts, but they never seemed to make him quite as excited as I expected.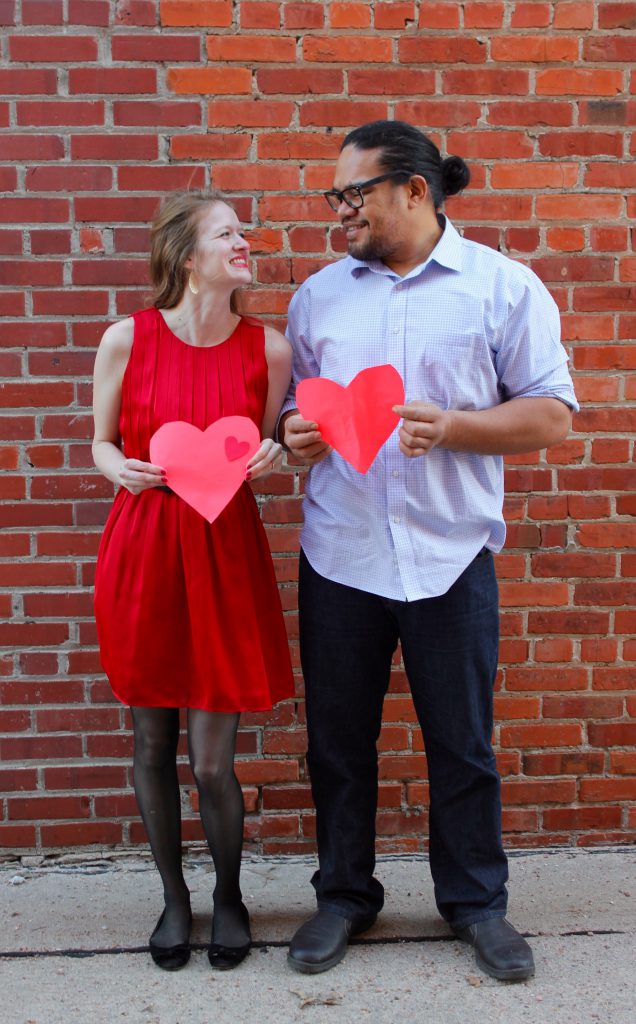 *This post may contain affiliate links. Purchasing from these links won't cost you any more money, but will give me a few pennies to run my blog.
Then we took the Five Love Languages test, and I was shocked by the results! Gifts were the lowest on his love language list, and they were highest on mine. And physical touch was highest on his list, and lowest on mine.
It's not that he did not like the gifts, but they did not speak love to him in the way they spoke it to me. We are just wired differently.
In light of that discovery, I have cut back on the gifts I give him, and he has started buying presents for me now and then. We both feel more loved.
Love languages matter, and I encourage you to love on your fella by giving him (or doing) something that speaks to his specific love language!
Words of Affirmation
Words of Affirmation is one of my top love styles. I get all warm and fuzzy inside when someone says something kind or encouraging to me. If your fella feels loved in this way, why not write down a bunch of reasons why you love him?
Use Window Markers to write him a message! For my Hubby's Birthday, I bought some window markers, and wrote a message to him on the mirror in the bathroom. Sometimes it is the simple things that mean the most!
Knock Knock What I Love About You : This little book is so much fun to fill out for your Fella for Valentine's Day. It is PERFECT for the person who's love language is Words of Affirmation.
Why I Love You: A Journal of Us: This is a sweet book, and and would be a great gift alongside the Knock Knock What I Love About You book.
Put together a photo album from the past year. For our anniversary, I designed a photo album and ordered it off of Shutterfly. It was the story of our year together, and my hubs (just my boyfriend then) absolutely loved it.
An engraved pocket knife: every guy should carry a pocket knife, and this one has a special message on the handle.
Write down 52 reasons you love him: put each reason in an envelope, and tell your man to open one every Monday for the rest of the year!
Cover the house with sticky notes, and on every sticky note write one thing you love about him (I've done this too, and let me tell you–we were finding sticky notes for weeks. Ha!
Acts of Service

If your fella's primary love language is Acts of Service then you could make him breakfast in bed, cook his favorite meal for supper (and do all the dishes and clean-up yourself) or even make him a coupon book with tasks and dates that he can redeem at any time! Since this type of guy feels loved by you accomplishing tasks be sure to do little things all day for him that show how much you love him.
Receiving Gifts
This one is pretty self-explanatory, and is my top love language. If this is your guy's love language then one idea would be to arrange a short little scavenger hunt for your fella, with five or six little, fun gifts. You could have the scavenger hunt around the house, throughout your town, or, as I did for my Fella one year, throughout a college campus. Here are a few more ideas:
Quality Time
For the guy who loves quality time,  you are going to have to set aside a chunk of time for him. He doesn't want gifts, tasks accomplished, or words to tell him that you love him–he just wants to hang out with you.
Take him bowling: Did I ever tell you the story of when I took my hubby, brother-in-law (who plays in the NFL) and a couple of friends bowling? My hubby and brother-in-law completely schooled us. Sigh. But it was still fun…I guess…;-)
Enjoy a movie night at home: cuddle up with your sweetheart and watch his favorite movie. You could even buy two of these adorable popcorn tubs!
Book a hotel at Hotwire, and spend a weekend away: Hotwire is my favorite website for getting fancy hotel for cheap prices. We have stayed at some of the most gorgeous hotels for fifty or sixty dollars a night.
Go Skydiving: If this is your thing then more power to you! Ha ha! Skydiving for Valentine's Day = perfection.
Go Ice Skating: This would be the top of my list for Valentine's Day.
Go to a concert: if your fella is a music lover then grab tickets for his favorite band or orchestra!
Physical Touch

This is my Hubby's love language, and though it might be harder to find gifts for this area it is still possible! Here are a few ideas…
Give him a massage: buy this

couples' massage book

along with some natural oil (I love this sweet almond oil mix!), and a coupon for an hour massage!
Give him a cashmere blanket: perfect for movie nights, and snuggling up underneath.
Take him out to dinner, and instead of sitting across from him, sit next to him: sometimes when we are in a booth I sit on the same side as Hubs. The waiter might give us an odd look, but it is fun to break up the status quo and be close to each other!
Go on a tour of your city: take your camera, and pretend you are a couple of tourists. Take pictures of everything, snuggle up close to each other, and pretend like you are in a foreign country. It's fun!
What is a gift you have given your man that he has loved?