Gideon is napping on me, and I am hungry.
One of the great conundrums in my life right now is this: Gideon is crying so I sit down to nurse him, and then he promptly falls asleep on me. If I stir, then he will wake up and be cranky, and it will take another half hour to get him settled again. But I am hungry, thirsty, have a crick in my back, and my cell phone is dying.
I have gotten better about trying to make sure I have a snack, a glass of water, and some form of entertainment within reach most of the time, but sometimes I just need to feed him, and I don't realize he's going to fall asleep on me for several hours when I sit down. Thankfully, my laptop is fully charged, so here I am, typing up all the questions rattling around in my head that I would very much like to ask a Mom friend right now.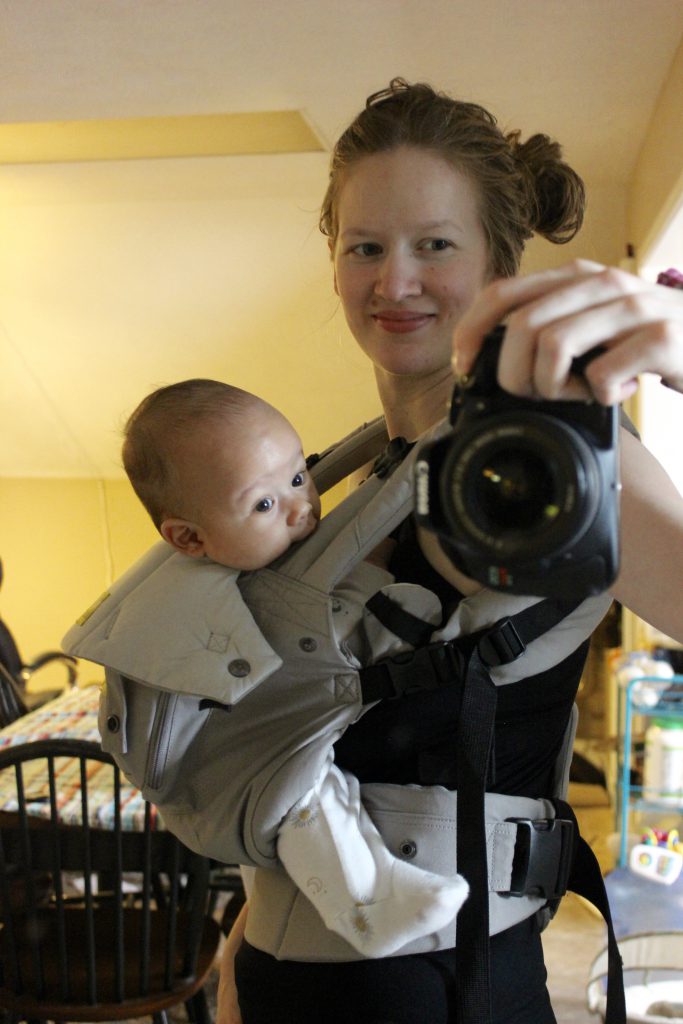 1. How important is tummy time, really?
Gideon loathes tummy time. We still work on it a bit every day–I have realized that he is more amenable to lying on his stomach when he has just woken up from a nap or had a diaper change, and he likes it better if I prop him up on the boppy or changing pad, but he still has very little tolerance for it. I have tried toys, getting down to play with him, and music but he still doesn't enjoy it. My question is: how much tummy time should he really be getting a day or is this is it even necessary?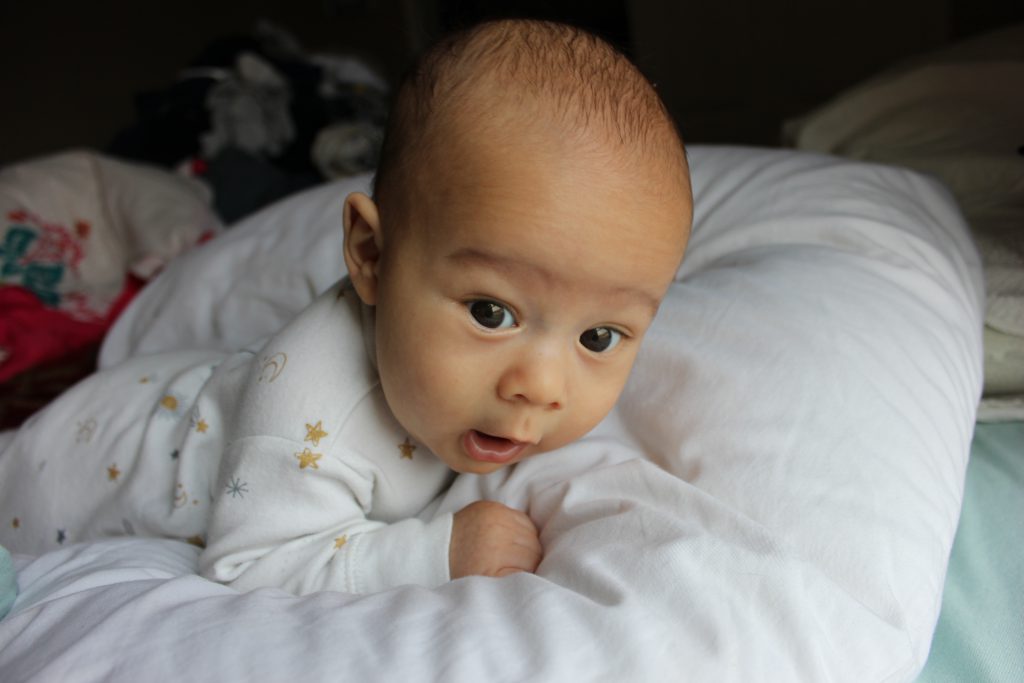 2. How bad is it if he watches an 8-minute video?
Today, when I was researching how to get my baby boy to do more than five seconds of tummy time, I stumbled across this video. Everyone was extolling the fact that it chilled out their babies within seconds. So when I tried tummy time with Gideon, I propped him up on the boppy, and let him watch this video. It didn't surprise me when he really enjoyed it, because he LOVES contrasting colors. He is always staring at anything black and white that he can find. What did surprise me is that he kicked away, and watched that video for eight minutes (which is about sixteen times as long he has ever been content during tummy time). He was not only content, but also held up his head most of the time. I have never seen him hold up his head during tummy time so well! I felt so proud of him for doing tummy time,  but then I felt guilty that he was watching a video at all. Is it wrong to bribe him to do tummy time by watching this video? Is tummy time that important? Do I need to get more fun toys for him instead?
3. How do you get everything done?
Gideon has just begun to get into the beginnings of a routine. He generally goes to bed at about the same time–between 8 and 9 o'clock every night, he wakes up about every three hours throughout the night to eat, and he's up for the day between 6 and 7. Then about an hour later, he goes down for his first nap of the day. The rest of the day still really varies, and there has only been 1-2 times when he has let me set him down to sleep, and actually stayed asleep longer than ten minutes. He sleeps for hours when I am holding him, if he is in the car seat, or if he is in the baby carrier. I have gotten better at getting some things done–but I feel like as soon as Saia is home to hold him, I am just rushing about like a crazy woman trying to make dinner, clean something, do laundry, catch up on blog work, pay bills, etc…until I fall into bed exhausted when G gets cranky. How do other women stay on top of their housework with a baby?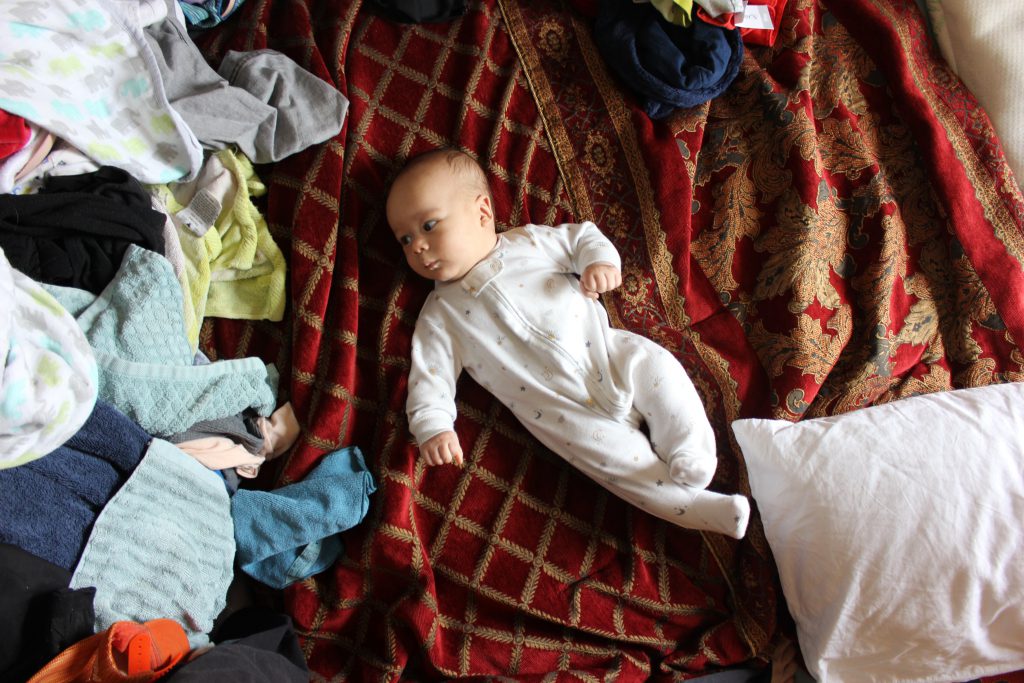 4. How do you handle watching him grow up?
With every day that passes I am so aware that his baby days are slipping by. Maybe it is because so many people have told me that it doesn't last long, maybe it is because he has gotten chunky so fast or maybe I am just inclined to melancholy–but I feel so sad that he is getting older. I love him so much, and I feel like it is all going too fast, and he is only three months old! I just love holding him, snuggling him, his little hands clutching my shirt. How do other mamas handle, with grace, watching their babies grow up?
5. How do you fit in exercise?
Every month, I write down the goal to exercise daily. I was so looking forward to being able to exercise again, and once my midwife gave me the go-ahead I was giddy! I walked a lot at first, which is exactly what my weakened body needed, but now the temperatures in Nebraska are plummeting, and taking Gideon on a walk is no longer a viable option most days. How do other mamas do it? Get up early? Stay up late? Incorporate baby into the workout?
6. How do you handle the mommy guilt?
I already feel guilty about some things in his short life (see #2). Every time I set him down I feel guilty. How do you deal with mommy guilt?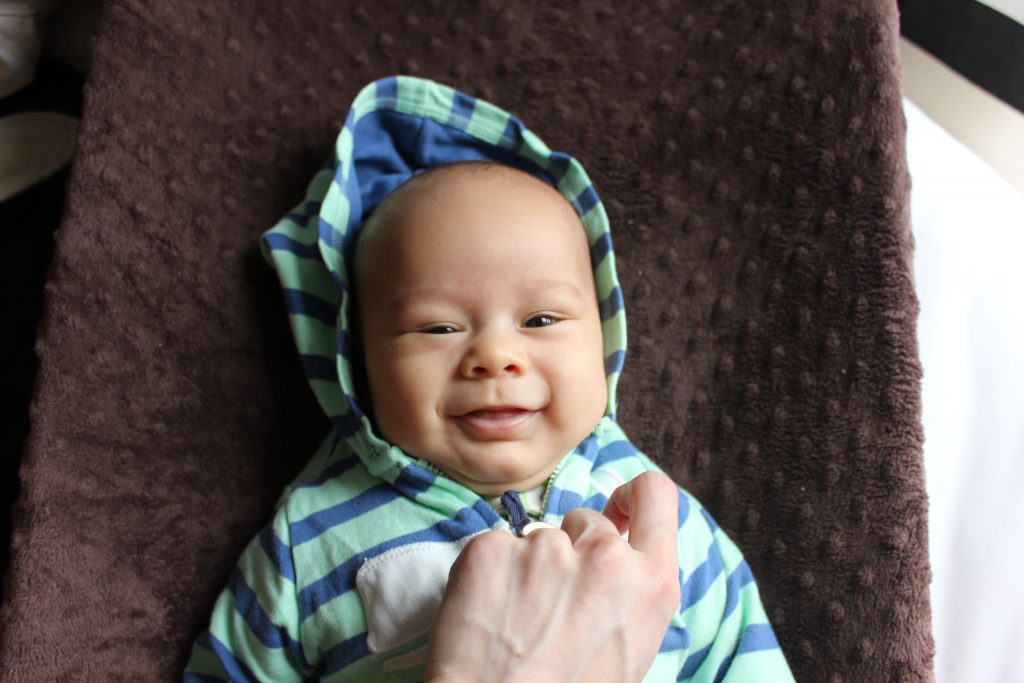 7. Does he need an expensive baby gym?
I worked really hard this past summer to find tons of used baby items. I saved us so much money by going garage saling every weekend, and I've been so relieved to have most everything we need on hand. But now that he is beginning to understand toys, I am wondering if I should buy him one of those fancy baby gyms like the Baby Einstein Gym. Does he need this for his development? Will he love it? Will he hate it? Is it a waste of money? Do other babies all have baby gyms?
8. How do you bundle your little one up for cold weather?
Now that it is getting colder, I've been struggling with how to keep Gideon warm on our outings. If I put him in his little snow suit, he is toasty warm when we are outside but when we transition into the car or a store he quickly gets too hot. That snow suit is difficult to get on and off, so it doesn't seem right to just be constantly dressing and undressing him. Should I be dressing him in more layers?
Do you have an answer to one of these questions?