It's been a full week over here at the Lotulelei hacienda! Here are a few thoughts about this past week…
1). Don't take air conditioning for granted.
Since hubby started his summer job a few weeks ago, we have been putting the extra money towards things that have needed attention for a long time. Last week I shared that we had to replace our brakes which ended up being rather costly, and this week we charged up the A/C in our car. We have been driving around without any A/C for the past few months, and now that we have it again I cannot even tell you how incredibly beautiful air conditioning feels. Every time we get in the car I feel awash with gratitude that we now have this blessing. Nebraska has been uncommonly hot (for this early in the summer) the past few months, and even though air conditioning is not a need, we definitely missed it when we didn't have it! I have arrived hot and sweaty to too many events, I have had presents melt while driving to my friend's house, and I have been unable to offer rides to other people (hey, come ride with me in my oven…ahem…car!). I am so grateful we now can drive to and fro in comfort.
2). I love Yoga! Who knew?
Last week I decided I really needed to get this exercising thing in hand. I haven't been an avid exerciser for a couple years (years!!) now. I used to not let a day go by without a run or a class or something, but the past couple years I got out of that habit. I have started running every other day to prepare for a half-marathon I am running with a friend this fall, but I needed something to do on the days I wasn't running. I got on YouTube to peruse workouts and stumbled across 30 Days of Yoga. I have never really had any interest in yoga, but I decided to give it a go. I cannot even tell you how much I have loved working my way through these thirty days! It feels SO GOOD to stretch, and strengthen on my days off from running. My yoga routine has gotten rid of a lot of anxiety, and it really does feel like a full body massage. I highly recommend this month of yoga.
3). Our freezer is now full of grass-fed beef!
A few months ago, I shared my goals for the future regarding our journey towards eating a real food diet. Because of that post, a friend reached out and said her family would gladly split a quarter of a grass-fed cow with us. This past week we picked up that meat, and now our freezer is full of steaks, ground beef, soup bones, cow heart, and more! We are eating our first grass-fed ribeye steaks tonight, and I couldn't be more excited.
4). CoSchedule is my new blogging best friend.
I don't know why it has taken me so long to try out CoSchedule. I have read so many blogger's positive review of it, but I guess I just didn't see the need for another organizational calendar. I do pretty well with my WordPress calendar, but I noticed that I could try out CoSchedule for a few weeks for free so I figured I'd give it a go. After a week, I am now in love with CoSchedule (I tweeted as much, and they answered me!). It is so beautifully organized and makes scheduling social media  a breeze! It also gives me the option to let it decide when is the best time of day to post on social media (such as Facebook, twitter or pinterest) and I have noticed a sharp increase in interactions since letting CoSchedule choose when to post. If you are a blogger I really suggest giving CoSchedule a try (but only if you are prepared to make it an essential on  your blogging habits).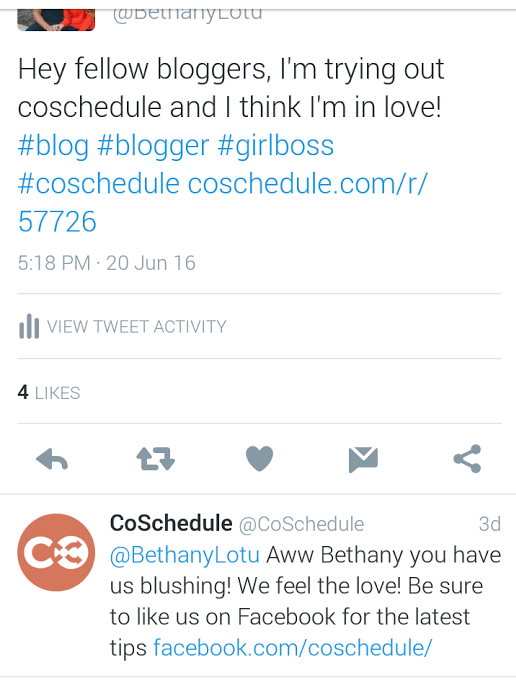 5). Take the emotion out of the budget. 
We attended our first class of Financial Peace University. I have been reading some of Dave Ramsey's literature pertaining to budgeting. The one thought that has stuck with me the most is to just treat your budget like a business transaction. Take all the emotion, fear, worry, and regret out of the equation completely. This has really changed how I approach my finances! We're working on our July budget this weekend, and we hope to sock more away into our savings and eat out less!
What are some highlights from your week? I'd love to hear them!