The cost for my prenatal care, C-section, and six week follow up ended up being $20,000.
Well, $21, 331.93, to be exact.
Back when I was struggling with baby fever, I remember trying to decide if I should raise our insurance to fully cover all things maternity. My insurance level, at the time, would have covered just the delivery–no prenatal costs, no midwife, just the one bill for the delivery itself. I looked at the average cost of a midwife and prenatal costs, and it didn't look that bad so I decided to wait.
I figured, based on that number, that we could handle that cost if we became unexpectedly pregnant. So I waited until we were ready to start trying.
Knowing what I know now, I am so grateful that we didn't have a surprise pregnancy!
I had no idea that I would end up having complete placenta previa, a C-section, and several days in the hospital. I never would've imagined that the bills would pile up so fast or that we would have bills from not only a midwife, and prenatal appointments but also an OB/GYN, a surgeon, an anesthesiologist, three days of hospital care, and all the bills for my baby, Gideon's, pediatricians. I am grateful every single day that we were a member of Christian Healthcare Ministries.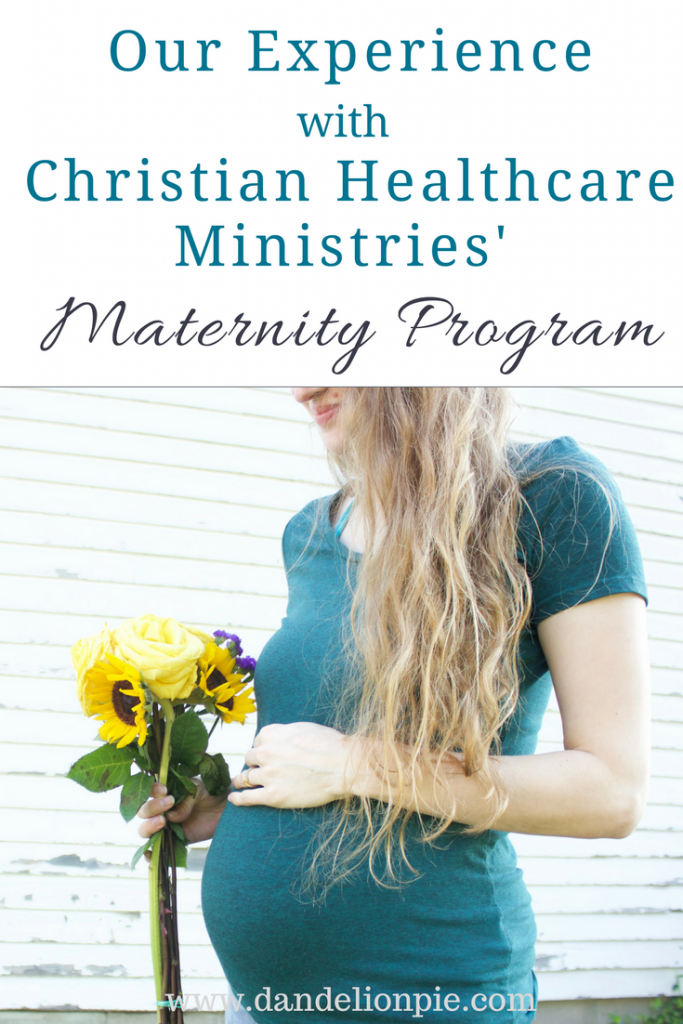 What is Christian Healthcare Ministries?
Christian Healthcare Ministries is not an insurance company, but rather a health cost sharing group of Christians.
It is a valid insurance alternative, so we don't get penalized for not having insurance, and it does work similar to an insurance company.
Every month we send in our "gift" which is CHM's terminology for a monthly premium, and when we have a health issue we can submit the bills to be covered.
There are three levels: Gold, Silver and Bronze. Bronze is the lowest level and costs $78 a month for one person to be covered, and the deductible is $5,000 for each incident. Gold is the highest level, and costs $172 per month, and the deductible is $500. For our first year of marriage we were both on Bronze, so we paid a very low monthly premium. But when we decided to start trying for a baby we raised my coverage to Gold, and boy am I glad we did (we did leave my husband's coverage at Bronze)!
Note: CHM only charges you for three units, no matter what size your family is. So we pay for Hubs, Gideon (after his first three months) and myself, but if we added our second baby, Eloise, without any additional monthly cost.
One of the main attractions, for me, when we decided to sign up for CHM in the first place, was their awesome maternity coverage. If you are on the Gold sharing level then all of your maternity costs are covered after that initial $500 deductible. However, if you get any sort of discounts (which we received thousands of dollars worth of discounts since we were technically self-pay since CHM is not an insurance company) then you don't pay anything. That's how it worked for us, we didn't have to pay a single dollar for my prenatal or postnatal care, and Gideon's birth. 
Back when I was pregnant, I was incredibly nervous about CHM, and wondered if they might be a scam. As the pregnancy continued and I realized how pricey it all was going to end up being, I became even more nervous.
I worried that CHM sounded too good to be true! What if they didn't pay my bills and we were left saddled with all this debt? I spent a lot of time online searching for articles written by people who had used CHM during pregnancy for reassurance, but I couldn't find a single blog post from someone who had used it. So I vowed, after I went through the whole process, that I would write a blog post so that others could find what I had been looking for.
When I first found out I was pregnant, I called CHM right away.
I told them I was pregnant, and even before I could ask my questions, the gal talking to me on the phone enthusiastically congratulated me!
I asked her what I should do in order to get my needs met through CHM, and she said I could go to any doctor or midwife that I preferred. She told me that at my first appointment I should get a copy of my OBGYN or midwife's "global fee" schedule on their letterhead. I could then submit that right away, and CHM would hopefully pay my prenatal bill before I even had the baby. Then as the pregnancy progressed, every bill I received I should submit to CHM right away so that they could share it (CHM speak for pay it) as soon as possible.
My First Prenatal Appointment
At my first appointment, I did receive a global fee on their letterhead (it was just part of the packet they gave me, I didn't even have to ask), and I dutifully submitted it. CHM makes it incredibly easy–you can just log in to your member portal on their website, and scan it in! I just snapped a picture with my phone, and uploaded it.
I did have to scan a few forms in as well just to document that this was for a pregnancy, but it was all very straightforward. I loved that every time I received a bill I could just scan it in that day, and file it away in my filing cabinet and be done!
After I Had the Baby
None of my prenatal charges were billed until after I had the baby–so once I got the bill for all my prenatal care, l I submitted it. But I did have three ultrasounds, and each of those were billed right away. Two of them became overdue, and my midwife's office charged 18% interest if bills go past three months overdue, so I called CHM and asked what I should do. They said if I had the funds to pay it, to do that, and then just reimburse myself.
I went ahead and paid the two ultrasound bills I had, and within a week I received a check for them from CHM. I found that CHM consistently sent me a check 3-4 months after I submitted the bills, so getting them in right away was super important! I couldn't have been more excited the day that I received $3,300 which was earmarked to cover my prenatal bills. I hadn't even had the baby when I received that check, so it was waiting in the bank when the bill came.
What I didn't realize when I started the process was that CHM would mail checks to me in my name. So I could just pay the smaller bills right away, and then reimburse myself once CHM's check arrived.
The larger bills–like my $13,000 C-section–I didn't pay, but just waited until CHM sent me a check.
CHM Is Great to Work With
When my plans had to change from a natural birth to C-section, CHM didn't even blink an eye. They said that these things happen, and just told me to submit the new bills. They were kind, and helpful every step of the way even with all the change that this pregnancy threw at me.
After I had Gideon, I received almost a dozen bills in his first few weeks of life. I submitted them all, and waited.
I waited three months.
CHM recommends that you call all the bills that are over $1,000 and negotiate a small payment plan if they aren't willing to wait on the bill.
I didn't do that. I was too exhausted, and I decided to just ignore the bills until CHM sent me a check. I have never ignored a bill before, but I totally relied on CHM to pay them, so I didn't feel too bad about it. And I was just honestly in a new mama haze. I ignored them for about two months, and when a few of them let me know that they would be sent to collections if I didn't pay, then I wrote a check for them from our emergency fund. Then, shortly after that, I got a check from CHM for $16,329.00 in November. That paid off my C-section, and a few of Gideon's bills. I was ecstatic!
By November (four months post birth) all the bills were paid, but I was still waiting on a $1,500 check from CHM which I would use to reimburse myself for some of the smaller bills I had paid so they wouldn't go to collections.
This past week, when I opened the mailbox, I saw a letter from CHM with that pink paper that I had come to recognize, and love. I ran upstairs, and asked my hubby, Saia: "guess what this is?!".
When CHM sends you a check they include along with it an explanation of what they paid, a letter, and a Bible verse! I kept every Bible verse they sent me. I plopped that last check straight into our savings account, and we are done!
All the bills are paid, everything we paid is reimbursed, and Gideon is now five months old.
Did you use CHM for our next child?
Without CHM we would be swimming in bills right now. I can't even imagine how stressed I would've been if I had to recover from my C-section, take care of an infant, and try to figure out how to pay off all the bills. I ask my husband daily: "aren't you so glad we had CHM?!"
I tell all my friends who will listen ,what a blessing CHM has been to our family, and how great they are for anyone who is of childbearing years.
Two years later, we had our second baby Eloise via VBAC. CHM paid every single bill again, even all the bills for an expensive Endocrinologist (I had thyroid issues during my second pregnancy).
Did You Do Anything Differently with Your Second Baby?
Before we had our second baby, we joined Brother's Keeper  which is an extra program within CHM to cover catastrophic medical bills.
CHM caps how much they pay per incident at $125,000. If you are at the Gold level, and add Brother's Keeper, than you have unlimited assistance from CHM for any incident.
When I became pregnant, I thought it was ridiculous to think my pregnancy would cost more than $125,000, but then I was diagnosed with complete placenta previa. I found many friends on instagram who also had complete placenta previa, and several of them ended up being hospitalized at 26 weeks, and stayed in the hospital until their baby was born. They racked up hundreds of thousands (one insta friend told me half a million) dollars in bills because of their extended stay, plus preemie bills, etc… I am so grateful that didn't happen to me, but it has also taught me that bills pile up really, really fast and you never know when it might happen to you.
I, also, submitted all the bills earlier, and paid off as many of the little ones as we could so that they didn't pile up too fast. CHM reimbursed them all, and we didn't have to pay anything for our second baby's prenatal care, delivery fees, or postnatal care.
I am SO grateful!
Side note: This is NOT an affiliate post. I just want to get the word out on what a great company CHM is, and how mightily they have blessed us! However, if you do decide to join based on this post I would so appreciate it if you would list me as the person who referred you, and put my member number in your application.
CHM gives us a free month for every person we refer, and you sweet blog readers signing up has been a big blessing for us. Thank you! (name to put on your form: Bethany Lotulelei, CHM number: 229569)
Do you have any other questions? Ask below!