The grocery store felt a a little bit back to normal this week. The last few times I've gone to Wal-mart, I've really struggled with all the differences: the employees counting you as you walk in, the announcements to stay six-feet-apart playing on the loud speakers, all the masked people. Not to mention all the bare, empty shelves.
But this past shopping trip the sun was shining, people seemed a little bit more cheerful, and–get this–baby wipes were in stock! Toilet paper, of course, has been out of stock for weeks, and baby wipes have been as well. When I turned the corner, and saw the big boxes of bulk wipes that I always buy for my babies, I just about teared up. I know it is a first-world problem not to have access to baby wipes (and, honestly, if I shopped around I could probably have found them somewhere), but it is so comforting to have a big box of them at our house again.
It's the little things.
Remember when we could take babies to the grocery store?
I found this old picture of Gideon. Can you spy the toilet paper over his left shoulder? Remember when we could simply walk into a grocery store, and buy toilet paper? Or when we could all go shopping as a family?
My poor little extroverted first-born son has been suffering with his lack of humans-other-than-Mama-and-Papa-and-Sister contact. He begs me to go to Wal-Mart: "We go Wal-Mar, day?" he will ask. Poor little chap.
We used to take so much for granted! Stocked shelves, taking babies to parks and stores and restaurants. If there is one thing this world-wide-pandemic has taught me it is to be grateful for the everyday, normal things that I usually take for granted.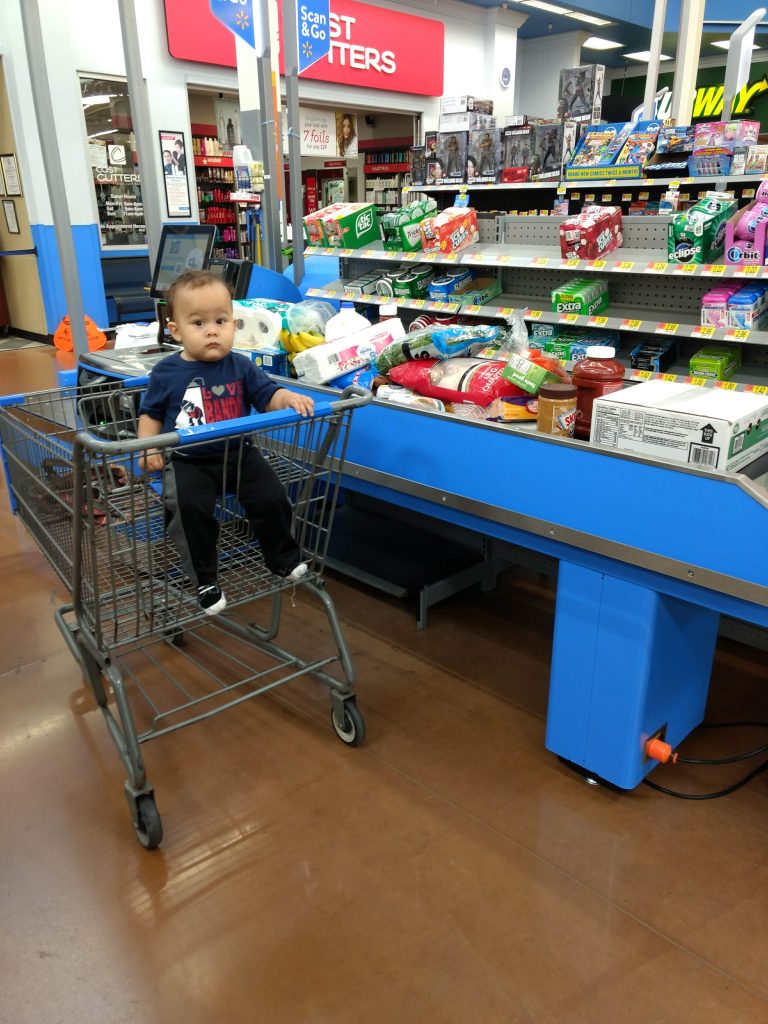 But I digress…
I stuck to my budget again this week!
Sticking to a food budget is tough!
We spend very little on other categories in our budget. We rarely spend any money on clothes, tech, etc…We don't have any expensive hobbies.
But food? It is SO easy for us to keep tossing food in the cart, and rationalize it by saying it will probably last us two weeks. You guys, it never does. Six days later, we are back in the store. By we, I mean me, but it makes me sound better to say we. Okay? Okay.
Having you, my sweet readers, as my accountability partners in this quest to cut back has made all the difference!
So, I bought some junk food…
I stuck to my budget,but I also tossed some junk food in the cart.
Honestly, I am weary of cooking. Anybody else?
Before the Covid-19 scare, we did most of our cooking at home. I make eggs for breakfast, a big lunch, and often leftovers for supper. We eat a lot of homemade bread, homemade pizza, spaghetti and meatballs, and beef and rice dishes. We do curries. We do soups. We cook, and bake a lot.
But before all the restaurants shut down, we would order out about once a week. We would pick up some fast food on a crazy day, or order from our favorite Mexican restaurant as a special treat.
With most of the restaurants closed down in our small town, we have hardly eaten out AT ALL. We ordered a Casey's pizza once, and that was it. Which has been AWESOME for the budget (yay!), we've never spent this small of an amount on eating out before. But it has also meant that we are cooking every meal. I didn't realize how much of a relief it was to grab fast food once a week.
I am weary of cooking. Weary of baking. But mostly weary of washing dishes. Can I get an amen?
So I tossed french fries in the cart(yum!). I grabbed chips and salsa (double yum!) for a snack. The sausage links were definitely an impulse purchase. Do I regret it? Not even a little bit. I make my family a lot of healthy food, but I am learning that if we are eating at home 100% of the time, it is nice to have a few "fast food" types of foods on hand too.
Ready to see what I bought? Let's go!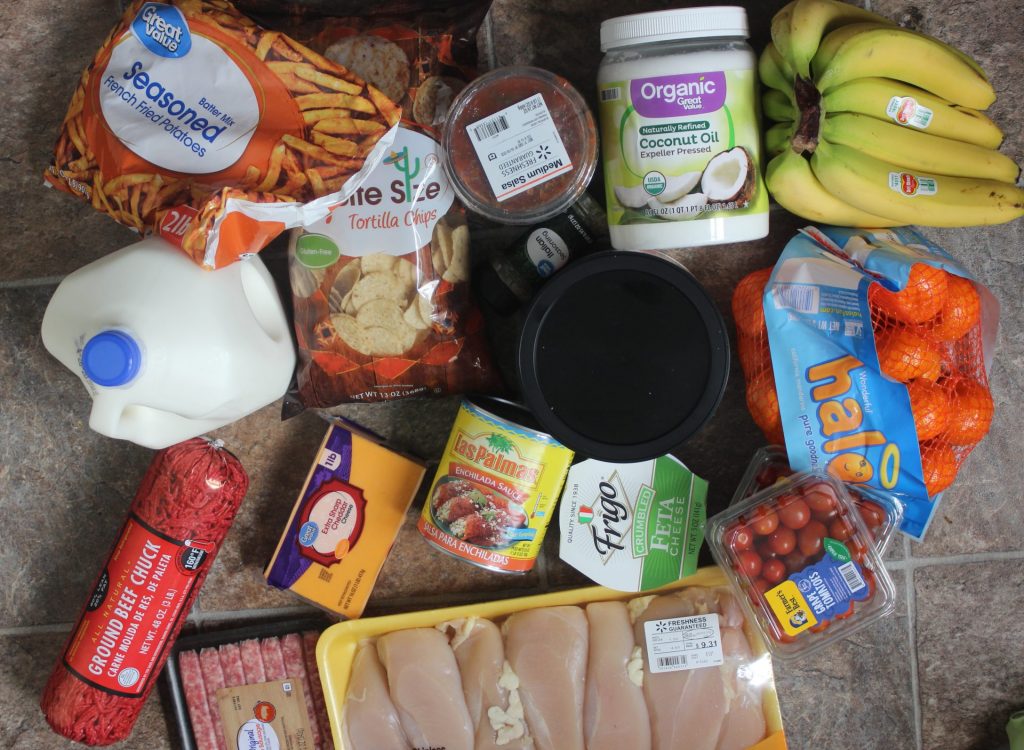 2 lbs Seasoned Fries $2.14
Milk $3.22
3 lbs Ground Beef $8.98
Sausage Links $2.98
5 lbs Chicken Breasts $9.31
1 lb Sharp Cheddar Cheese $4.22
Tortilla Chips $1.98
Fresh Salsa $2.98
Enchilada Sauce $1.62
Italian Seasoning 98 cents
30 oz Coffee $6.38
56 oz Coconut Oil $9.98
Bananas $2.14
Feta Cheese $3.98
Cherry Tomatoes $3.96
Clementines $4.34
3 boxes of Bubbly Sparkling Water $10.14
Total: $76.10
Meals for this week:
Saucy Chipotle Chicken on Rice
Saucy Chipotle Chicken Spaghetti
Homemade Gyros + Homemade Pitas and fries
Bean and Chicken Enchiladas
Pancakes and Sausage Links
A few notes: I have a ton of corn tortillas I need to use up, hence the enchiladas. Pancakes usually make an appearance 1-2x a week, because I always have the ingredients on hand, and they are so easy. We still have a lot of veggies and fruit to use up in the fridge and freezer. Homemade gyros are going to be a treat! It has been a few months since I've made them.
That's it! Check back next week for grocery haul #3!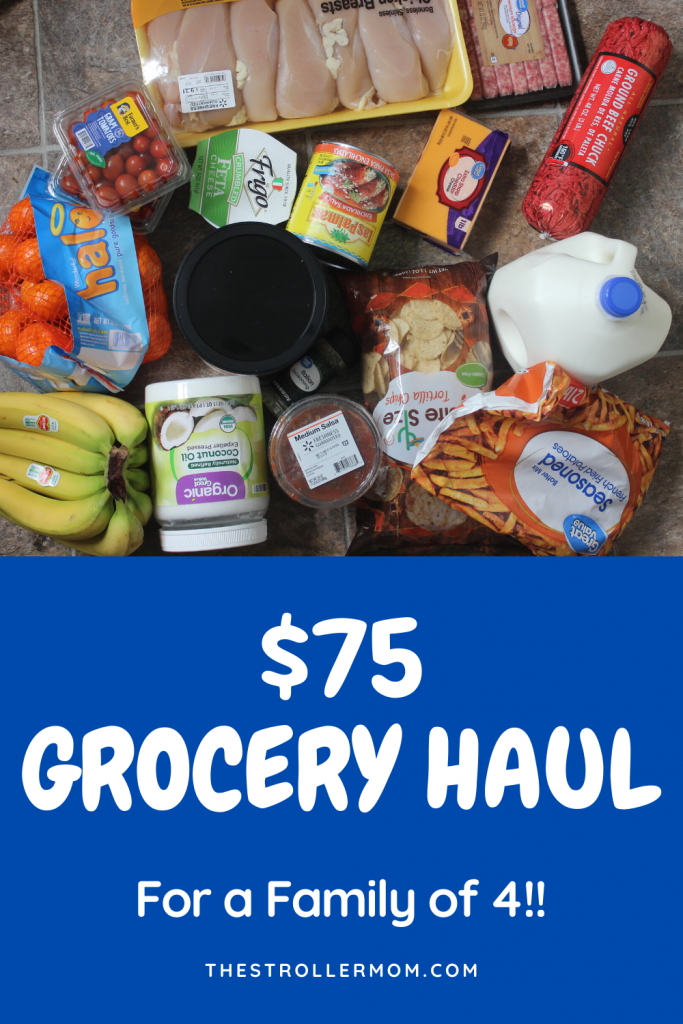 What's on your meal plan for this week?