We scheduled baby L's birthday last week.
It was the most bizarre thing, my midwife called me, I looked at my calendar, and we chose a date for this baby to be born. If everything goes according to plan (with placenta previa, everyone is just hoping that I'll make it to the c-section without bleeding/early delivery), this baby will be here in less than six weeks!
When I wrote it on the calendar, I wrote "Baby Day!!" because that was a whole lot more pleasant than "c-section" or even "Caesarian birth". Trying to keep everything framed positively these days.
While a scheduled Caesarian was never something I hoped for, I am trying to find every single positive that I can about this situation. Here is what I've come up with so far:
Hubby knows exactly which days to take off from work.
We can choose, and even interview our surgeon.
I know (barring any problems) exactly how many weeks I have left to get my to-do list done.
We won't have to rush to the hospital.
This baby is a mover!
When I am lying down at night, I can't help but laugh, because this baby moves so much that he/she will actually rock my body from side to side. I will, also, be looking at my belly button, and it will morph and stretch into every shape imaginable as baby's little legs press up against my belly. This being my first pregnancy, I don't have anything to compare it to, but it really seems to me like baby is incredibly active.
It is amazing to think back to when we first felt him/her move at 16 weeks–just the tiniest little taps that we could only feel if we put our hands in the right spot, and held our breath. These days, there is absolutely no question that there is a person in there. Baby's little feet are snuggly up in my ribcage, and he/she exercises them many times a day! Sometimes I feel his/her little hands up against my hip, and those legs are always moving.
This post may contain affiliate links.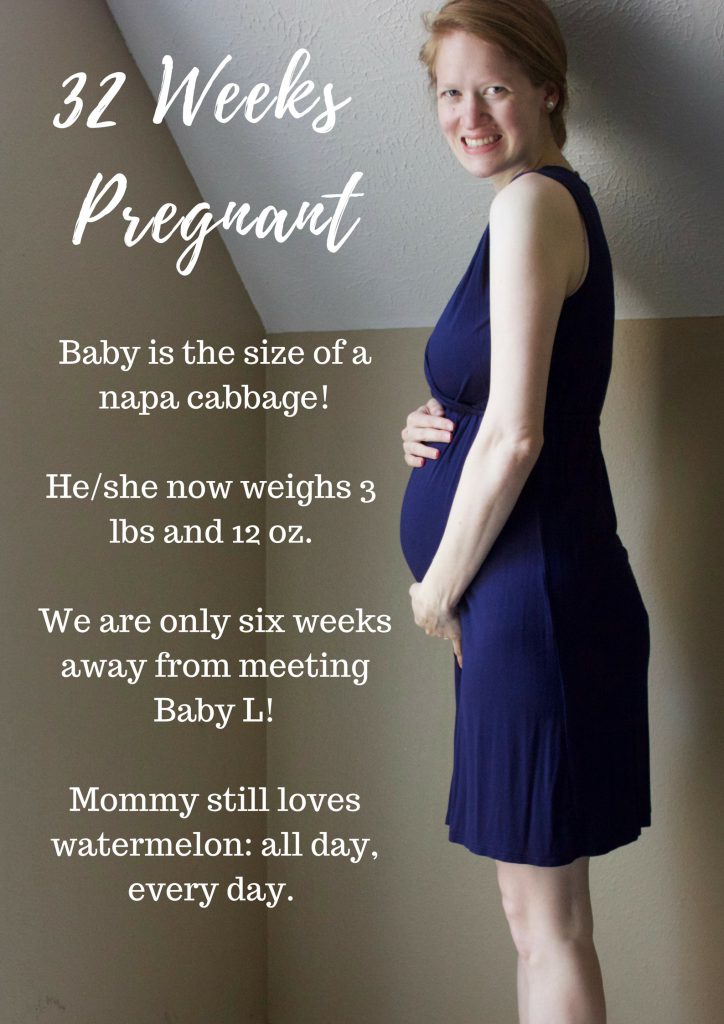 How far along: 32 weeks
Due date: August 29 is my due date. My scheduled C-section is on the calendar, but we're keeping the date a surprise for now. Hey, even c-section mamas deserve to have an element of surprise, amiright? 😉
Gender: It's a surprise!
How big is baby?  My little half-Polynesian baby was as big as a coconut last week, and this week he/she is the size of a napa cabbage! Baby is 18 inches long, and weighs about 3 and 3/4 lbs! Baby's main job, right now, is gaining about 1/2 a lb a week which just boggles my mind! I love that baby is adding more chub every week. I can't believe that baby will add 3-5 lbs to his/her weight before birth, whew!
This week, baby: is working hard to develop his/her brain. Which reminds me, I need to pick up some more fish oil supplements!
Exercise: no exercise for me, because of my restrictions. Looking forward to the day when I can go on long walks and runs again!
What I'm googling: Lately, I've been googling "what to pack in your hospital bag". I really need to sit down, and make a list pretty soon!
What I'm reading: I received The Essential C-Section Guide, and it truly has been a balm for my mind. This book is written by two women who have had multiple c-sections, and they approach the topic with an immense amount of grace and understanding. The book dives into the history behind c-sections which I find incredibly interesting! For a long time, throughout history, women weren't allowed to have anesthesia during a c-section because it was believed that they still expected to "sorrow" during childbirth. Yikes. I am so glad I am living in the 21st century! 
Purchases I've made: I finally connected with the lady from our local buy/sell/trade facebook group, and picked up this boppy lounger for $5! It is like new! I, also, picked up a pile of baby books at a garage sale. We don't really have any children's books–eep!–so I need to start looking for those at garage sales, but that means I also need a new bookshelf. Ha!
How are you feeling? Physically, I am still feeling pretty good. Emotionally, I am starting to feel a glimmer of hope. Every week that I make it without a bleed is a major success! I am starting to feel like I can see the light at the end of the tunnel.
Maternity clothes: I am still in love with my little maternity capsule wardrobe.
Sleep: Still sleeping really well, for the most part, although those fireworks sure kept me up on the Fourth of July! It really made me miss living in the country.
Best moment this week: My Mom and sibs came and helped me clean out our closet. Which was a Very. Big. Deal. This closet is the only storage area in our apartment, and I'd been cramming baby stuff in there for months. Then I was put on restrictions, and I could not lift anything. So this closet has stayed that way for quite a while. My fam came to help me finally tackle that beast, and it felt soo good! They not only cleaned the closet, but took everything I sorted out to Goodwill, took out my trash, scrubbed the kitchen, brought me supper, and left me with some homemade bread!

I, also, received a sweet package from my blogging friend Katie (who blogs over at The Rescued Princess). Katie looked up my baby registry on Amazon, chose a few sweet gifts, and sent them my way along with a note. It was such an incredible surprise. Thank you blogging friend!! You are so very thoughtful.
Worst moment this week: I had a few yucky symptoms again this week–my major neck pain/headache came back, and I had a bit of nausea. Just didn't really feel the best the past few days.
Miss anything? I am definitely becoming less comfortable when I am out and about. I miss being able to go wherever and do whatever. I miss feeling strong physically.

Movement: SO much movement. I have started grabbing any family member's hand and placing it on my stomach when baby is moving. My stomach morphs into different angles. I roll up my shirt, and watch as my belly button is manipulated and transformed into all sorts of different shapes. My stomach is feeling really tight this days, and baby makes it even tighter with all of his/her shenanigans. I can't imagine baby getting any bigger at this point, but I know that he/she will probably double in weight by the time this is over! Whew!
Cravings/Eating: If I had my way, I would subsist on spicy parmesan pasta, watermelon, and sweet homemade muffins. But, I am trying to sneak in more protein, eggs, and veg as well. 🙂 FOr baby's sake, and so I don't gain five pounds a week for the rest of this pregnancy.
Symptoms: low back pain, achy hips, fatigue, neck pain, headaches, feeling pretty weak since I've been restricted from exercise. Sigh.
How's Daddy doing? Saia has been keeping my spirits up. After I was complaining about some round ligament pain, and surmising that I was experiencing it because I still thought I had my old body, and was moving really quickly. He told me that he used to have a belly, and then he proceeded to teach me how to move when you have a stomach. I was just about doubled over in laughter (if that was possible at this point) while he swayed slowly side to side, and demonstrated how to move with your belly rather than against it. Ha!
Looking forward to: Meeting this baby in less than six weeks!! I keep day dreaming about whether he/she will have hair, what it will be like to see baby for the first time, what it will be like to see Saia with baby for the first time…I am just so excited!
Any advice for my last trimester?