I only have 6-10 weeks left in this pregnancy gig. Whoa. 
Today I am 30 weeks pregnant! This pregnancy is quickly winding to a close, and the parenting part of the equation (I.E. the rest of our lives) is about to kick into high gear.
You guys, it really feels like the first trimester was 52 weeks long, the second trimester was one day long, and this third trimester is going to last about a week (with the last day lasting about 92 hours). I really do think that pregnancy time is incredibly different from non-pregnancy time.
This post may contain affiliate links.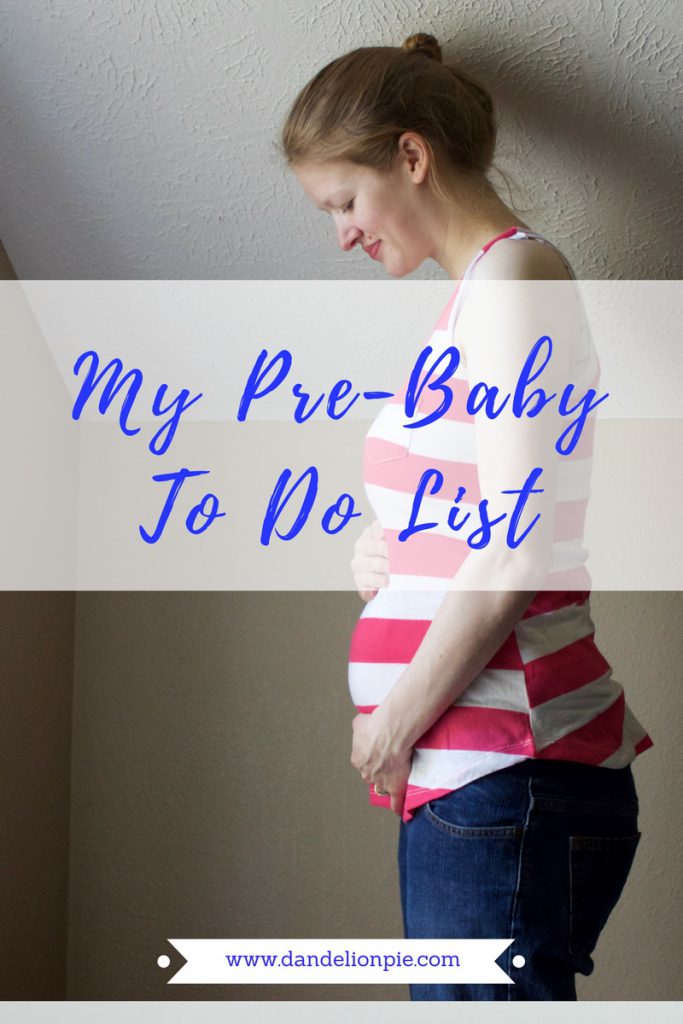 After finding out about all the difficulties caused by my placenta previa, I am really anxious to make it to the 35/36th week, because I won't be as fearful about Baby L spending time in the NICU at that point. So I am just trying to get through these next five to six weeks without:
Worrying so much that I go crazy.
Wishing the time away.
To aid in helping time pass, but also staying busy enough that my mind stays occupied, here is my game plan for the next 6-10 weeks.
My Pre-Baby To Do List
Install the car seat: We have the car seat taking up precious space in our one storage closet in the apartment. Since we are getting closer to Baby's birth day, now would be a good time to get that car seat installed in the back of the car!
Renew driver's license: My license will expire around the time baby is due, and I definitely don't want to realize, once baby is three months old, that I am driving around illegally. Ha! So I need to get that done right away so that it isn't looming anymore.
Finish reading the birth books: I really need to find a book about c-sections, because I've only ever read natural birth books.  There are, however, very few positive books about c-sections that I can find. I've been eyeing The Essential C-Section Guide since a lot of the reviewers stated that they felt immensely better after reading it (which sounds good to me!), I've also been looking at Strategies for the C-section Mom, so I'll probably order one or both of those this week. I've been shocked by the lack of positive resources for those who have to get C-sections, these two books are the only ones I could find!
Read 2-3 breastfeeding/baby books: the one good thing about having to switch my birth plan from a natural birth to a Caesarian birth is that I will have more time to spend preparing for baby rather than the birth itself. If I was getting a natural birth you can bet I would be exercising, stretching, reading, planning, and dreaming. As it is, I am restricted from exercising, restricted from lifting (which makes nesting almost impossible), and am supposed to take it super easy. As a result, I have a lot more time to read, and since there are so few resources on Caesarian births, I am turning more to reading about things that haven't changed such as breastfeeidng, baby care, etc…
Write my birth plan: I honestly need to write two birth plans, one if the placenta moves and I have a natural birth, and another one for if the placenta doesn't move and I have a Caesarian. However, at this point, to keep myself from going crazy, I am just focusing on the Caesarian, and if by chance the placenta moves then I'll deal with that when it comes around. I need to put together some sort of a birth plan for a Caesarian.
Pack a hospital bag + a bag for Saia too + baby bag: I need to put all the essentials together for our hospital stay! I will probably be consulting just about every blog post on Pinterest about what to pack in our hospital bags.
Memorize some birth scriptures: I stumbled across this list of birth scriptures on the Better Birth Doula website, and I really want to commit one a week to memory before I give birth.
Make 14 freezer meals: If I spent a weekend cooking I could whip up two weeks worth of meals in no time! I would feel really good if I had a bunch of freezer meals ready to go for the post-baby days.
Finish car repairs: We've dealt with a lot of car repairs this summer, and there are still a few things we need to get checked out before baby comes.
Clean out both closets: we have two closets in our apartment, one of them is packed with random baby stuff, pantry stuff, and anything else we could shove in there. Thankfully, my Mom is coming over to help me completely de-clutter and organize it. The other closet is our clothes closet, and just needs some TLC before baby comes.
Organize a space for baby clothes/accessories: once we get our big closet organized, I want to use half of it to store the baby stuff. It really is the only storage space we have in our apartment, and I need somewhere to put the jumparoo, and other bigger baby items that we won't use right away. Not even mentioning all the baby clothes I need to sort through and hang up!
Pick up our dresser: my longsuffering parents have held on to a dresser that we've been meaning to transfer to our apartment since we got married (ahem…two years ago…gulp). We need to get that moved to our apartment, fill it with baby clothes, and top it with our baby changing pad!
Decide on a baby name: this sorta needs to happen before baby gets here. 😉 We have thrown around a lot of ideas, but I think we just need to sit down and seriously come up with a short list (rather than the extremely long list of hypotheticals that is currently living on my laptop).
Celebrate our second anniversary: we will have been married for two years on July 18th!! We definitely won't be traveling far from home at that point since I'll be 35 weeks pregnant by then, but it still would be fun to go to a nice restaurant or something to celebrate.
Watch c-section class with hubby: I found a thirty-minute informational video about Caesarian birth, and I need to sit down and watch it with Saia. I have talked to a few moms about their experiences, and so I am beginning to understand what to expect, but I want to be sure that my fella knows what is going to happen too.
Buy a tv: this is terribly frivolous, I know, but that is okay. We've been without a tv for a year now (ever since our flat screen took a nosedive, and never recovered), and we just watch Netflix on my laptop when we want to get our Star Trek fix. But I really feel like it would be worth it to get a tv before I am spending 24/7 at home for weeks on end healing from birth, and nursing baby. And I don't feel right about wearing out my Macbook with Netflix-binges. 😉
Saia visit his family: I am done traveling, I just can't imagine going on another trip at this point. The California trip was pushing it, and I am just not ready to take the chance that something happens when I'm so far from my midwife and hospital. But it has been quite awhile since we've visited Saia's family, and we really want to get him to Texas for a visit before baby comes.
Strip the bed, and wash our mattress cover: we have a king-sized bed, and it is tough getting that tight mattress cover off! But one of Saia's days off, I am going to ask him to strip it off so I can wash it, and it can be nice and fresh before baby comes.
Have a baby shower: my aunties have scheduled a baby shower for me, and I am excited! It will be in mid-July.
Get a pedicure: I have heard that this is a must before you give birth. And I say: any excuse for a pedicure is a good idea! Anything I can do to feel a little pretty/civilized during the birth process, I am going to do!
Post how I told Saia I was pregnant, and how I told my parents: I've been working on editing the video of how I told Saia that I was pregnant, and I need to get that posted! I, also, have the video of how I told my parents, so my goal is to get both of those up in the next week or two.
Take hospital tour: we still need to get this done. It is so tough with our various work schedules, but we just need to get it on the calendar so that we know where to go, if nothing else!
Wash and de-smoke baby items: I made the mistake of buying a fisher price rock and play that came from a smoking home. Gulp! I didn't think to even ask on the buy/sell/trade site, and since the lady drove half an hour to me to drop it off, I didn't feel right about telling her I didn't want it. But it was super inexpensive ($10! They cost $50-80 new), so I've made it my mission to get the smoke smell out. I've soaked the detachable cloth part in vinegar and baking soda, and washed it several times, and the smoke smell is gone! I just need to decide what to do about the cloth/plastic part I can't wash. It has been sitting on our patio airing out, and I think I will probably soak it in the bathtub for awhile too.
Look into and buy abdominal binder: I've heard that this is a must if you have a Caesarian birth, and I need to do some research and buy one before baby gets here.
Do a stock up shopping trip: buy a month's worth of toilet paper, shampoo/conditioner, diapers, wipes, post-birth supplies, and healthy snacks.
Buy and wear at least one funny maternity shirt: before I got pregnant, I LOVED all the funny maternity shirts I found online. But now I am over 75% through with this pregnancy, and I've never worn one! I have my eyes set on one in particular, and I just might order it this week.
Any advice for what I should or shouldn't include in my hospital bag? For either myself or Saia?