Baby L is as big as a pineapple!
You guys, I feel increasingly incredulous every week when I look up how big baby is. At first, it seemed like it took for-ever for baby to grow, but now it seems that he/she is doubling in weight and size every few weeks! I can hardly keep up, and I cannot believe that my beloved second trimester is almost over!
I have loved this second trimester. I had a lot of yucky symptoms from weeks 9-19 due to a terrible virus I couldn't kick, a bit of nausea, and other maladies–but when I hit my nineteenth week I had a surge of energy that just hasn't stopped since then! For the past seven weeks I have felt on top of this world, and it has shown in my productivity, mood, and energy level.
Here's the thing: I am distrustful of the third trimester. I entered pregnancy knowing that the first trimester is terrible (it wasn't awful for me, but definitely the worst days of pregnancy so far), the second trimester is pure bliss (um, yes!), but the third trimester is often described as being the most miserable few months. Especially for those of us who are pregnant in the summer.
However, after I wrote this, I had a great conversation with my Mom (who birthed six babies), and she told me that her third trimester wasn't miserable. She said that she was only really uncomfortable for the last two weeks.
And I said to myself: "Self, you can handle two weeks of discomfort".
So now I feel oodles better. Thanks Mom!
Nesting is no joke
I read in one of my books, that at this stage of pregnancy, women often feel the urge to nest–and they aren't kidding! I have been attacking our apartment with a vengeance. This week alone, I:
found someone to take our old tv + broken tv (they had been sitting around for months)
bought a recliner from a local buy/sell group
weeded the entire garden (and hubby mulched, hoed, and weeded again)
re-potted all my house plants
bought two matching side tables from a garage sale for the living room
deep cleaned the bathroom (with my Norwex cloths)
rearranged all the furniture
created an entryway (complete with shoe storage, and art work)
did all the laundry, folded it, and put it away
made calls, and arranged for our old couch to be taken away
Our apartment is beginning to look great! And I have only begun. Every day, I wake up thinking about things I still want to do such as clean out all the closets, make a space in the big closet for baby stuff, get our dresser from my parents, paint the dresser, de-junk all our storage containers, deep clean the freezer, swap out our fridge for another one, donate all my old magazines, donate about half the clothes I own, make more freezer meals, put all my non-maternity clothes in a box for after pregnancy…need I go on?
My poor husband has only one day off a week, and I have to really prioritize what I want him to do on that day. I have so many tasks that I need done that I can't do in my pregnant state, but I try really hard to let him rest on his day off too. So I try to choose just one or two big things to ask him to do. Poor guy, his wife is going a bit nutty.
Baby's eyes are open
Okay, so my pregnancy updates say that baby's eyes are opening for the first time this week. But not this baby! At our 22 week ultrasound, the sonographer showed us baby's face–and baby stared right back at us. He/she was blinking his/her eyes and just looking at us. It was the craziest thing!! I will never forget that.
Now–the Bumpdate!
How far along: 26 weeks!
Due date: August 29
Gender: It's a surprise! Do you think we'll be welcoming a baby girl or boy this summer?
How big is baby?  Baby is getting close to 2 lbs now!! Wow! No wonder I've started gaining weight. Baby weighs as much as a pineapple, and is as long as one too. My little Polynesian-pineapple baby. 🙂
This week, baby: Baby is developing his/her immune system by absorbing my antibodies. Baby's eyes are opening, and his/her eyelashes are now fully grown! Also, baby's hearing is now completely developed!
Exercise: I wasn't so good at getting exercise in this week–I think I got one session in. I'll do better this week!
What I'm googling: 26 week old baby. You guys, I have finally reached the point in pregnancy when 90% of babies survive if they are born at this point! I have been having fun googling baby's who are born at 26-weeks in order to see what baby really looks like right now, and it is amazing. Of course, I want this baby to cook a full forty weeks (but not longer, ha ha!), but it is so reassuring to know that baby has a really high chance of surviving if anything should happen. And I cannot believe how fully developed baby is now! He/she is no longer just a tiny little apple seed.
Purchases I've made: in the past week, I bought two gorgeous side tables at a garage sale for our living room ($10!!), a new La-Z-Boy recliner from a buy/sell group for $30, a bunch of planters for 25 cents, and a friend is giving me a baby tub!
I don't know why, but I've been obsessed with finding a recliner for the past few months. We've only ever had two couches, and I just felt really strongly that I could not bring home a baby to a recliner-less apartment. I've been scouring garage sales, and our local buy/sell facebook group, and I have been smiling all week, because I scored on finding this recliner for just $30! It was originally a $500 recliner, and the owner just wanted to get rid of it quickly.
You guys, it is so comfy. Saia relaxed into it, and declared it perfect for taking a nap in with baby L on his chest: cue all the tears. I just can't wait!
How are you feeling? Really good! I am feeling energetic, excited, and motivated.
Maternity clothes: Well, most of my old clothes officially don't fit anymore. Sniff. It's been a good run, but now–almost in my third trimester–my shirts are getting too short/too tight, my skinny jeans are a distant memory, and my cute little dresses are super uncomfortable. I've slowly been picking up a few maternity clothes here and there–I really don't want to spend anything on them, so it has been slow going. I found a maternity jean skirt at a thrift store this week, grabbed a beautiful swimsuit (size large) that wasn't maternity–but was new, originally $99 (tags still on!), and fit my bump beautifully.
This week, in frustration once I couldn't see what maternity clothes I had, I pulled out a big storage tote, went through every piece of clothing I own, and packed away everything that didn't fit me anymore. What was left, was a modest amount of clothing that all fit me, and I felt good in! It has been so relieving to no longer look at all my pre-baby clothes every day, and focus on all the clothes that do fit me. I've picked up several summer dresses from Goodwill for our Cali trip, and I am so excited to wear them!
Sleep: Still sleeping like a rock!
Best moment this week: Um, finding the recliner? I know that sounds materialistic, but I love it! Also, organizing my entire closet. 

Worst moment this week: I've been having quite a bit of round ligament pain–I think my belly is going through another growth spurt. So I've just had to be a bit more careful about making any sudden movements.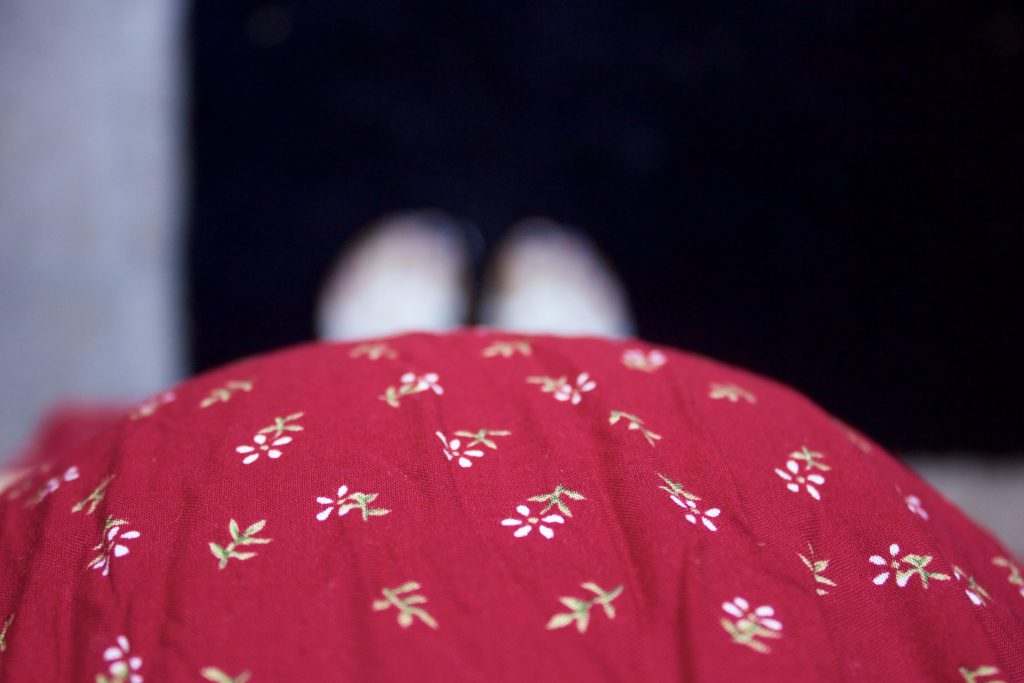 Miss anything? I've been a bit anxious about our upcoming babymoon–I'm afraid some pregnancy complication is going to come up, and keep me from flying to California. I will feel a lot more relaxed once we are there, and no longer in the waiting phase. 

Movement: Lots! It is so funny to think about week 16–when I first felt baby–because the movements were so low down on my abdomen. Every week the movements have moved higher on my stomach (as baby's "room" has grown higher and larger), and now I can feel the kicks several inches above my belly button! I still haven't been able to discern any hiccups, and I am not so good about figuring out which part of baby is where–but I feel like baby is often lying sideways, and only recently has been head down, since I've felt the kicks much higher. I really think he/she is just paddling in circles in there.
Cravings: We've been eating so much better now that my food aversions have gone away! We are mainly eating a paleo diet. I've been really trying to push myself to eat lots of dark leafy greens, sweet potatoes, and protein. I know that is good for my body–but if I was honest, I would tell you that I crave all the breads/chips/cereals out there. Ha ha! But I haven't been giving in to many cravings these days.
Symptoms: gaining weight, bloody nose, round ligament pain, frequent need to use restroom, occasional mood swings.
Looking forward to: meeting this little baby. I can't quite wrap my mind around the fact that in three short months Saia and I will have a baby. I am not taking this pregnancy for granted. I longed for a baby, and I treasure every movement, because it tells me that baby is still okay in there. I daydream about taking care of this baby, going on walks this autumn with hubby and a stroller, and embarking on this whole parenting gig with my sweet hubs.
 Are there any fears you have about pregnancy and/or was the third trimester tough for you?