One of the questions we get asked the most is: are you going to find out if baby is a boy or a girl?
We have elected to keep baby's gender a surprise, so I thought it would be fun to work through a bunch of the old wive's tales out there that boldly promise to accurately predict whether baby's gender.
I had a very vivid dream early in my pregnancy of a baby girl, and I saw her so clearly that planted a seed in my mind that this baby in my tummy is, in fact, a girl. Of course, as my pregnancy has contined, I have had many different dreams of babies–boys, girls, twins, and more. So that has definitely shook my faith in the significance of that one dream early on.
And yet, the belief has persisted: I've felt all along that this wee little babe is a girl. We settled on a girl's name really quickly, I have pictured our lives with a baby girl, and hubby has even felt like it is a girl.
But then, I took these tests…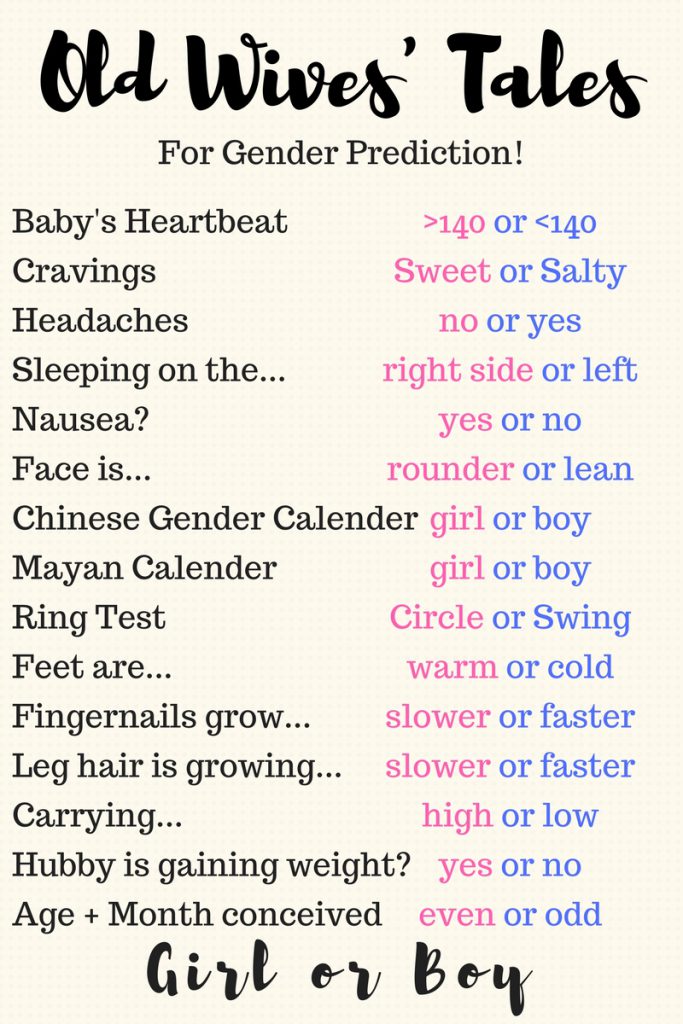 I consulted fifteen different old wives tales:
Baby's heartbeat
Baby L's heartbeat has been high from the get-go. I, of course, asked my midwife if she saw any significance in the old belief that a high heartbeat means it's a girl, and a lower heartbeat means i's a boy–and she laughed about it with me, and said that there really needs to be a huge study that compares all baby's at the same developmental stage, because baby's heartbeat tends to slow down as he/she gets older, and the heartbeat can vary widely depending on baby's activity level at any given moment. In any case, since baby's heartbeat has consistently remained higher than 140 beats per minute, then the test would say that Baby L is a girl.
Verdict: Girl
Cravings: sweet or salty?
This one is a bit of a gimme, because I have never really enjoyed sweet foods as much as most people. I have always, throughout my life, reached for the salty/fatty foods over the sweet ones. As a child, I would always say things were "too sweet", and my Mom said that when she was pregnant with me she craved Mexican food (one of my favorite food groups) and not hardly any sweets. Pregnancy hasn't changed that for me at all.
Verdict: Boy
Headaches
I have definitely struggled with crippling headaches throughout my pregnancy. I have relied heavily on chiropractic care, massages, water, magnesium oil, Biofreeze, and even changing my posture at work in order to combat these yucky headaches. I seemed to get a terrible headache/neck ache once a week that lasted 2-3 days for a few months. I haven't had one last week or this week, so here's hoping that particular symptom is gone for good!
Verdict: Boy
Sleeping on the left or right side?
Left side! Which is how I slept before pregnancy, so not sure if it counts, but there ya go! Sleeping on the left side is actually optimal for baby's blood flow, so I consider that a win!
Verdict: Boy
Nausea?
This is a tough one, since I didn't really have any nausea for my entire first trimester (which was a shock to me, since my Mom and aunties struggled with a lot of nausea during pregnancy), but then later on in the pregnancy I started throwing up about once a week. So…I said yes, even though I know that I didn't have anywhere near the nausea that some women experience.
Verdict: Girl
Face is rounder or leaner?
It might be a bit early in my pregnancy to call this one, but for research's sake, I will just hazard a guess. I really haven't gained that much weight so far, and my face is still fairly lean.
Verdict: Boy
Chinese Gender Calender/Mayan Gender Calender
These calenders just require you to plug in your age, and the month you conceived–and they tell you the gender! Easy peasy. Both the Chinese and the Mayan calender agreed on the gender!
Verdict: Boy
Ring test: does it swing or go in circles above your belly?
Yes, I was the stereotypical pregnant lady, and tied my wedding ring on a string to dangle above my belly, and waited to see if it made circles or swung in a straight line. It was definitely not making circles.
Verdict: Boy
Feet are warm or cold?
Warm!
Verdict: Girl
Fingernails/leg hair is growing faster or slower?
Faster! Need I say more?
Verdict: Boy
Carrying high or low?
Again, I feel like it is still a bit early to decide this one, since my belly isn't that huge yet, but due at the moment, I am definitely carrying baby low.
Verdict: Boy
Is husband gaining or maintaining weight?
I've worked my hubby so hard, what with taking care of me through all the months of sickness, that he has definitely lost some weight. All his workouts have helped of course.
Verdict: Boy
Age + Month Conceived even or odd?
Odd!
Verdict: Boy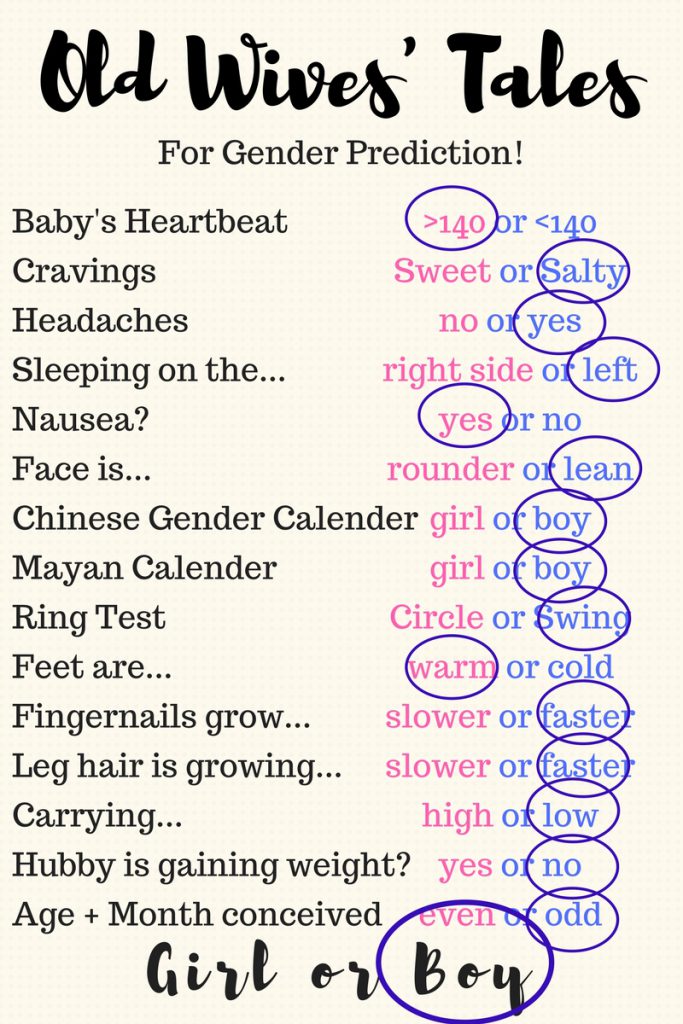 There you have it! According to these Old Wives' Tales, Baby L is a boy!
Did you consult these tests when you were pregnant? Have they held true for you? What do you think Baby L is?