For half a second, I thought I was twenty-five weeks pregnant this week. I had to look up last week's bumpdate in order to figure out what week I was. That's just a second pregnancy for ya. 😉
I am 24 (not 25) weeks pregnant this week! This is a big week for baby #2 (affectionately known as Two-ey), because this week marks viability! From this point on, if baby were to come early, his/her chances of survival would be a lot higher. Phew!
It's been a fairly normal week around here in the Lotulelei household–Saia's brother is visiting, and they are off working on masonry most of the day. Gid and I went on a whole slew of walks. Mom and I got together and recorded a podcast (we are still chipping away at preparing to launch our podcast!). And I've been busy making meals, doing laundry, and washing dishes.
One exciting thing this week, is that we are probably buying a minivan within the next few days! My enthusiasm knows no bounds. I cannot wait! If everything checks out, we will be driving away with a minivan in two days! Wahoo!
This post may contain affiliate links.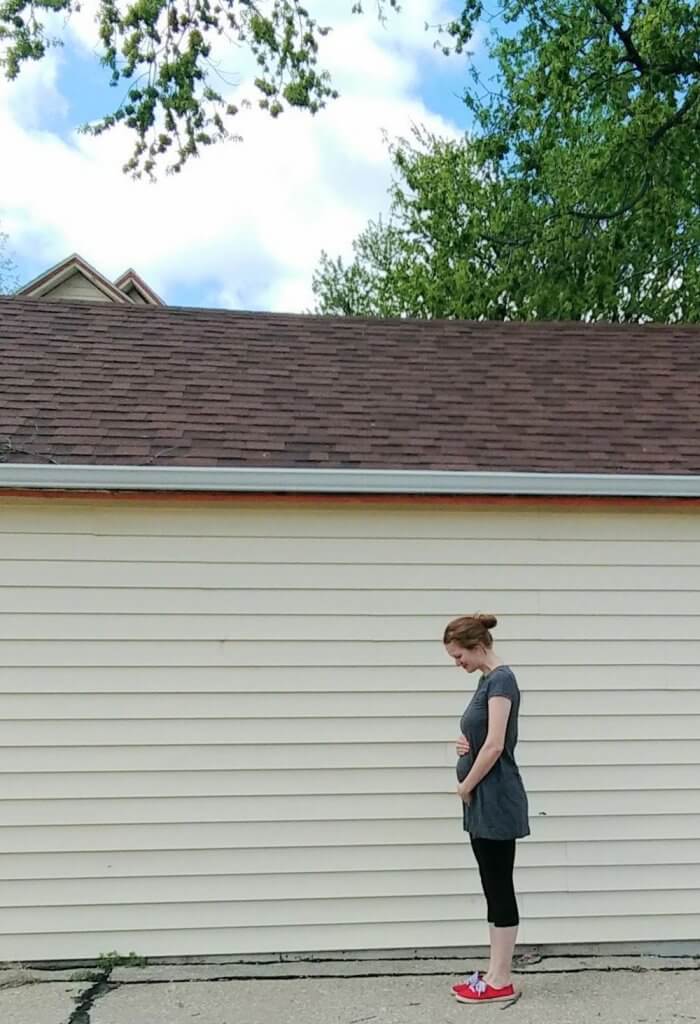 How far along: 24 weeks
Baby is as big as a: a cantaloupe!
What's up with baby: I don't know if this baby is more active than Gideon, or if the placenta positioning dulled Gideon's movements, or if I've just forgotten how it felt–but this baby is SO active! I didn't think I was far enough along for the baby to be visibly shaking my belly to and fro, and making me gasp from his/her sharp jabs, but that is exactly what is happening! On top of that, I feel like this baby is rotating in circles: I feel kicks near my belly button, then from side to side (in a transverse position) and sometimes way down long. I think he/she is just dog paddling around in there. Gulp. Hope he/she stays head down in later weeks!
Due date: August 23rd
Currently reading: I just finished Ina May's Guide to Childbirth (although I skipped through some of the birth stories), and I LOVED all the practical tips she gave in that book! Next, I am going to read through The Birth Book by William and Martha Sears
Exercise: Still walking 1-1.5 hours most days. I really need to start yoga, because I know all that stretching would be good for me. And I want to start doing some Spinning Babies or Mama Natural exercises to get baby into a good position for birth. I just need to work those into my daily routine somehow so that they are habit. I'll let you know next week if I've implemented them yet!
Gender: Still thinking girl.
Purchases I've made/what I'm dejunking: Our car seat arrived this week! And we will probably be buying a minivan this week! My nesting is in full force (I just had a dream that I was dejunking Levar Burton's house–we watched Star Trek before I went to sleep, ha ha!), and I've been busy dejunking our apartment and sending things off to Goodwill like a crazy person. I need to work on selling a few things on Facebook Marketplace and/or buy/sell groups that I know we won't be taking to our next apartment.
How are you feeling? Feeling really good!
Best moment this week: Going to the park with Hubs and Gideon.
Cravings: I've been craving oats (particularly oatmeal bars and/or cookies) and peanut butter this week! I have this low-sugar recipe for Peanut Butter Muffins in the oven as I type!
Symptoms: occasional ligament pain, got a little dizzy on a walk once, and I've definitely felt like my belly is stretching and growing really fast right now.
Looking forward to: garage sale season! I just put three community-wide garage sale events on my calendar. Can't wait!
And, for comparison, here is my 24 Weeks Pregnant with #1
What are you looking forward to this week, sweet reader?