Free time has taken on a whole new meaning now that I am a mom.
Before I had my baby boy, it didn't matter if my phone took five minutes to load a website, my coffee took twenty minutes to make or I had to run a package to the Post Office. I had oodles of time.
I don't have as much time nowadays, and the little free time I do have is incredibly precious.  I try to get as many things done throughout the day as I can, so when I do get time to myself at the end of the day, I can use it to do the things I cannot do while holding a baby. Along the way, I've discovered a few time-saving hacks that I am sharing with you today!
This post may contain affiliate links.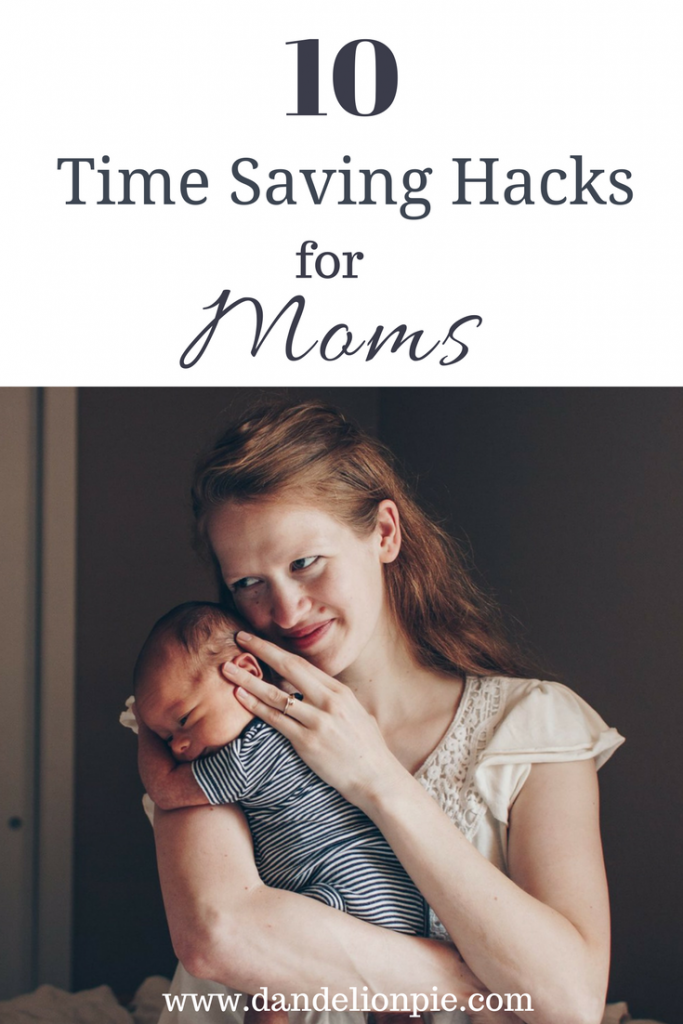 Schedule a package pickup instead of making a trip to the Post Office
time saved: twenty minutes
As a busy mom of a four-month-old, I do most of my shopping online. I go grocery shopping for food once a week, and to Goodwill to grab new clothes once a month, but other than that I get everything else online. I buy diapers, shoes, some groceries, presents, and kitchen utensils online. The UPS guy comes to my door about 1-2x a week (if not more). Since I do so much online shopping, I do a fair amount of returning of items that don't work for me. This week, I sent back a pair of shoes that didn't fit me, and some baby nail clippers that didn't work very well for Gideon. Some of the packages I return are too big for our mailbox, and it always takes me forever to find the time to drive to the Post Office (especially with a baby in tow).
I was delighted to discover that I could schedule a free package pick up here instead! I just go online, request that USPS picks up my package, leave it by my door, and it's whisked away! Huzzah!
Use your phone to deposit checks instead of going to the bank
time saved: twenty minutes
I never go to the bank anymore, because I can easily deposit my checks by taking a picture with my smart phone! We use Capital One for our savings account, and our local bank for our checking account. Both of these banks have apps that I downloaded on my phone, and when I get a check I just select "deposit check", take two pictures, and I'm done! Then I destroy the deposited check once I get a notification that it has been accepted. Easy peasy lemon squeezy.
Use an Aeropress to make your coffee instead of the French press
time saved: ten minutes
We used to use a French Press for our daily cup (or cups) of joe, but it took time, and I honestly wasn't a huge fan of the coffee. Then my brother told me about the Aeropress! The Aeropress makes awesome coffee (I vastly prefer it to French Press coffee), and once you have boiled your water (I have this tea kettle in blue that I use) it takes ninety seconds or less to finish the coffee-making process. So fast!
Use an Instant Pot to make supper instead of the oven.
time saved: fifteen to thirty minutes
Once I became a mom, I started using my Instant Pot A LOT more. I use it to quickly cook frozen chicken breasts, dry beans, and even to make pot roasts! Yesterday, I didn't know what to make for supper, so I tossed in a bag of dry beans, some random shredded meat from the freezer, some butter, seasonings, and a bit of veg. An hour later, I had a beautiful supper ready to go! It took me five minutes to throw everything in there, and it all cooked up beautifully.
Use the bucket dough method to make bread instead of a traditional recipe.
time saved: fifteen minutes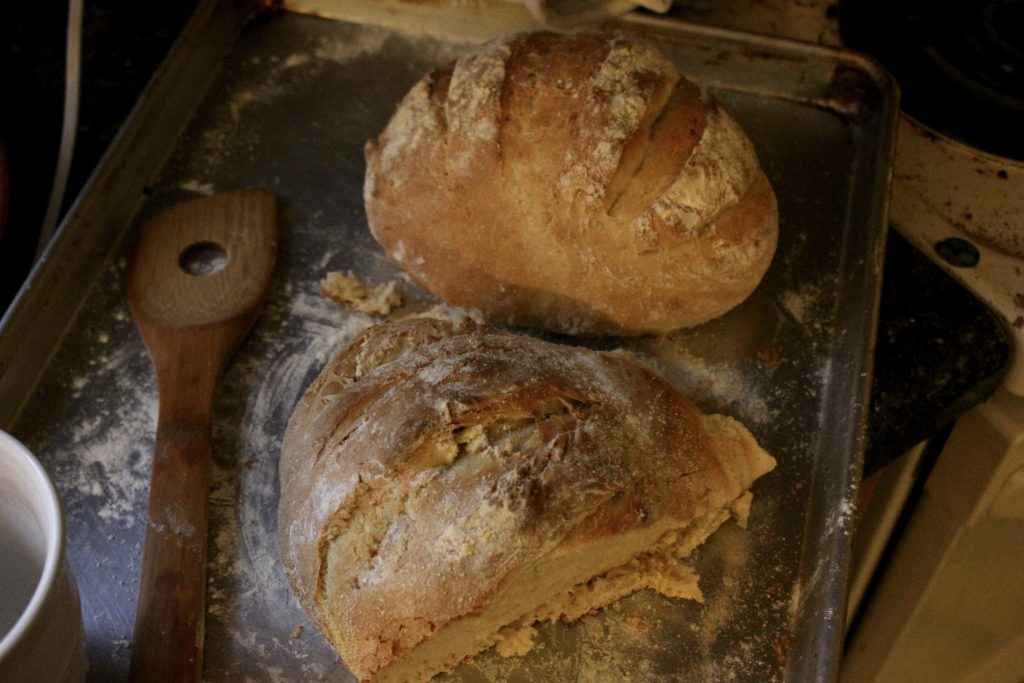 This cookbook is one of my most used cookbooks BY FAR. To make delicious bread all you need is yeast, salt, water, and flour–you mix them up then you leave the dough in a bucket (or bowl) to rise. Then you shape it, let it rise once more, and throw it in the oven! So fast, and easy. I can now make delicious homemade bread (soft on the inside, with a nice crust on the outside) in about five minutes a day! In fact, I am eating some of that bread slathered with butter and honey while I write this post.
Order groceries from Wal-Mart or Sam's Club instead of going to the store.
time saved: one hour
We first learned of this hack when I was driving an hour a week to the big city for my prenatal appointments. Since Hubs was working so many hours, and I couldn't lift anything due to pregnancy complications, grocery pickup was a life saver!
I would make a grocery order the night before, pay for it online, then we'd pick it up for free the next day! They even load it into your vehicle for you, so you don't even have to leave your seat. I loved grocery pickup because it helped me stick to my budget (I could see the exact total as I added more things into my cart), I got everything I needed (no more getting to the checkout and remembering I still needed toilet paper), and it saved me a good hour or two a week!
Unfortunately, our small town Wal-Mart doesn't offer this pickup yet, although they just repainted with an orange "Pickup" sign clearly painted on one side of the building, so I am hopeful that they will be adding it soon! Fingers crossed!
Listen to audio books on Overdrive app instead of sitting down to read.
time saved: several hours
One of my goals for this year is to read a book a week. But I've had a really tough time trying to figure out where in my day I could fit in an hour or two of reading! Agh! Then I realized while I didn't have time to sit down to read, I had lots of time to listen to something–while I bounced baby, did the dishes, and picked up the apartment. So I borrowed a bunch of audiobooks via the free Overdrive app. If you are a member of a library in the USA then you, too, can get access to the Overdrive app and find thousands of audiobooks to listen to free!
Do your workouts at home instead of at the gym.
time saved: twenty minutes
Gideon and I still go to the gym with Hubs 1-2x a week, and I walk with Gideon relaxing in his Lillebaby carrier while Hubs works out in the weight room. But the rest of the days of the week I am getting in my workouts by doing either Yoga by Adrien on YouTube or a workout from Fit2b. I love Fit2b especially because they have several baby and me workouts where you use your little babe as a weight. Gideon finds this enormously fun, and laughs at me as I do lunges, squats, and sit ups with him in my arms.
Buy a Berkey to filter your water instead of going to the store to get filtered water.
time saved: thirty minutes
The water in our town is rather awful, and is getting progressively worse. First we got a letter saying it had high levels of arsenic, and then when we turned on the faucet we got hit with a wave of chlorine. Ick. We used to go fill up three five-gallon bottles of water at the grocery store 2x a week, but with a baby that was really tough to do regularly. So we finally sprung for a Berkey. Now, once or twice a week we fill the Berkey from our faucet, let it filter, and get beautifully clean water. The water tastes SO different, and we don't have to leave our house to get it. Win-Win.
Use a Wifi-enabled memory card for your camera instead of a regular memory card.
If you are like me, you are always snapping pictures of your little ones. I bought this wifi-enabled memory card so that I could easily use my phone to access pictures and videos that I took on my DSLR camera. I no longer have to put the memory card in my computer, upload them, and then post them. I can now snap a picture on my camera, and instantly have it on my phone as well. So handy!
Now it's your turn to tell me, what do you do every week to save time?