I have committed to saying no to the activities in my life that are draining me dry. Read that post here. But in my evaluation process of which things to keep, and which things to toss in the proverbial shredder, I have discovered how very grateful I am for the myriad blessings I have every day.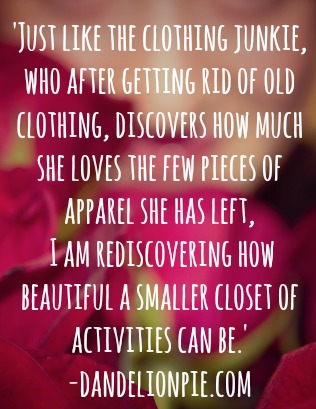 A few months ago, I interviewed for the opportunity to start teaching ballet once a week at a local gymnastics studio. My knees were shaking, my sweat was dripping, and my anxiety level was making my heart beat faster than a rabbit being chased by a dog–but I made it through the odious interview process, and landed the job!
My very first week, I arrived at the gymnastics studio with my leotard on, a folder full of planned out barre routines, and an anxious smile plastered on my face. I tell you, friends, there are many benefits to being a Theatre major, and one of them is that you can act confident in even the most anxiety-inducing moments. I stepped through the double glass doors, and my ballet heart took a leap, and fell flat on her face as I looked around me. I am telling y'all that I felt like Alice who had just fallen down the rabbit hole. My pink leg warmers even felt a bit out of place as they nervously slid down my legs. Everywhere I looked I saw tiny little girls flipping, jumping, and stretching. Performing feats that should be reserved for the movies. The teachers were all dressed in sweat pants, and old t-shirts. And here I was, in all my ballet finery, advertising my art like a neon sign on the freeway.
I sat down on the edge of the mats, and watched as the gymnast teachers finished drilling the girls on flips, leaps, and stunts that I wanted to learn (please! Can I join class! I want to know how to flip!). And just as I began enjoying, and marveling at the dexterity and limberness of this girls' seasoned bodies the class ended. I was introduced as "Andrea" (the owner forgot my name). And I was left alone. With twenty little sets of six-year-old eyes staring at me attentively.
Now that I have been teaching ballet for a whopping three months, and I feel like an expert. I proudly strut into that studio with my bright pink leggings, and my head full of ideas. I no longer clutch a few pages of plans in my sweaty palms, I now know what I am going to teach them. And feel confident enough to arrive sans notes.
And yesterday I got a raise. One dollar more per hour. Wahoo! True, I only teach for one hour a week, so this raise won't be filling my tank with gas, but those few dollars will be enough to perhaps take Warrior Man out for a sub sandwich. With chips. And perhaps a soda to share.
I feel pretty good about this mini-job, and the satisfaction it gives me every week. I love working with these bright eyed little girls and teaching them everything from pas de chats to playing Simon Says with ballet terms ("Simon says second position! Simon says bourre! Jump twice! Gotcha.") which is their personal favorite.
In this process from petrified to proudly confident I have learned a thing or two about teaching. I know that these little gymnasts get bored really easily if they have to monotonously perform ballet drills.  I have watched as there reserved eyes began to drift, and watch the gymnastic routines around them. This group of girls are passionate about gymnastics, but ballet–eh—not so much. Luckily, for me, I have discovered the key to their hearts: jumps. Six-year-olds LOVE to jump. At about the point I was afraid I was losing their interest completely, I had them come out on the middle of the mat, and chasse and then changement. It was a very simple routine, but these little girls lit up for the first time in the class and bounced away like a bunch of jumping beans. Jumps= happy little girls, who knew?

Saying "no" to more things in my life has only served to give me an astounding amount of gratefulness for the myriad things I have left: one dollar raises, jumping bean little gymnasts, and this cozy little online living room I call my own.

Press on, friends!