For the first six months of our marriage I bought many, many bags of chicken breast.
I would buy a big bag from the grocery store, use it up within a week, and go back for more. I eyed the chicken thighs that were so much cheaper but I did not know how to deal with them. So I stuck to the simple, boneless chicken breast. No mess. No fuss.
I was missing out.
Chicken thighs are incredibly inexpensive here. I frequently pick them up for 99 cents a pound at our local grocery store. Buying eight big chicken thighs for $2-$3 always feels like a steal! But before I began making this recipe I was averse to thighs. They seemed greasy, and hard to use compared to the bags of trimmed, skinned, and frozen white meat I was used to.
However, one day I was having a friend come over who was gluten-free, and I racked my brain for what I could serve her. I finally decided on chicken tacos, but I didn't have time to run to the store to buy all the necessary ingredients (namely, chicken breast) so I pulled out the freezer burnt package of chicken thighs that had been sitting in the back of our freezer for months, threw in a can of tomatoes and green chilis, and hoped for the best.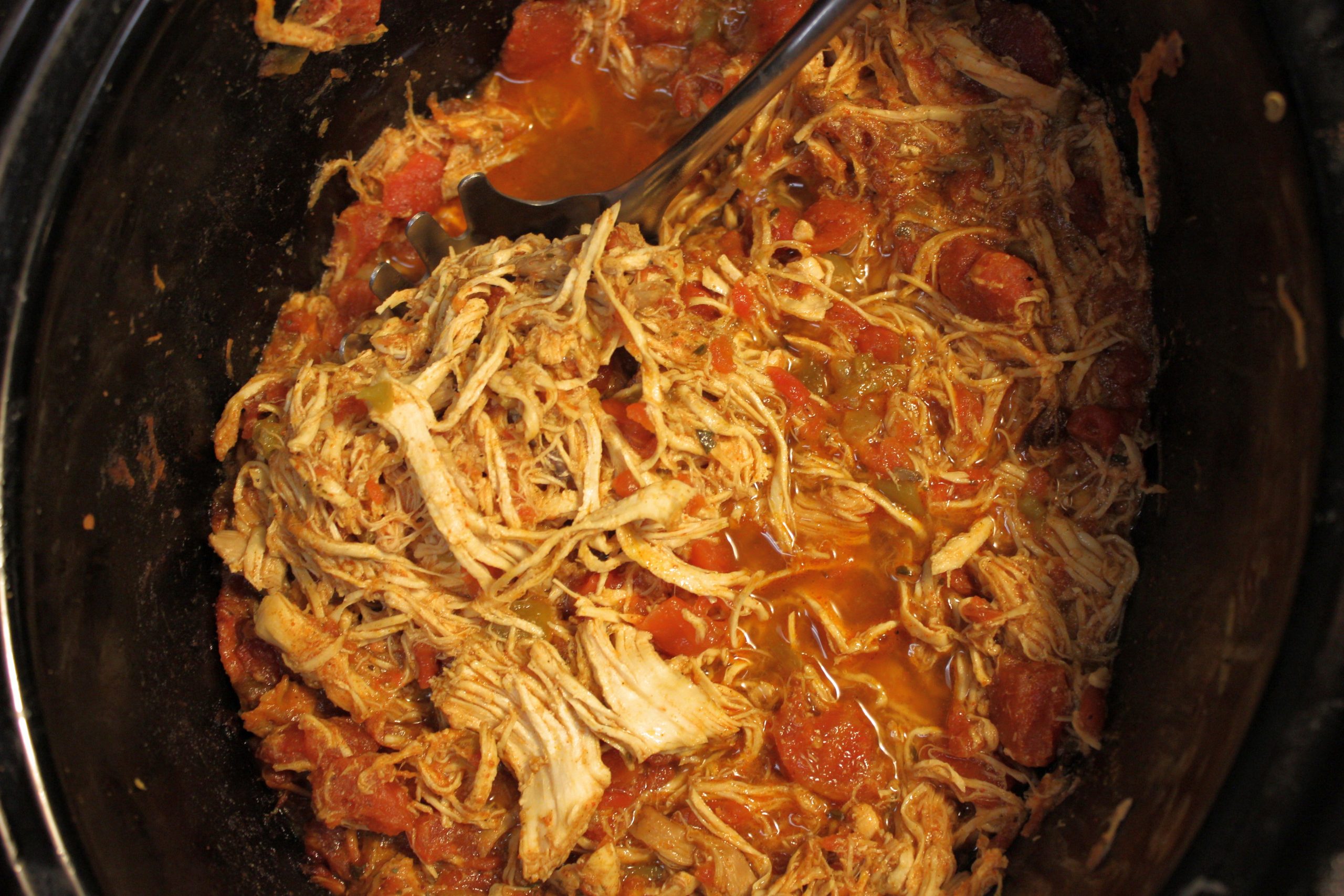 What emerged out of this conglomeration of leftover ingredients was the best tasting tacos I believe I have ever had! Hubs and I promptly decided we would start our own Taco Tuesday, and we have eaten this same recipe every week for the last three months. We haven't ever grown tired of it. Something about eating these little tacos packed with cilantro, sour cream, Tapatio sauce, cheese, and guacamole with lime squeezed on top combined with the tangy meat is just incredibly satisfying…my mouth is watering as I am writing this.
The tacos are just that good.
Speaking of which, I need to get my chicken thighs thrown into the slow cooker (it is Tuesday, after all) so I better go! Enjoy!
4 Ingredient Crockpot Chicken Tacos
Author:
Bethany Lotulelei
Prep time:
Cook time:
Total time:
The best chicken tacos you will ever eat! They take less than five minutes to prepare, and simmer away in the slow cooker all day. We use this recipe every week!
Ingredients
5 Chicken thighs
Can of Tomatoes (8 ounce)
Can of Green Chilis (4 ounce)
Taco Seasoning
Instructions
Place chicken thighs in slow cooker, and pour the tomatoes and chilis on top.
Cook on low for 5-6 hours.
Once they are cooked, use a fork to peel off and discard the skin/bones then shred the chicken, and heavily season with taco seasoning. Stir until combined.
Serve on warm corn tortillas with plenty of sour cream, shredded cheese, lime juice, tapatio sauce, cilantro, and homemade guacamole.
Enjoy!