"Hon, I have a question…"
My hubby and I were eating supper that night, and in-between bites he turned to me, his brow knit in concern. I leaned in, wondering what was wrong, and gave him all my attention.
"Why is it" he asked, "that you've never told me that you knew how to make this until now?" He looked personally wounded, no doubt imagining all the hundreds of times he could have eaten this meal if he had only known. It was almost as if he sat there wondering: "why do these things never come out in premarital counseling? Forget all the sessions about finances, kids, and your past. What they should be talking about is exactly what types of recipes might your future wife be able to make that she will never reveal?"
The dish was chicken and dumplings, and Saia was wondering why it was that I had kept this secret for so long.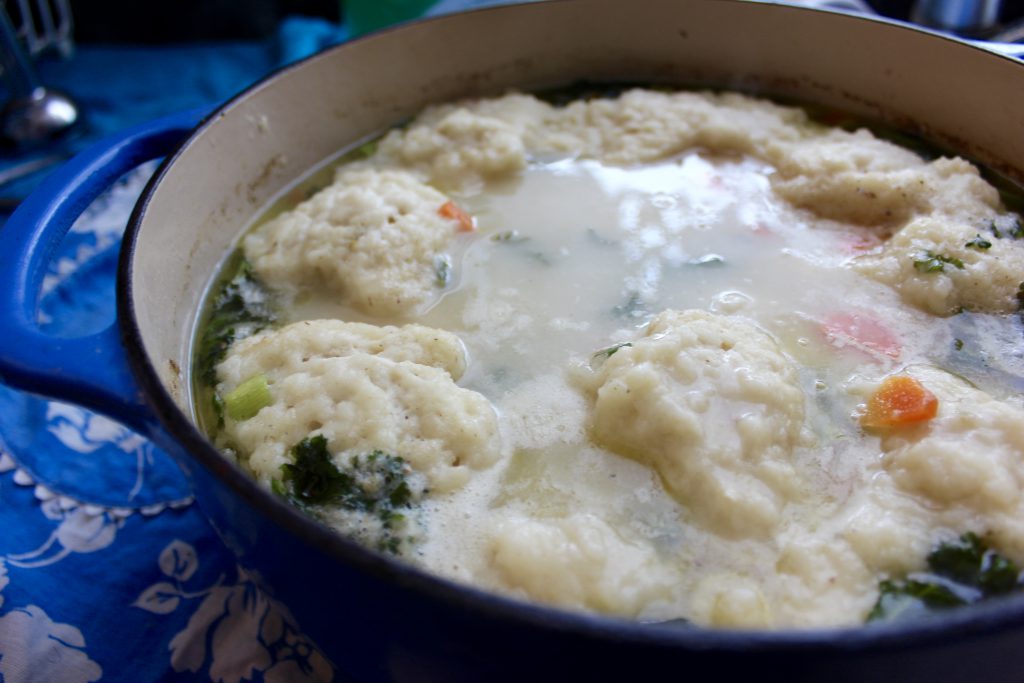 The truth was, that I had never even tried to make this particular dish before. It was recipe that was steeped in mystery. My Mom and Grandma made it often, full of gooey dumplings, savory broth, and tender veggies. I felt to even attempt a similar dish was incredibly presumptive. Why mess with perfection?
Yet on that cold winter day, when the wind was howling outside and my hardworking hubby was at his job standing in -5 degree temps to earn money for us, I felt like it was time to make something especially wonderful for dinner. I had already cooked a chicken in my traditional way–boiling it in water with a ton of veggies to ensure a flavorful broth. So that step was done, but what to do next?
I pulled out all my cookbooks, and located a recipe for chicken and dumplings. Feeling a bit like my Mom, my Grandma, and Julia Child all rolled into one glorious chef–I set about making it. I shredded part of the chicken, tossed it in the broth, diced up a ton of veggies, and made a robust chicken soup out of it all. Then I set about to make the dumplings. I didn't have any milk on hand, so I pulled out a can of coconut milk. I traded in the traditional oil for coconut oil, and mixed in a hefty dose of spices. I plopped the dough on top of the broth, and placed the lid firmly on my dutch oven.
Then I waited, and after about fifteen minutes, I pulled off the lid, and it revealed perfect dumplings. It looked like chicken and dumplings, it smelled like chicken and dumplings, but did it taste like chicken and dumplings? I tenuously dipped my spoon in for a taste. Oh yes. These were the chicken and dumplings of my dreams.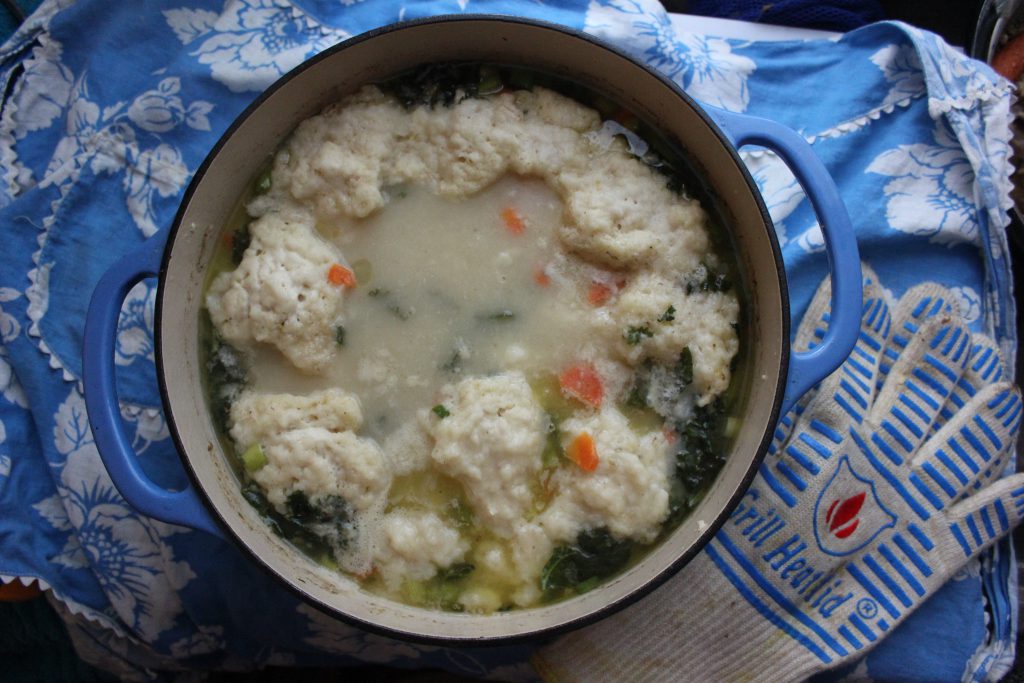 I quickly made some bread, and waited for my Hubs to come home from work.
He loved it so much, and even took it to work the next few days–eliciting jealousy from his coworkers who were eating spaghetti out of the can (true story).
I then made it 1-2x a week for a month. Each time, I tweaked the recipe a little, and here it is!
Savory Chicken and Dumplings
Author:
Bethany Lotulelei
Ingredients
Soup Ingredients:
2 tablespoons butter
1 medium onion, diced
3 cloves of garlic, minced and diced
2 cooked chicken breasts, cut up
8 cups chicken broth (preferably homemade)
4 carrots, peeled and sliced
2 cups spinach or chopped kale
1 1⁄2 teaspoons salt
Dumpling Ingredients:
2 cups flour
3 teaspoons baking powder
1 teaspoon salt
2 teaspoon dried oregano
1 teaspoon dried thyme
3⁄4 cup coconut milk
4 tablespoons coconut or palm oil
Instructions
Melt the butter in the dutch oven or large pan. Add the chopped onion and minced garlic and cook until the onions are translucent. Add the chicken, broth, carrots, oregano, spinach or kale, and salt.
Bring to a boil; reduce heat, cover and simmer for twenty minutes.
In a mixing bowl, sift together the dry ingredients for the dumplings, and then add in the coconut milk and oil. Mix well.
Drop by tablespoonfuls into simmering soup.
Cover and simmer for 15 to 20 minutes.
Serve immediately
What's your favorite recipe right now? Share below!