Questions, I have a lot of them.
This mom gig didn't come with a manual (or maybe the hospital forgot to give me my copy?).
I wrote my first edition of Questions I'd Like to Ask a Mom Friend back when Gideon was only a few months old. I was sitting alone in the apartment nursing him, worrying about all these questions I had ping-ponging around in my head, and I pulled open my laptop and sent those questions out to all you sweet blog readers. And boy did you come through for me! I received SO MANY sweet responses! You belayed my fears about tummy time, gave me a break when it came to housework, and offered a heaping amount of understanding when I needed it most.
Almost a year later, I still have questions, but they are completely different than they used to be! I am no longer worried about tummy time, baby gyms, or bundling a newborn up for the cold anymore: that season has passed. Now I am worried about keeping Gideon entertained all winter, child spacing, and when to drop that second nap (sob! Not until he's 10 years old, right? Right?).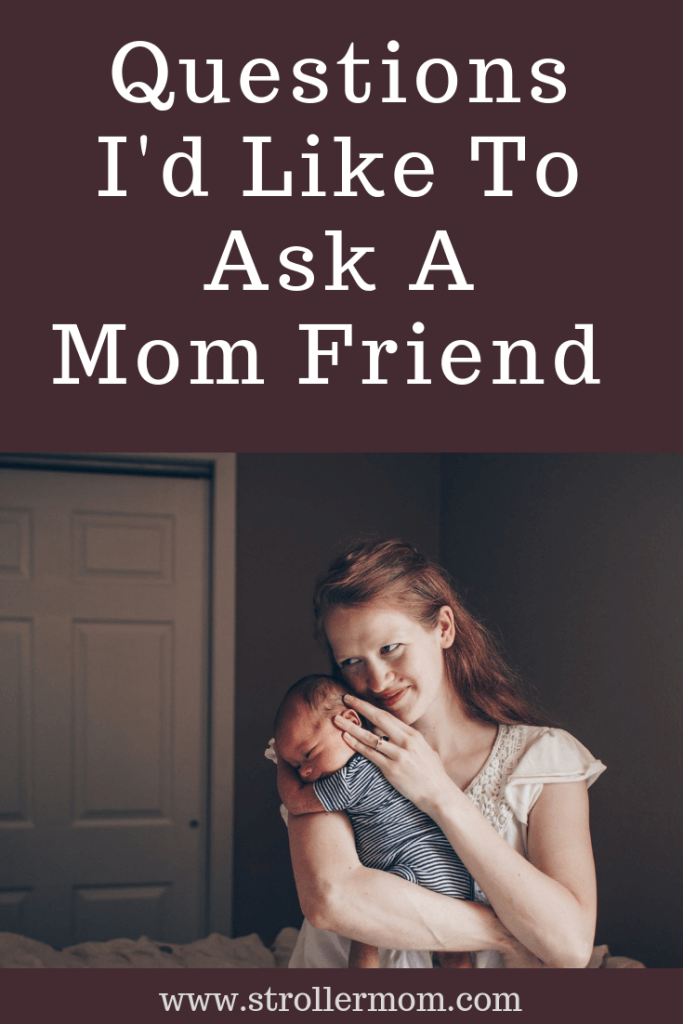 I'd love to hear your answers to these questions, and drop your own questions in the comments below! Let's all help each other navigate whatever season we are in currently.
1) When did you drop the second nap? (Sob)
Gideon has started fighting his second nap. He sleeps really well in the morning–we get back from our walk/jog and he generally sleeps 1.5-2 hours, but the afternoon nap is tricky. Sometimes it takes me an hour to get him down to sleep, and then he only snoozes for forty-five minutes anyways, but on the days when we skipped a nap he was fussy and tired. When did you drop the second nap, and how did you transition to one nap?
2) What do you do with your kids in the winter?
As winter is drawing ever nearer, I have started biting my nails over what to do with my little sidekick in the cold months. We have gotten into such an amazing summer routine that revolves around 1-2 walks/jogs a day that gets us outside, gives me some time to interact with adults, and wears Gideon out so he goes down for a nice long nap. We live in Nebraska, where the winters are long and cold–and we live in a tiny little town that has very little entertainment for kids. We basically have a library where there are 1-2 toddler activities a month, and a child's play area that costs $1 that is open a few times a week. We don't even have restaurants with indoor play areas. So…how do you entertain your littles when months go by without being able to set foot outside?
3) How do you keep your home tidy?
I have spent all summer sending box after box to Goodwill. We live in an apartment with close to no storage space, and so everything sits out. The clutter has really started to bother me immensely, but I feel like no matter how much I get rid of, there is always more. It feels so overwhelming right now! I dream of getting my home to the place where everything has its own spot, and there is no clutter anywhere. Our major sources of clutter are our clothes (we have way too many, despite multiple purges), and dishes.  I really want a clean, tidy home. I have been tempted to purchase The Nester's new book Cozy Minimalist Home: More Style, Less Stuff because if you preorder it before October 1st then you get her four decorating courses for free! I took one of her courses a few years ago, and it was SO fun and a life-changer. How do you keep your home pretty and clean? I need help!
4) How and where do you meet mom friends?
This might also be a problem with living in a tiny town (I see all sorts of fun mom groups in bigger cities!), but I've had a tough time meeting other moms. I am a work-at-home mom, and I feel super uncomfortable living Gideon with someone I don't know. So even MOPS requires you to drop your kids off at their child care, and I just don't feel comfortable with that. I see other moms pushing strollers every once in awhile, and I say hi, but I know I should probably get up the courage to stop and talk to them. I don't know if there just aren't hardly any other stay-at-home moms in my age range in our town, or if they are all sticking close to home, and I don't see them, ha! I have such a wonderful group of family and friends, that I'm not that lonely, but I do wish I could meet a few more moms in my area! Where have you had luck meeting other moms or finding community?
5) How long did you wait before having a second child, and what do you like about that spacing?
Granted, I know that you can't just snap your fingers and have another child. Fertility is totally up to God. But if you do have a second child, I'd love to know what the spacing is, and why you like that spacing? I find it so fascinating. I worry about having a baby too soon, and it affecting my breastfeeding relationship with Gideon, and not fully enjoying his babyhood. But then I have also read that it is awesome to have a second fairly soon, to avoid jealousy from the firstborn, and so that they are both in a similar stage.
6) How do you fill your mind when you are chasing littles all day?
I don't want to spend all my time scrolling social media, or having Netflix blare in the background. I do listen to A LOT of podcasts, I use Voxer daily to chat with my friends and family, and I listen to audiobooks–but when my hubby is working twelve-hour-days, six days a week, that is a lot of time hanging out with a one-year-old! I resort to TV more than I would like to admit. How do you fill the quiet time when there are no adults in the house? What are your strategies?
7) What do you do consistently to feel like yourself?
For me, I have to get in exercise (hello endorphins!), and be consistently working on a few creative projects, and reading to feel like me. What do you do every day that reminds you that you are a person as well as a mom?
Your turn! What questions do you have that I (or other moms) could answer?