If it wasn't for the homemade peach-rhubarb pie…
It has now been four weeks since we started the Autoimme Paleo Protocol (read why we started here). I cringe as I type out this fourth update, but I might as well make the confession: we both ate pie. Non-AIP pie. Very delicious pie.
My family got together for labor day. All five of my siblings were there, and it was the first time we had all been together since last Thanksgiving so it was a celebratory day! There was much laughter, baby cuddles, and high-end coffee (because when my brother's are there, that's how we roll).
This post may contain affiliate links.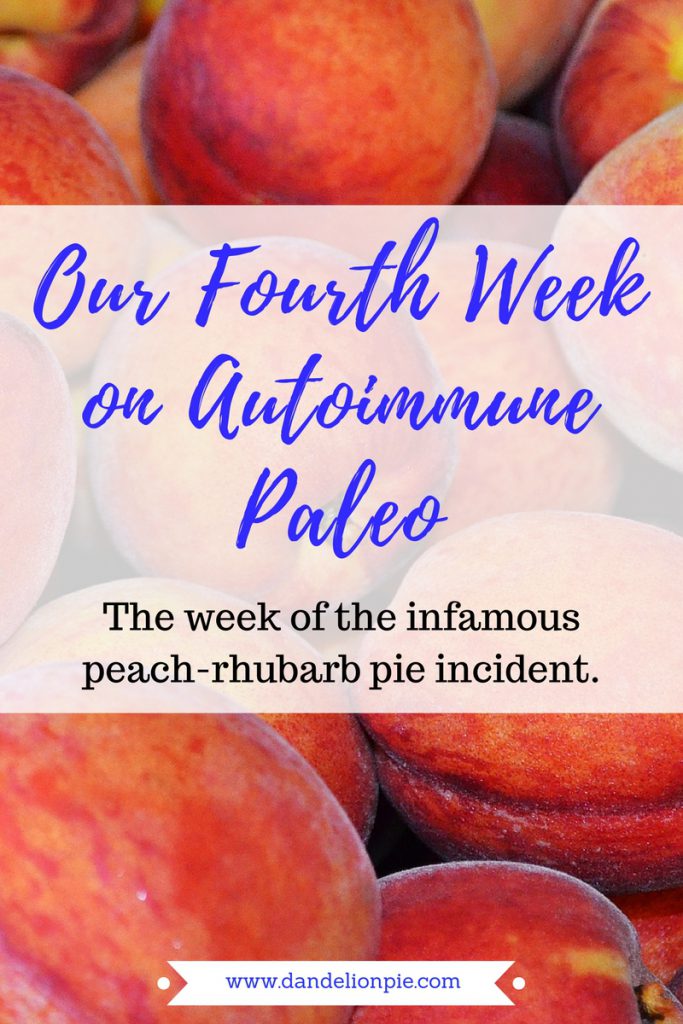 Hubs has been working twelve, sometimes thirteen, hour shifts six days a week. It is harvest time right now, and the company he is currently working for is short-handed. He barely got half of Labor day off, and even that was pushing it. He has been working around the clock to stay on top of work, school, and preparing for his voice recital.
We haven't really gone to any social event since starting the AIP four weeks ago. When people have invited us out we have demurred or figured out other ways to hang out without ingesting non-AIP food. Saia has found many ways to sidestep food offered by friends, and has creatively avoided them all.
However, on Labor day, he had been working so hard. He got off work, and ate some ribs I had prepared for him (I figured if he was at least partially full before we went to my parents' for lunch that would be half the battle). But then we got there, and we looked around at the homemade rolls, piles of brats, and six (count 'em six!!) types of my Grandma's homemade pie. Egad.
After surveying all the food I realized that the only food hubs could eat would be the marinated cucumbers that I had brought with us, and a few sliced peaches. I looked at him across the room and his eyes were lit up like a child on Christmas morning. For the next twenty minutes he smiled at me, his eyes hopeful, and I weighed the options: should I encourage him to stick to the course? He was so tired and hungry. On the other hand, this process would only work if he was one hundred percent compliant. I went back and forth. But, in the end, I just smiled painfully at him, and he dove into the goodies.
Brats. Rolls. Coffee. Whipped cream. Pecan pie. Peach-Rhubarb pie. Apple pie. Pumpkin pie. He reminded me of the very hungry caterpillar in Eric Carle's popular children's book. He ate like a man who hadn't let a morsel of bread or a granule of sugar pass his lips in a month, which of course, he hadn't. He enjoyed it to the hilt.
Then his stomach began getting upset.
The next morning he woke up with his skin feeling like it was on fire, and one of his fingers was swollen (swollen joints is a symptom of psoriatic arthritis). We both simultaneously regretted it, and didn't regret it. Because…it was Grandma's pie.
While I do feel terrible that we broke the diet for a day, it was helpful in knowing that what we are doing is making a difference. He used to have a lot of stomach aches, and he hasn't had any on this diet. We are successfully avoiding whatever foods he is allergic to, and for that I am grateful. If he would have cheated, and had no negative physical ramifications I would have wondered if all this work is doing anything at all, but based on his reaction we do think he is sensitive to sugar.
So this week won't go down in the history books as the best week for the Lotuleleis on the Autoimmune Paleo Protocol, but it will go down as a lesson learned.
What Saved us This Week
The local farmer's market: Ever since starting AIP we have eaten veggies like never before: we burn through tons of lettuce, mushrooms, squash, kale, celery, carrots and more every week. I have a hard time staying on top of our veggie consumption. This week, after work, we stopped by the local farmer's market and bought a watermelon, a bunch of sweet potatoes, and some homemade (AIP-compliant!) beef jerky! There are so many things we cannot impulse buy, and going somewhere where there are items we can purchase without regret was so much fun! And having a bag of homemade jerky to munch on sweetened the deal.
Vinegar: We have started to heavily rely on vinegar to add flavor to our meals. From salad to marinades we have been zipping through bottles of vinegar like nobody's business.
Vitacost: Speaking of our vinegar consumption habit, I have started only buying vinegar with "the mother" so as to get an extra dose of probiotics and enzymes. The best deal I have found is Vitacost's red wine vinegar as well as its apple cider vinegar. I received a big ol' order from Vitacost this week with vinegars, coconut aminos, kelp noodles, molasses, and more.
Hubby's 5 a.m. cooking habit: I really struggle to make leftovers. Before AIP, we always had leftovers in the fridge: leftover pasta, spaghetti sauce, tacos, you name it! But I have just really had a hard time making enough food on this diet. We seem to be constantly eating, and no matter how much I make it is always gone by the next day! To combat this problem, hubs has been getting up at 5 a.m. to make himself lunch before he leaves at 6. I wake up to the aroma of roasting chicken, pork-chops, stirfry, and sweet potatoes. He has taken on this responsibility like a champ, and it has definitely eased my stress level.
Recipes That Succeeded
Porkchops marinaded in kombucha and olive oil: We ran out of our bottles of vinegar, and while we were waiting on my order for my order from Vitacost to come in, I started using kombucha as a replacement for vinegar. I used it as a marinade for meats, and as a component in homemade salad dressing. Yummy!
Beef roast marinaded in kombucha, olive oil, rosemary, parsley, and basil: I cooked a big ol' roast in the crockpot in preparation for a busy week. It turned out so yummy! We ate it for quite a few different meals. Chicken stirfry: I cooked up some chicken in bacon grease, and then stirfried it with an assortment of veggies (summer squash, Swiss chard, cabbage, onions, garlic, celery) then flavored it with coconut aminos.
Beef empanadas: We happened to have some yucca root that needed to be used up, and so I spent the better part of an afternoon making these empanadas. I love, love, love Mexican food so I was hoping to make an AIP-compliant meal that gave me some of the flavors I miss most of all. This recipe, however, just didn't do it for us. The yucca root was sticky, hard to work with, and very bland once it was cooked. These were okay, but were not worth the amount of time it took to make them. I still have half a dozen in the freezer, which we will pull out when we get desperate, but I won't be making this recipe again.
Hubby's Psoriasis
We are a month in now, and I must say that I wish we were seeing more results in regards to his skin. I hate to see him struggling with his so many patches of psoriasis, and I really wish there was a quick (and lasting) fix. I have ready every blog and article on the web about AIP putting psoriasis and eczema into remission, and for some a month was all it took! For others, of course, it took a couple of years. I just wish we were in the month group. 🙂
We were talking again this week about possibly going back to the doctor and getting some more prescription cream. The prescribed cream always made the spots go away, it just didn't keep them from coming back. At this point, is it possible that if we used the cream to make them go away, the dietary changes will keep them from coming back? I don't know. One of the major reasons we started this diet in the first place was because the doctor's fixes never worked more than a few weeks. The more research I have done the more I have realized that they will only ever offer antibiotics and cream to manage his skin, and that just isn't a healthy long-term approach. Do we have enough faith, persistence, and stubborn patience to stick to this diet long-term? Will it start showing noticeable results after another month? Six months? A year?
A month is so short in the scheme of things, and yet so long when you are missing some favorite foods.
I don't know the answers. I do know that we are going to keep plugging away: eating our grass-fed meats, drinking the bone broth, eating wild fish and fermented foods. Maybe, in time, we will start seeing light at the end of the tunnel. for now, we can only push forward, and wait.
GOALS FROM LAST WEEK
Ferment something…anything! Nope. I did print off a few recipes! But I didn't get them made.
Bottle the kombucha Finally got this done!
Make and freeze some bone broth I made some beef broth, and it was so good to get that back into our diet again.
Make gummies: I didn't get these made.
Go on a walk with hubs: We ended up going on several walks! It occurred to me last week, that we need to introduce some stress-combating activities in our life. Going on a few walks really was a wonderful respite to our crazy schedules this week.
Goals for Next Week
Ferment something. Seriously, I just need to get this thing done. It takes a bit of time, but I need to get more fermented foods into our lives!
Eat organ meats at least two times.
Stay positive
Challenge each other to drink more water.
Go on a walk with hubs
That's it for Week 4!
That sums up our week. Here's hoping that we are able to stick a bit more closely to the diet from here on out!
What were some struggles and successes of your week?