38 weeks. 38 WEEKS?!
I am a little in shock.
How could we have only two weeks left until this baby shows his/her sweet little face? The past few months have flown by, and I feel like I have a bit of whiplash.
This is the first week I have felt more excitement, and less panic. I have been panicking the last few weeks because I just felt like I had so much left to do, and I was nowhere near ready. The last two weeks (since we've been back from Texas) I have been zipping through my to-do list (gotta love that third trimester nesting energy), and I am feeling about 110% better than I was just a few weeks ago.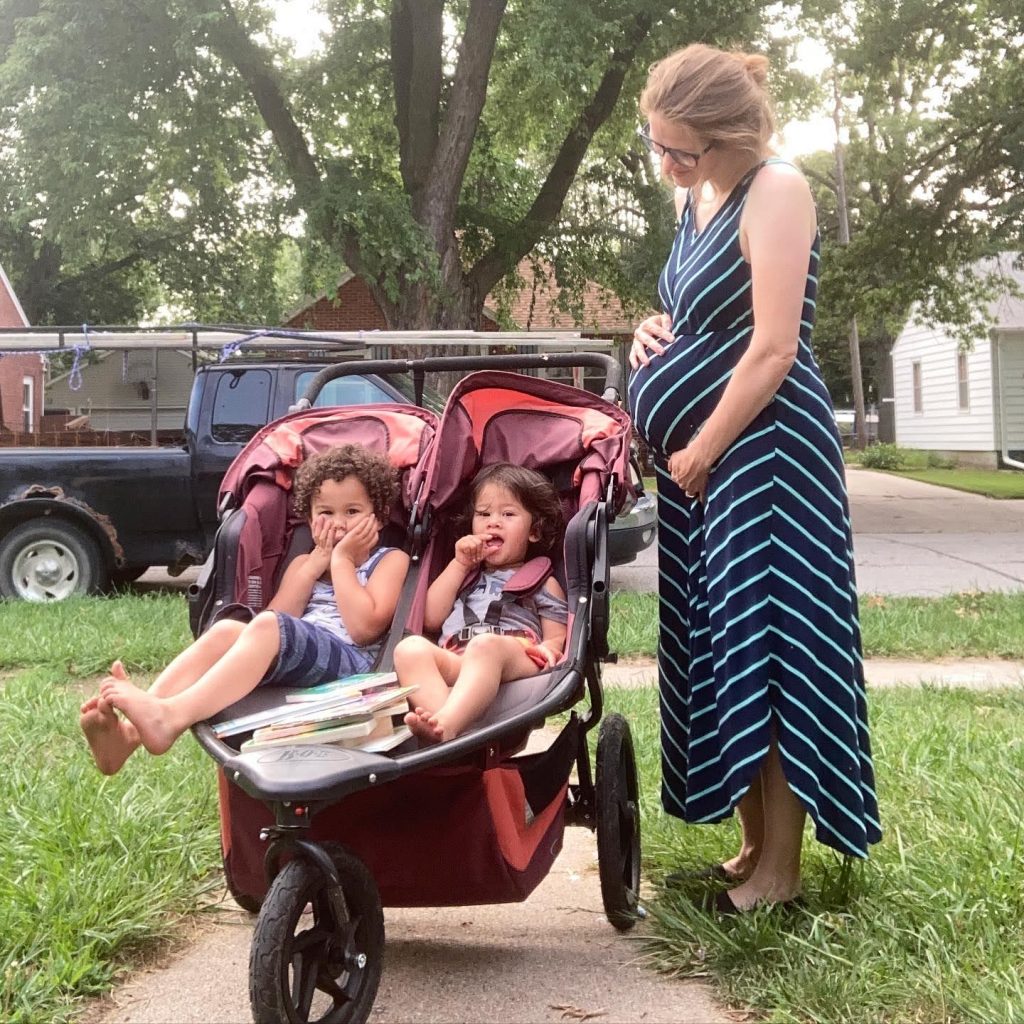 What is mama up to? I have been nesting + decluttering + scrubbing down my house like a crazy woman. I am finishing up the last of my virtual assistant projects before I start my maternity leave, I made a hospital packing list, we dejunked the basement, acquired a new bed frame + box springs for our bed, transitioned Eloise back into her crib, thoroughly cleaned + decluttered the kitchen, found a few bags of baby clothes at garage sales, washed all the baby clothes, sorted all the baby clothes, installed all three carseats, cleaned out the minivan, vacuumed out the minivan, deep cleaned the bedroom, cleaned everything out from underneath the bed, decluttered the bathroom, and set Gideon up with a new Okay to Wake Clock that's making bedtime + nap time about a million times easier.
How are the kids feeling? Eloise is still blissfully unaware, although she loves tending to her baby dolls, and I think she'll follow Gideon's lead when the new baby comes. Gideon is SO EXCITED. He was really wanting me to install the baby carseat right next to his, because he wants to sit by the new baby. He still stubbornly calls the baby "Lightsen" and asks fairly often when the baby is going to come out. He also asked me the other day "Mom, why do you keep eating babies?", I told him I didn't eat the baby, but that God put the baby in my belly, which he seemed to accept (thank goodness), and then he asked when the baby would be coming out. He's really curious, and ready to meet this baby. I think it is going to be a lot of fun to have a four-year-old to help with the newborn this time around. When he was two, and I had Eloise, he was so much a baby himself still. Now he can help, and enjoy the new baby too!
How was this week's midwife appointment? I'll publish this before my 38-week-appointment, but my 37 week appointment was great! I asked my midwife-Karen-what I should be doing to prep for birth at this point, and she said she wouldn't focus on the birth. She said second VBACs or vaginal deliveries in general are just "scrumptious" because they are so fast. She said she bets I will labor at home, come to the hospital at 6 cm, and then have only an hour or two before I'm holding a baby. Hey, that sounds pretty great to me. She is well known for predicting babies' weight correctly, so I asked her for a prediction. She felt my belly, and said she thinks baby is 7 lbs right now (this was at 37 wks) and if I go to 40 wks then she thinks baby will be 8 lbs 6 oz. Then she asked if that was similar to what my other babies were, and I told her Eloise was 8 lbs 7 oz. I have been thinking this baby will be bigger than Eloise, but time will tell! Karen told me not to focus on the birth, because I am ready, and it will be fast.
She told me to focus on setting up all my postpartum support: could I ask someone to come take my toddlers 1-2 times a week, could I line up someone to help with cleaning my house, was I making meals for the freezer. She said her brother paid for a cleaning lady to come to her house four weeks in a row when she had her fourth baby, and she said "you know, that baby is now twenty-six years old, and I STILL remember that. So you can see what a huge thing it was for me".
She said that the more kids I have the more my baby becomes a "community baby" because I also have to take care of the other kids. So she said I should be asking for people to play with my toddlers or clean my house so I do have the time to bond and snuggle with my newborn and heal. She talked a long time about what America gets wrong in regards to postpartum care, and what other cultures get right (such as the asian community that "cocoons" a new mother in her room for 40 days). It was a really good chat, and gave me a lot of food for thought.
How are you preparing yourself for labor? I honestly haven't been doing much. I have been trying to get out on a walk at least every other day. Trying to get as much sleep as I can. Eat good foods. Drink my red raspberry leaf tea. And that's about it! I do want to make a labor playlist (even though last time I had no interest in music), and I do want to pack a bunch of snacks for the hospital, but that's about it! I've been way more low-key this time versus my last VBAC. Part of that is just having two toddlers, and a husband traveling a lot for work.
What are you researching? Coffee makers. My birthday is coming up, and I think I want to up level our coffee. So I've been reading all about coffee makers, and milk frothers, and other fun coffee appliances.
What do you still need for baby? I'm still kinda looking for a glider + ottoman, still looking for a twin bed frame for my eldest, and a boppy lounger. None of these things are incredibly important, though. I'm just keeping an eye out, just in case. I've got one more town-wide garage sale day I'm going to hit before this baby comes.
But I have enough baby clothes (and washed them all), I installed the infant carseat, the minivan is clean, the house is clean, and I'm actually starting to feel ready (thank goodness).
Give me your predictions: when do you think this baby will come, and what will he/she weigh?