You guys, I only have ONE midwife appointment left before I deliver Baby L!
I am SO excited about this!! My appointment this week, actually went really, really well! Part of that was no additional bad news was revealed (thank you, Lord) and the other part that made it better was that my Mom went with me to the appointment, which was oh so fun!
I remember going with Mom to her midwife appointments (at the very same office I go to) when she was pregnant with my littlest brother. I have clear memories of going, and then either getting lunch at Taco Inn or getting smoothies from Amigo's afterwards. So, after my appointment, when Mom suggested we grab some smoothies, it just felt so meaningful.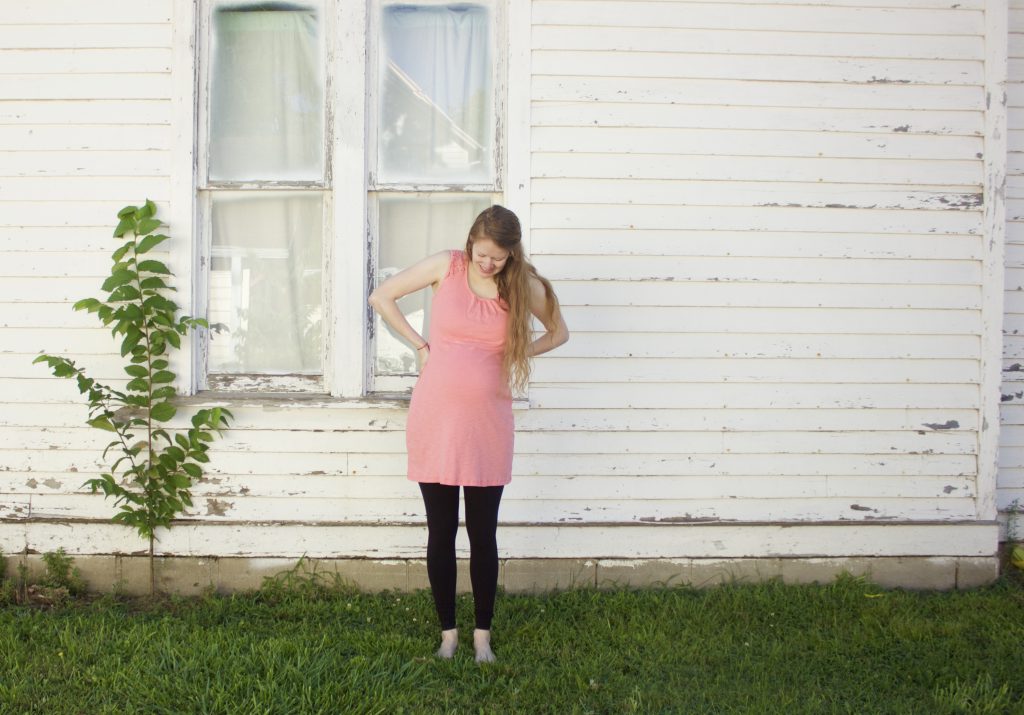 We had our third ultrasound this week, to check on whether I might have placenta accreta. The ultrasound revealed that my placenta still hasn't budged. It would have been great if it moved, but I wasn't counting on it. The good news is that the sonographer said she didn't see any sign of placenta accreta, and she added that accreta is more common in women who've had multiple C-sections. So it looks like things will be fairly straightforward, which is a HUGE relief. My biggest fear has revolved around the possibility of needing an emergency hysterectomy if accreta is involved, and it looks like that won't have to happen.
The ultrasound also showed that baby is head down–which I KNEW he/she had to be. I can feel those feet in my ribs! Baby's positioning doesn't really matter, since I have to have a C-section anyway, but last week my midwife thought baby was breech, and I told her that I really didn't think so, based on the movement.
We did get a peek at baby, but the stinker had his/her face turned into my hip the whole time, so we didn't get to glimpse that little face! Ah well, we will be meeting him/her in person in less than two weeks! Everything looks good with Baby L, and he/she is measuring 6 lbs 2 oz already, so he/she will be a good size even if delivered a few weeks early.
I talked to my midwife, and she wants to keep the C-section at 38 weeks, even though the surgeon wanted to move it back to 37 weeks. My midwife said that part of the reason the surgeon wanted to move the date, was due to her vacation plans (!!). So that was a bit frustrating! I definitely feel like there is some tension between the surgeon, and the midwife. But in any case, we are keeping our original C-section date unless I start having contractions or bleeding.  I don't mind taking a little extra risk in exchange for giving baby a few more days on the inside. I know that every day he/she is in there is beneficial for baby's health.
What's in a name?
Hubs and I finally have our names picked out!! One gender came super easy to us–hubby literally suggested a name, and I said it was perfect. That name has been decided since the beginning of the pregnancy. But the other gender has been giving us a lot of problems. We were at a stand still about it, but this week Hubby finally sat down with me, and we chose a name that we both feel really good about. It is so important to us to choose something meaningful, and a name that will carry both of our cultures, and I think we got it! Now less than two weeks before we meet the little person who will carry one of these names!!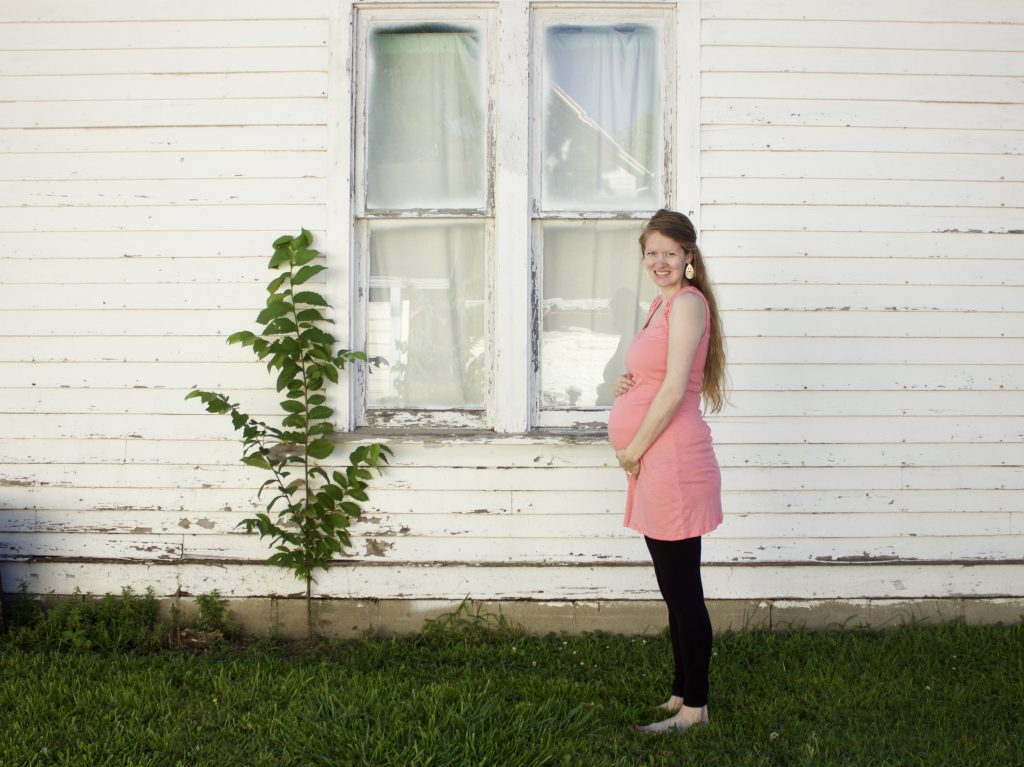 How far along: 36 weeks! Huzzah! My midwife told me that I am so lucky to have made it this far without bleeding, bed rest, or hospital stays. I am so very grateful that this pregnancy hasn't included those things so far despite all the risks!!
Due date: August 29th is my original due date. My C-section is scheduled in my 38th week. The date is a surprise. 🙂
Gender: It's a surprise!
How big is baby? The sonographer measured him/her as weighing 6 lbs 2 0z. Only a few more weeks until we have an actual weight to report! According to my app, Baby L is about twenty inches long, and as long as a stalk of rhubarb! Which is apropos, considering I made rhubarb muffins this week. 🙂
This week, baby: Baby is still packing on the pounds–1/2 a pound a week or more than an ounce a day. At this point, Baby is pretty much fully developed–he/she is just adding fat from here on out.
How are you feeling physically: I'm feeling great this week! A few aches and pains, but nothing terrible. The worst of my back pain seems to have gone away, which is a relief.
How are you feeling emotionally? Feeling a little more steady–although I definitely have waves of emotions now and then. This was my last week of work, at the chiropractic office, and I have definitely been mourning leaving that job a little bit!
What I'm googling: I'm back to googling "half Tongan and half white babies", which I can hardly find any pictures. I am so curious as to what this little person will look like! I can't wait to see him/her!
Purchases I've made/nesting update: Now that we have two new bookshelves (nicely arranged with books, thanks to my sis), a new tv, a new (to us) couch, a new (to us) recliner, I decided that we really still needed a big ol' rug to tie it all together. We do have beige carpeting in our apartment, but I knew that a rug will make it feel super homey. I'd been looking at gray and white rugs on Amazon, and just happened to see one on a local buy/sell facebook group! It was one of the ones I'd seen on Amazon, but the lady was asking $50 instead of $210 it cost new! This is the exact rug that we got, and I am in love with it! It really ties together our little living room, and I've noticed we spend a lot more time hanging out there since we put down the rug.
Sleep: I get up a few times a night, but sleep has still been really good for this far along! I am soaking up all the sleep I can get right now, to prepare my body–and also in preparation of having a baby who will definitely cause some sleep deprivation in the coming months.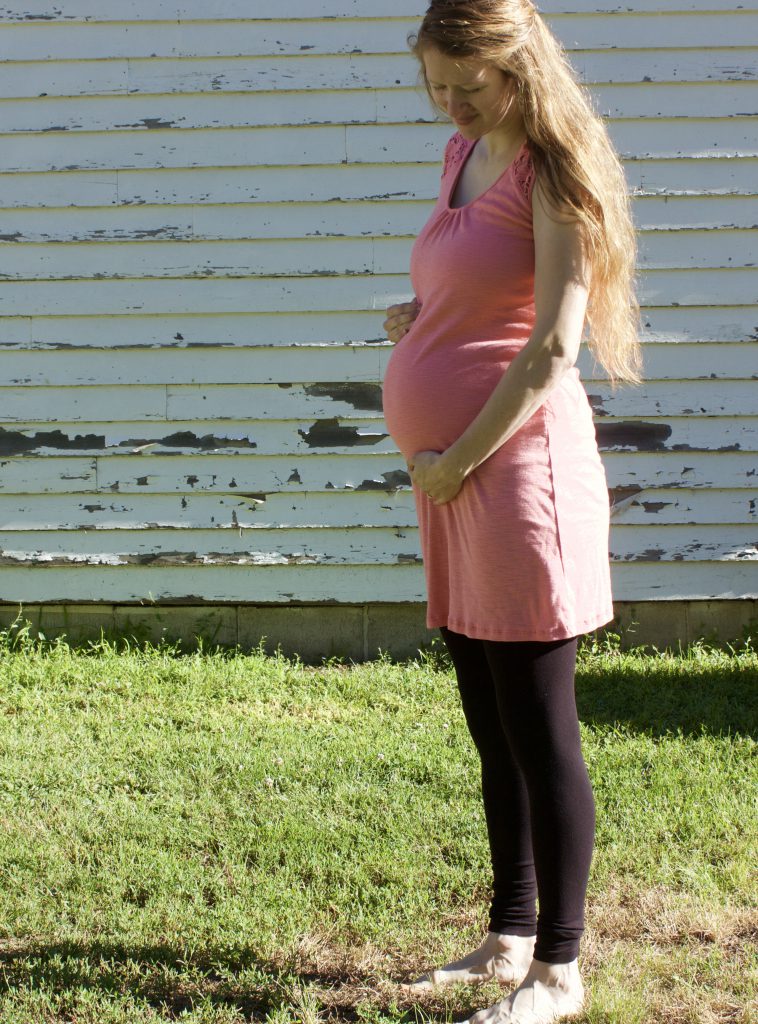 Best moments this week: Going to the midwife's appt with my Mom, deciding on a name with Hubs, enjoying the 50-60 degree mornings which are incredible for a Nebraskan August!
Worst moment this week: Finishing up my job–I definitely have been feeling emotional about it!
Movement: Baby is still moving plenty. My stomach morphs into different shapes throughout the day.
Cravings/Eating: I've been craving chocolate smoothies lately, which is so weird for me. I make my own version at home using carob powder, milk, ice cubes, protein powder, a frozen banana, chia seeds, and flax seeds. I have one every day! They are so yummy!
Symptoms: Rib, low back, neck and hip pain.
Looking forward to: Packing my hospital bag, getting a pedicure and a massage, and celebrating my Birthday this week!
To-dos from last week:
Hubby-do-list: Get rid of headboard + take boxes to Goodwill (Thanks Hubs!!)
Make those pesky phone calls (Ugg, I hate making business-y phone calls. So glad those are done).
Renew license (it only took 20 mins! The fastest I've ever gotten in and out of the DMV).
Install car seat (thank you sweet readers for all your advice and resources!!)
Pack hospital bags
Finalized the names!!
Have budget meeting
Schedule pedicure
To-dos for this week:
Finish reading c-section book
Finish reading nursing book
Schedule the car for a service
Wash mattress cover
Pack hospital bags
Schedule pedicure
Go on one last pre-baby date with Hubs.
Any tips for what I should or should not pack in my hospital bag?