Well, hello there, 24 week bump!
This has been a busy week! Four very significant things have happened in the past seven days:
The bump finally appeared
One of the most frustrating parts of this pregnancy so far is having to deal with all the comments regarding the fact that it has taken me so long to actually start showing. I just feel like I've had to constantly explain to strangers (it doesn't bug me when my family is teasing me about it!) that yes, I am pregnant. Yes, I know that I don't look pregnant. Yes, I am due in August. Etc…but that is all coming to an end, because this week, the bump made itself known: I woke up on Thursday, looked in the mirror, and just about fell over. At some point during the night, my little belly pooch had morphed into a bump. Seriously, it was not there the night before. I really do look pregnant now. Granted, I still wear a baggy polo and scrubs at work, so the patients at the chiropractic center still have no clue that I am toting around a little baby as I put them in their therapies, but if I wear form-fitting clothes I definitely look pregnant! Yay!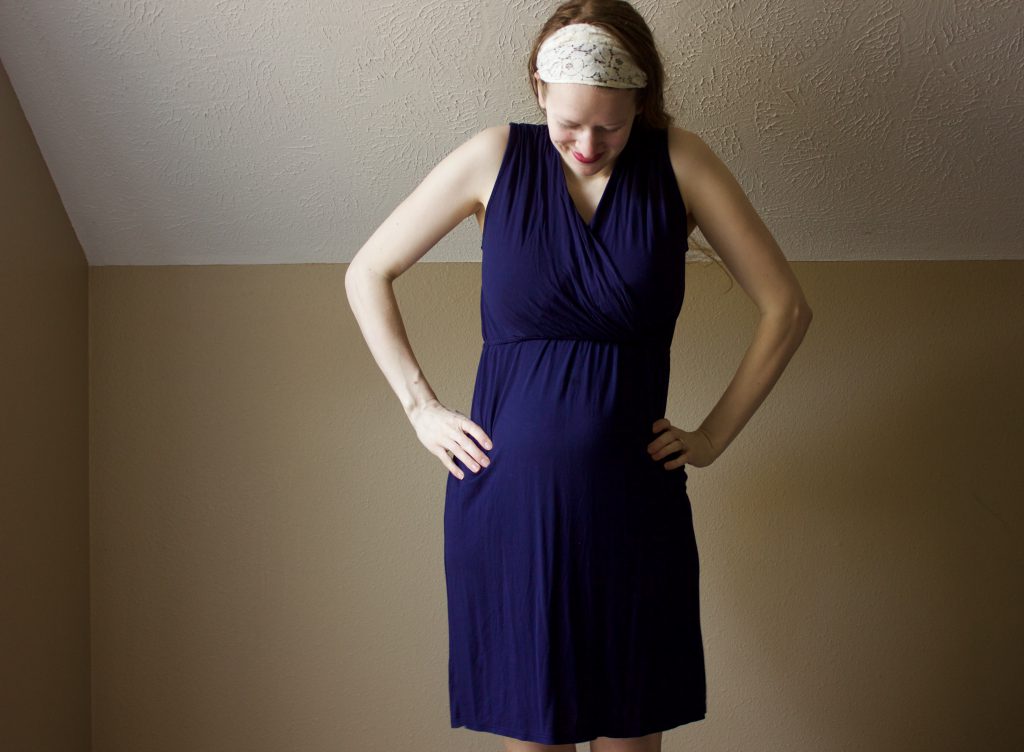 I've reached viability!
Twenty-four weeks is known, in the pregnancy world, as the day when baby reaches viability. Up until this point, if I had given birth early (heaven forbid) then baby wouldn't have much chance of surviving, but at twenty-four weeks,  baby is considered "viable" or able to survive outside the womb. I have been counting down the weeks until I hit this milestone, especially since I read this blog post about a mama who gave birth at twenty-three weeks pregnant. She explained that had she given birth the day before then the hospital would not been bound, legally, to try to save the baby, but since she gave birth on the day she turned twenty-three weeks then they had to do everything in their power to try to save baby. The pictures of that little baby that might have been lost, but was saved due to the fact that she was just barely old enough to qualify, scared me! I am so glad that I have made it this far. Good job, baby!
I booked our babymoon (cue: happy music)
Ever since I found out I was pregnant, back in December, I have been thinking about where we should go for our babymoon (a babymoon is a vacation a couple will take before baby). I knew that it would be hard to sneak it in, since I didn't finish my teaching job until the beginning of May, and then I would only have four weeks left until I hit the dreaded third trimester (when traveling, especially by air, is a bit of a no-no). Hubs and I threw around many ideas, but never really settled on one in particular, and the weeks kept ticking by. Finally, this last week, we sat down and talked it through: we decided that now was the time to take a vacation, we could get the time off from work, traveling isn't going to get any easier with a baby in tow, and I have been healthy throughout my pregnancy. We have traveled quite a lot throughout our marriage, from our honeymoon in Chicago to going on six road trips in six months to our first anniversary in Omaha, but we've never gotten on a plane or traveled somewhere farther than eight hours by car since we got married. I really wanted to have a bit of fun with hubby before baby shows up. I had three priorities when it came to our babymoon:
I wanted to fly on a plane.
I wanted to go somewhere near the ocean.
I wanted it to be budget-friendly.
I bought the tickets today, and we are so excited! Any guesses as to where we are going?
Hubby graduated college!
We celebrated Saia's college graduation this past week! Baby stayed asleep for the whole ceremony, but then when the choir began to sing the song that Saia had composed, Baby L woke up, and started dancing like crazy! I think he/she knew that his/her daddy had created that music. It was so special.
And now…for the bumpdate!
How far along: 24 weeks!
Due date: August 29
Gender: It's a surprise! Do you think it'll be a mini me or a Saia Jr?
How big is baby?  Baby is growing fast! He/she will double in weight in the next month. Whew! It seems like it took for–ev–er for baby to change from a poppy-seed to a lemon, but these days baby is daily putting on weight, and I can hardly keep up! Baby is 1 and 1/3 pound, and a foot long. Baby is now as big (as long?) as a cantaloupe. Wow!
This week, baby: He/she is starting to fatten up. 🙂 His/her brain is growing, taste buds are developing, and lungs are maturing.
Exercise: I have been steadily increasing my activity level every week, and I am feeling so much stronger!
What I'm googling: hospital tours. I need to figure out a time that Hubs and I can both go tour the hospital, which is tricky between our two schedules. 
Purchases I've made: tickets to go on our babymoon! I will now start hunting for a swimming suit for said vacation. I won't be that big, so I am hoping to get by with something fairly inexpensive. I, also, need to buy a few pairs of maternity shorts. I have perused ThredUp for a while, and keeping on eye on what they offer in the maternity line.
How are you feeling? Really, really good! After so many weeks of feeling yucky in the first few months, I am overjoyed to feel like myself again! I have zipped around getting things done, deep-cleaning the house, working, and baking. I am capitalizing on this energy while I have it!
Maternity clothes: Still loving my maternity jeans, and wearing normal clothes for everything else. As mentioned, I need to find some maternity shorts, a swimsuit, and probably a few longer (loose) t-shirts for the upcoming weeks. I grabbed up some super comfortable shoes at a clothing exchange last week, so I am set in the footwear department which is a big relief!
Sleep: Still really good!
Best moment this week: Seeing Hubby graduate college, and booking our babymoon tickets.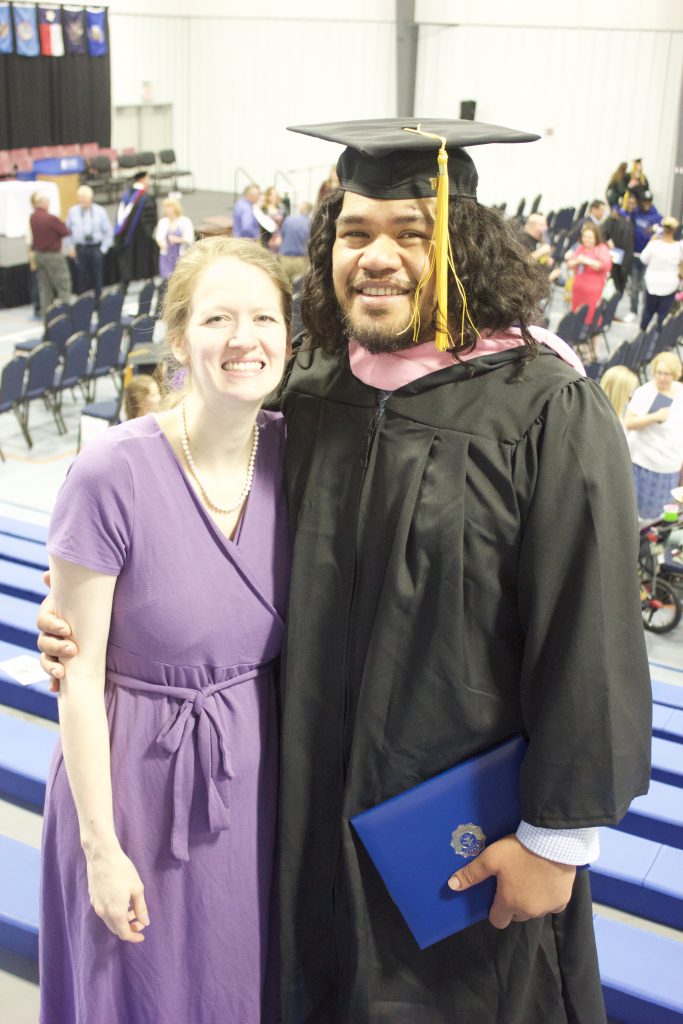 Worst moment this week: I had a lot of anxiety before booking our plane tickets. I researched the tickets like crazy to be sure we got the best deal, talked everything over with Hubby ad nauseam, and then put off buying the tickets a few days (all the while worrying that the prices would change, and I'd regret it). I really struggle with making big purchases, and Saia was so sweet to talk me through it. Ha ha! I know we would regret it, if we didn't go, we had the money, and we got a great deal on the tickets–but actually making the purchase really messed with my mind. Luckily, the prices stayed the same, I talked everything through, and as soon as I bought the tickets I was filled with excitement about this upcoming trip (can you tell?).
Miss anything? I just miss being a little less fragile. I am not used to asking other people to lift something for me, not used to taking a break to put my feet up, and definitely not used to worrying about wearing compression socks when flying. Sigh.

Movement: I can now clearly see baby's movement! Baby can now make my belly move from side to side which is really bizarre. I know it is just going to get more pronounced! Two weeks ago I was so excited to be able to see just a little tremor on my stomach, when baby moved. Nowadays, baby is swaying that belly from side to side. So strange!
Cravings: Nothing super pronounced. I still eat lots of watermelon every day, and most of my food aversions are gone! Yay!
Symptoms: trouble breathing if I eat to much, round ligament pain, occasional headaches, and intense need to decorate everything. Ha ha!
Looking forward to: soaking my feet in the ocean in a few weeks!
Where do you think we are going on our babymoon?