Hey, hey, hey! It has been a LONG TIME since I've written to you, sweet blog readers.
A few things have happened since my last post, the most important of which: we are expecting baby #3 in the end of July!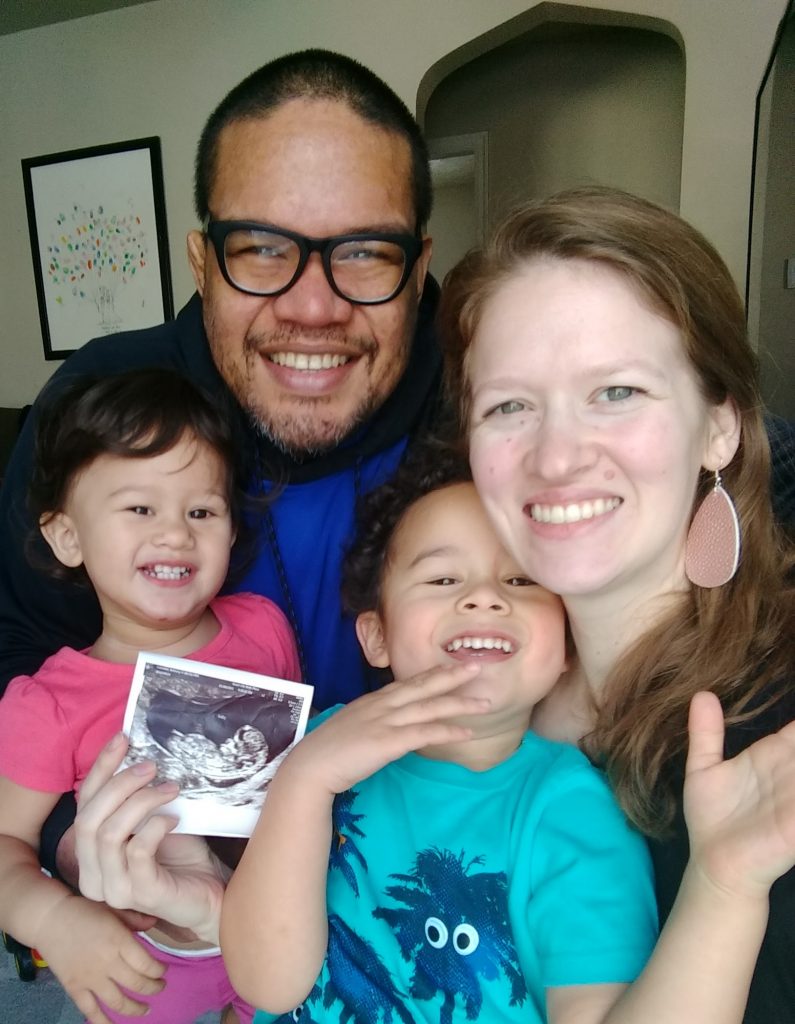 I am now 21 weeks pregnant. I feel as if I have both been pregnant forever, but also that I blinked and skipped weeks 12-21. This pregnancy has mirrored my pregnancy with Eloise (which has me thinking this is a girl) in a lot of ways, but I have been sicker this go around (which part of me thinks is attributed to the fact that I have two toddlers to watch rather than zero or one).
But, I am now halfway done (wahoo!), and the days I feel well vastly outnumber the days I feel awful, thank goodness! In December, I did nothing more than lay around and try to think of some kind of food (any kind of food) that I could stomach, January-February I felt increasingly better but still exhausted and nauseous in the evenings. Now that March is here, I feel fairly normal most days, huzzah!
Here are a few answers to questions you may have…
21 Weeks Pregnant with Baby #3
Food cravings? Food cravings are so strange! I loved fried food with my pregnancy with Gideon, but I could barely stomach it this time around. Milk always settled my stomach with my pregnancy with Eloise, but it tasted terrible this time. So odd! I've never in my life craved oatmeal until this pregnancy. During the first trimester, I struggled to find any food I found palatable (just like my pregnancy with Eloise). But I could always count on oatmeal to fill my stomach! Thank goodness. I also went through a smoothie phase, a pomegranate phase, and a donut phase. Currently, I can eat just about everything again, even sardines (SO high in protein, yay!). Right now I love oatmeal, sliced cucumbers with vinegar + salt, cake donuts, and melon.
Symptoms? The worst symptoms have been exhaustion, headaches, no appetite, nauseous any time my stomach is empty, and quite a bit of puking. Sigh. Most, if not all, of those symptoms have lifted by now! I have not had as many extreme headaches/migraines as I did with E's pregnancy, but more throwing up.
Planning another VBAC? For those of you who don't know, I launched a podcast devoted to VBACs called VBAC Babes! I am for sure planning another VBAC! Praying and hoping that I will get the opportunity to have a second VBAC, and that I will actually go into spontaneous labor this time! My first pregnancy, I had complete placenta previa that led to a scheduled C-section, and my second pregnancy I had leaking amniotic fluid for a week without labor starting, so I was induced. REALLY hoping to experience spontaneous labor this go round, and avoid an induction.
Biggest fears? My twenty week ultrasound is tomorrow (it will be a 21 week ultrasound, because we've been traveling), and ever sinceI had complete placenta previa diagnosed at the 20 week ultrasound with my first, I get super nervous about it every time. With this pregnancy, at my 11 week ultrasound, the sonographer told me that my placenta was currently a previa, but we'd check it again at 20 weeks. Now, I KNOW that 1 in 3 women have a previa during the first trimester, and that docs don't even diagnose it as a previa until 20 weeks, but I've still been really worried about it. Hoping I get the all clear at our ultrasound.
What do the kids think? Eloise is 18 months, and oblivious, but Gideon is excited! All along, he has said the baby is going to be a girl (although he just changed his mind that it is going to be a boy), and her name is Baby Pineapple. He has also given me a big hug, and told me he's trying to squeeze baby Pineapple so she'll come out (don't think it works like that, kid) ha!
Will you find out the gender? Yes! With my first pregnancy, we found out but didn't make the news public. With our second pregnancy, Saia found out but I didn't. With this third baby, we've decided to both find out, and we are doing a gender reveal with my family (who am I? Ha ha!). I am SO excited!
Do you have a name? Not even close, ha! We've thrown around a few ideas, but don't have anything we love. Naming a child is so tough!
Will this be your third August baby? We shall see! Gideon was due August 29, and born August 10. Eloise was due August 23, and born August 24th. This baby is due July 29th. Will it be our third August baby or our first July bday? Time will tell! And no, we don't plan to have August babies, ha ha.
Who's your provider? I am back with the midwives at the birth center an hour from our house. I loved them for my last pregnancy, and it was so fun to go back, and return to a provider that knows me! I am also seeing a local doc to manage my thyroid, since I've had thyroid issues this time around too.
What baby purchases will you make? First, I need to go through the bins of baby clothes we have, and organize them all, phew! After that, I will look for a few new baby clothes for baby, and I'd really like to get a used baby swing! That's one thing I've never tried, and I'd like to give it a go this time around. Otherwise, we are pretty well set. We have a baby car seat, double stroller, and tons of other baby stuff. We even have a crib that a friend gifted me! I've never used a crib for any of my babies, but excited to have that on hand. Yay for third babies!
What do you want to get done before baby arrives? I want to get ahead on both my podcasts so that I can build in a maternity leave for myself, potty train Eloise, and declutter the house. We finally got Eloise night weaned, and sleeping through the night a month ago, and that was the biggest item on my list (I like to get a little sleep between babies, ha!).
Previous Bumpdates:
Do you have any questions for me? Leave them in the comments, and I'll answer them in next week's post!