I wrote a to-do list yesterday!
That doesn't sound like anything out of the ordinary, except for the fact that it is the first time in three weeks that I have had the energy and stamina to do anything other than feed a baby, burp a baby, and sleep.
I was feeling ambitious in the morning, so I dug out my planner from underneath a pile of books, wrote out my three-item list, and crossed my fingers that I'd be able to get even one of them done. I only wrote three things on the to-do list–get bills submitted to insurance, take Gideon's three week photos, and make a September budget. Thanks to Little Dude taking an hour and a half long nap in his bouncer for the first time ever (yay!), I was actually able to cross all three off, AND make myself lunch!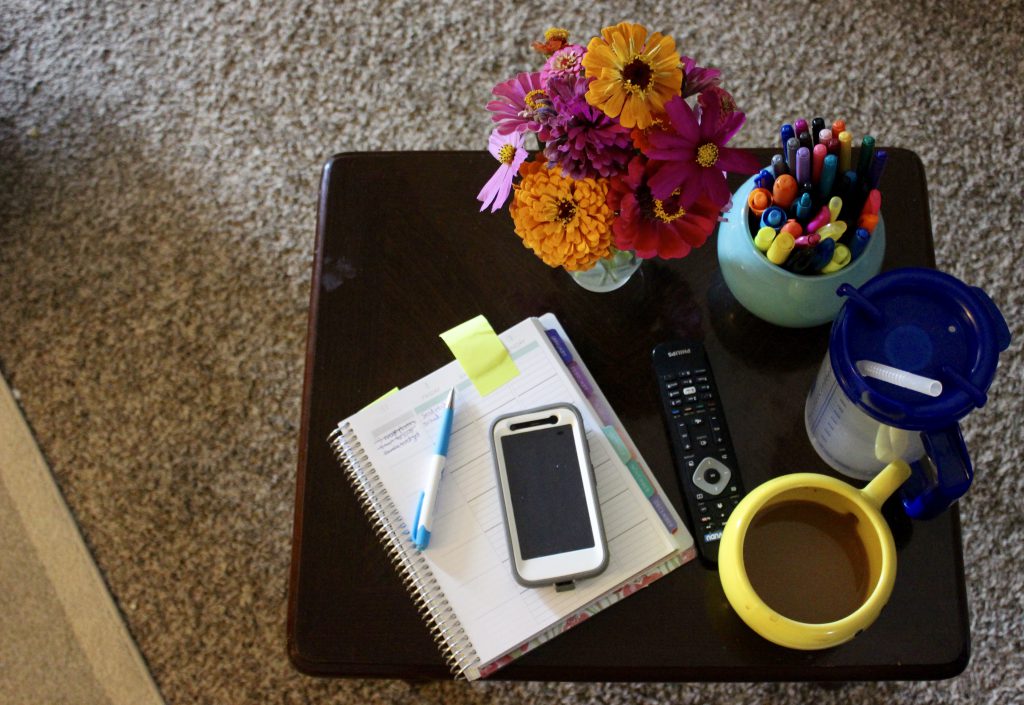 The first three weeks
Gideon is now three weeks old, and I am three-weeks post-surgery. The past three weeks have been such a whirlwind. The first week was definitely our honeymoon-period. Saia was home from work, and we spent our days just staring at Gideon, resting, and playing with him. We hardly turned on the TV, because we were just so enamored by him. I was, also, very emotional. I found myself crying because I was so happy–I couldn't stand the fact that other people might not be as happy as me. I would think about a friend going through a tough time, and I would cry because if only she could know this happiness. Which makes me chuckle now, because #postpartumhormones, am I right?.

The second week was by far the hardest–Saia went back to work, I started getting frustrated that I still couldn't do much because of my healing post-C-section body, and I struggled with the baby blues. All these pent-up emotions had to get out somehow, and tears were the way to go. I felt lost in an endless cycle of feedings, sore from my surgery, and hopeless. The only things that kept me afloat were having a sweet, and understanding hubby, an endless stream of wonderful guests (friends and family) who cleaned our apartment, brought us food, kept me company so I didn't feel completely isolated, and held the baby so I could shower, and going on daily walks. Saia and I started going on walks almost every night during the second week. The first few days, all I could do was shuffle around the block, but we've been walking just a little farther every night, and it makes me feel so much better both physically and mentally.
This third week has been so much better: on Saia's days off he took night-time-duty, only waking me up when Giddy-boy wanted to eat and I finally felt well-rested, we went to my follow-up appointment so the doc could take a look at my incision, and she answered my questions and told me everything looked great, and I've finally started feeling a little bit stronger.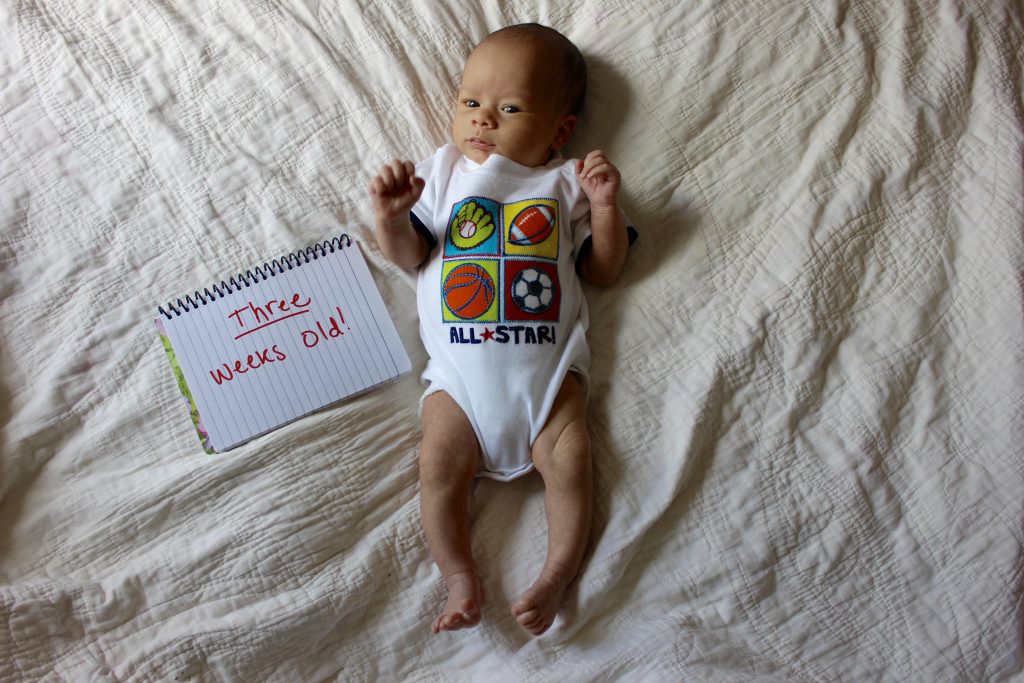 We've made it half-way to the six-week mark! Six weeks is magical, because it marks the day when I will finally be restriction-free! I have had a lot of restrictions ever since I was 22 weeks pregnant, because of the placenta previa. When they first put my on those restrictions I despaired, because I knew it would be six months before I would be restriction-free. Now that day is only three weeks away, and I am SO excited to be cleared to exercise, and resume daily activities again!
Life with Gideon
Spending time with this little guy has been such a delight. He is still a pretty mellow baby, for the most part, although a bit of feistiness has begun to appear. My Mom remarked that he vocalizes everything–and that is so true! He is always making little grunts or sequels to let us know what he needs or how he is feeling. He slept constantly for his first two weeks of life, but this past week he has started to be awake a bit more, and started fussing a little bit.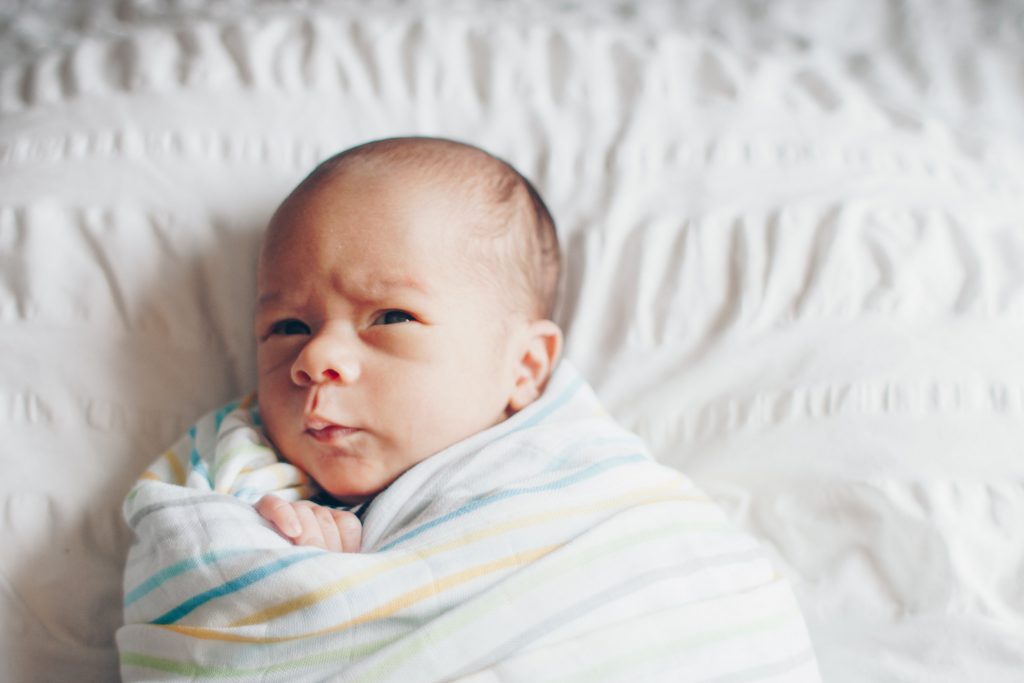 He is constantly practicing various facial expressions, and they just crack us up. He gives us a lot of suspicious and dubious looks, and he really appears to be a wise old soul.
Breastfeeding has been going really well. Our first week was really tough, but it has gotten so much better. Gideon has gotten into the habit of holding my finger while he is eating–he has been doing this since he was one week old, and it is the sweetest thing!
Hubs is completely enamored by G, and is so good with him. Because I was so weak from my surgery, he took on a lot of the diaper changing and lifting of G in the first week, and it was so sweet watching their bond develop.
Life is a bit lacking in sleep right now, but so very sweet!
What are you up to this week?