I probably shouldn't say this, but…
I'm not a fan of pumpkin spice lattes.
My big, dark secret is out. Phew. I am glad to get that off my chest, after all these years.
Here's the thing: on the first day of autumn, all of my friends are posting pictures of themselves with their first pumpkin spice latte of the season. The pumpkin spice latte seems to be the epitome of welcoming fall. I wish that I, too, could enjoy that tradition–but, alas, it shall not be.
This year, Starbucks came out with a new autumnal drink—Maple Pecan Lattes. On one particularly dreary day when I was covered in spit up, hadn't showered in a week, and was frankly not feeling the stay-at-home-mom life, I emergency-texted my husband and asked him to bring me a maple pecan latte, on his way home from work. I figured that if I couldn't jump on the PSL band wagon, I could at least catch a ride on the MPL wagon, and recover some of my dignity.
He brought me one that afternoon, and I slurped away. It did caffeinate me, and I partially recovered my sense of self (a shower helped, too), but while I enjoyed it, it really didn't impress me, either.
The sad truth is, I'm never going to be a consumer of seasonal drinks.
This post may contain affiliate links.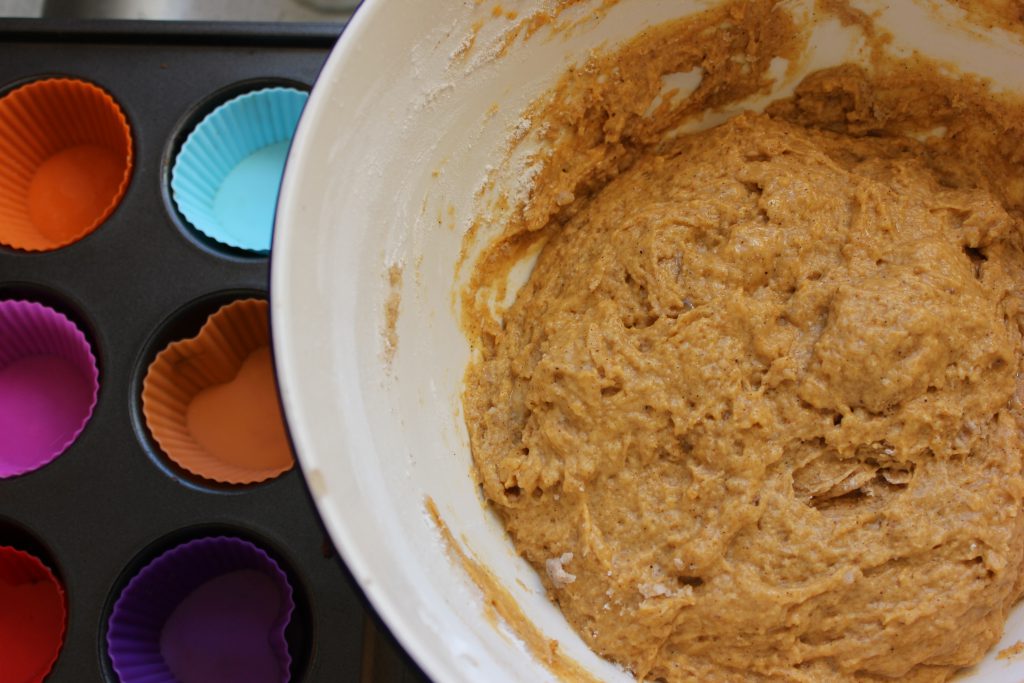 I don't like to drink my pumpkin. I love my coffee, and I love my pumpkin–just please don't mix them together. Everyone else can have their PSLs, and I'll just take a vanilla latte with one of these yummy muffins. We can still be friends, right?
I have been on a pumpkin muffin kick for the last few months. It has been a craving that hasn't gone away no matter how many muffins I consume, so I've made a batch or two of muffins every week. I've tried making other types of quick breads here or there–banana bread, cranberry muffins, zucchini bread–but nothing has scratched that itch.
I had a difficult time finding a recipe that I liked. I was looking for a muffin recipe that was a bit healthy, yet decadent. Full of spices, yet not overly complicated. Had a subtle sweetness, without the overly sugary nature of some (I'm looking at you, Starbucks Pumpkin Cream Cheese muffin).
I tried sweetening my muffins with bananas, but the muffins had no sweetness whatsoever. I tried sweetening with honey or maple syrup, and felt bad about how expensive a batch was to make. I tried using one-hundred percent whole wheat flour, and the muffins came out hard as rocks. You know what my top pet-pumpkin-muffin-pet-peeve is? No recipe I found used the entire can of pumpkin. Every recipe either used too little (1/2 a cup) or too much (2 cups). I was always left with about half a cup of pumpkin purée in my fridge, and it never came out even.
Therefore, in my recipe, I use the entire can of pumpkin. No leftovers to get stuck in the back of the fridge, and forgotten.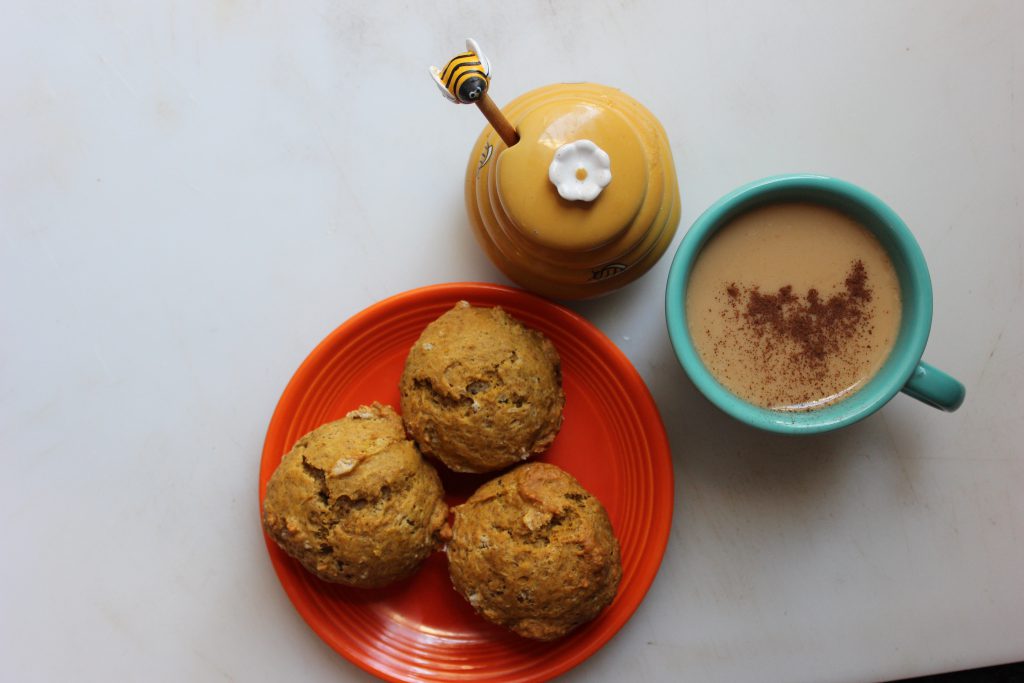 A few tips for muffin-making:
Buy silicon muffin liners (these are my faves). Just do it. Especially if you get on a muffin-kick like I have. Otherwise you will spend the rest of your days scrubbing out muffin tins, and ain't nobody got time for that. Silicon muffin cups are so easy to clean. Plus, you'll save money now that you don't have to buy tons of paper liners, AND you'll save the planet in the process. Boom.
Stir the dough just until combined. The number one reason for muffins that don't rise is that they were overly handled. Have a light hand!
Batter should be stiff enough to hold your spatula upright. If it is too runny, fold in a few more tablespoons of flour.
Make a double (or triple!) batch and freeze the extra muffins in freezer bags, then pull out a couple for breakfast every morning.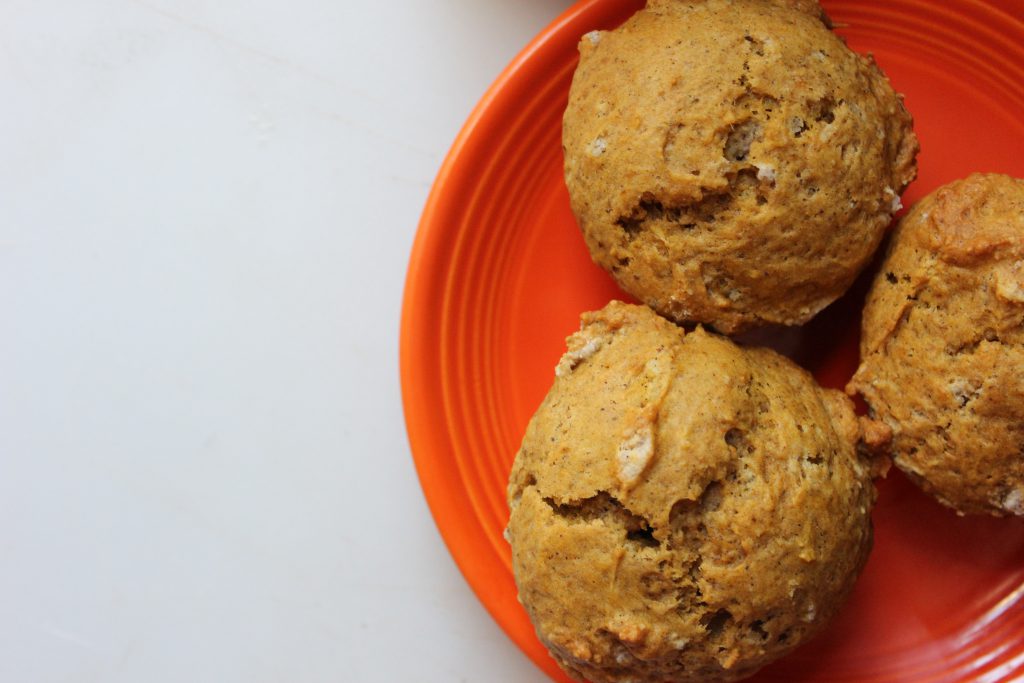 I am still in the middle of figuring out this new stay-at-home-mom life. I haven't quite figured out how to get all the laundry done, blogging tasks accomplished, or dishes washed while simultaneously bouncing a baby. So if you stop by my house, you won't find it pristine, and I'll probably be drinking a cup of cold coffee, and wearing a shirt covered in spit-up. However, there is a pretty good chance that when you walk in, you will be greeted, by the smell of pumpkin muffins. Just bring your own pumpkin spice latte, because you won't find one of those here.
Better Than a Latte Pumpkin Spice Muffins
Author:
Bethany Lotulelei
Prep time:
Cook time:
Total time:
Ingredients
1 cup whole wheat flour
2½ cups all purpose flour
2 tsp baking soda
1 tsp baking powder
1 tsp cloves
1 tsp cinnamon
1 tsp nutmeg
½ tsp pink himalayan salt
1 cup granulated sugar
15 oz can of pumpkin puree
½ cup melted coconut oil
3 Tablespoon milk
3 eggs
Instructions
Preheat the oven to 350 F.
Mix the dry ingredients (flour, baking soda, baking powder, cloves, cinnamon, nutmeg, salt, and sugar).
In a separate bowl, mix the wet ingredients (pumpkin, oil, milk, and eggs).
Combine the dry and wet ingredients,, stirring until just combined.
Fill each muffin tin three-quarters of the way full.
Bake for 22 minutes or until a toothpick comes out clean.
Pin this image to save the recipe for later!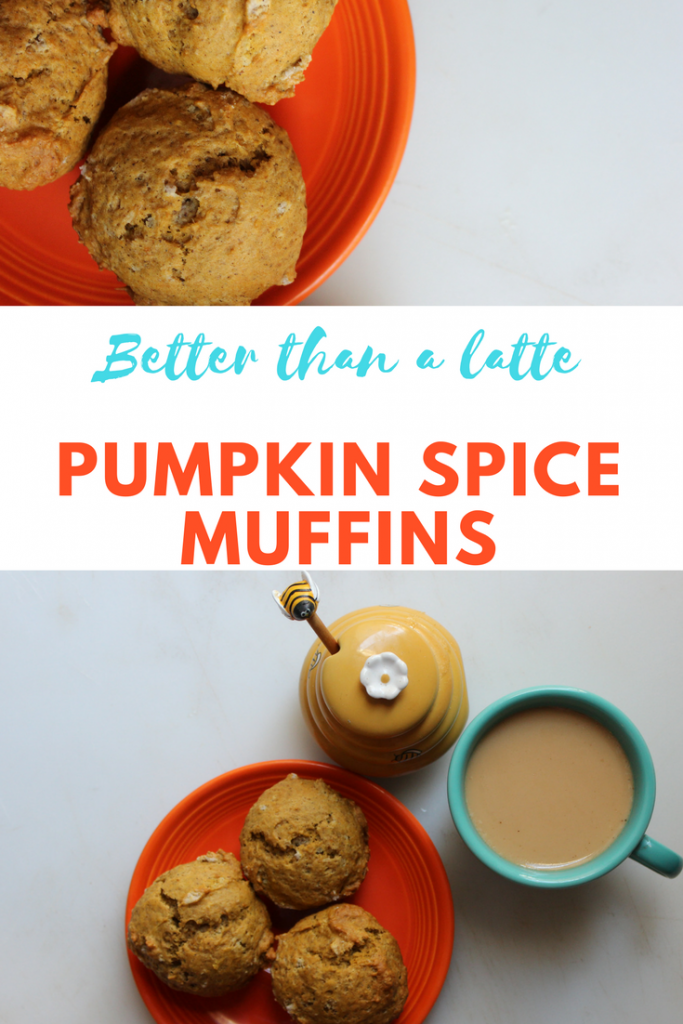 What is your favorite food to eat in the autumn? Do you like pumpkin spice lattes?