As I type out this blog post, with my jaw swelling three times its size (thank you wisdom teeth), I can't help but breathe a huge sigh of relief that this week is winding to a close.
This past week was crazy between my starting a second job (as an adjunct instructor at a local college), finishing up our last class of Financial Peace University, Saia starting college classes again, getting my wisdom teeth out, and balancing sharing one car (let's just say I did quite a bit of speed walking between my two jobs). There were days when hubs would pick me up in the last ten minutes of his lunch hour, race across town while I hurriedly changed from business clothes to CA clothes, and then I would grab the lunch he packed for me, and hurry on to the next thing. Whew.
This post may contain affiliate links.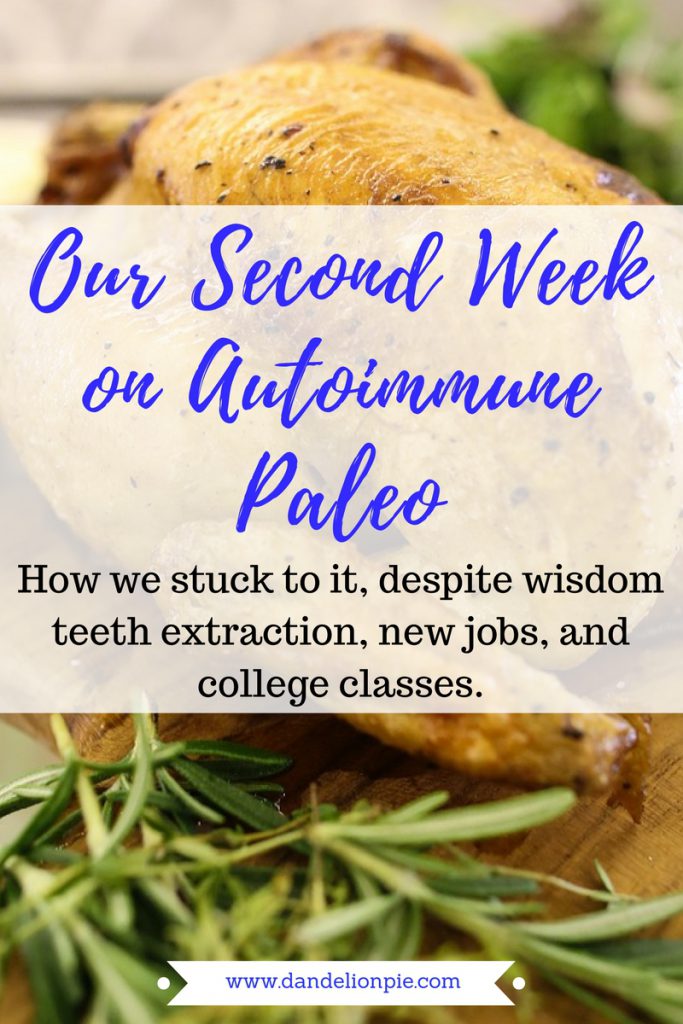 I was not completely sure how I was going to keep us both fed this week between everything going on, but somehow with the help of evening cooking sessions, a few rotisserie chicken, and my Mom sending over a huge care package of soft foods after my wisdom teeth extraction, we made it work.
Saia has now gone two weeks without eating any dairy, grains, legumes, nuts, seeds, processed foods, or sugar.
Here's the high and low points of this week on our Autoimmune Paleo Protocol diet.
What saved us this week
If any week was going to fail, it would have been this week: between the busyness, lack of time, and stress. However, there were several things that kept us on track:
Saia's determination: my husband is so ready to finally heal his skin problem, that he is committed to this program one hundred percent. I can't tell you how helpful that is, because I never have to worry about him cheating. When we started this program I talked to him about the fact that if we were going to do this he would not be able to cheat even once, because in order for an elimination diet to succeed you have to be eliminating foods successfully. He has been a champ throughout this entire process, and so cheerful to boot.
I cheated, a little bit: I am eating AIP alongside my hubs for moral support, but there were a few times when I was so exhausted, and overwhelmed by this week that Saia snuck out and grabbed me my favorite burrito from a local Mexican restaurant. I have missed my grains a lot more than he has, and just having that treat twice this week helped me have the energy to keep going.
Rotisserie chicken: twice, we just got to the point when there was hardly anything in the fridge, and we just grabbed a chicken from the local grocery store. I know chicken is something that shouldn't be consumed that often on AIP, but this week our diet was all about survival. Hubs didn't eat the skin, and he cooked up a mess of sweet potatoes and plantains in coconut milk to go with the chicken, along with a salad.
Recipes that Succeeded
Salad: I craved salad this week like there was no tomorrow. We used to eat hot sauce with every meal, and I miss that punch of flavor. We bought a huge bunch of organic lettuce mix, and I have been mixing up some olive oil, vinegar, dill, and capers for the dressing. We have eaten bowl after bowl of this stuff, and I even eat it for breakfast.
Ground Beef Stew: this recipe, from The Healing Kitchen (my fave AIP cookbook so far) seemed a bit odd when it called for cooking zucchini, and then blending it with the beef broth before additing it to the beef/veggie mixture. I figured the spungy texture of the ground up zucchini might throuw my husband off a bit, but he called me at work to tell me how much he loved the soup. Score! I really need to make more soup, because in one evening I made a huge batch that lasted a few days which was really helpful during the craziness this week.
Beef Liver Pate: we are supposed to be eating a lot of organ meats on this diet, and I figured it would help to make some pate (liver dip). I must admit that I hated making this recipe. Cooking up the liver was fun, but putting it in the blender and grinding it up with a bunch of coconut oil just was not a fun experience. The finished product looked really revolting: very unattractive despite the bacon crumbles that adorned the top. However, my husband really enjoyed it, and snacked on it with celery sticks and carrots for a few days.
Peach Ginger Ice Cream: I finally sprung for an ice cream maker of our very own (I got this one in pink), and the first thing I made was this yummy ice cream. My new ice cream maker whipped it up in less than fifteen minutes! Wahoo!
Cherry gummies: I finally got some gummies made, and we snacked on them all week. I felt so good about getting some more gelatin in our diets, in addition to the bone broth.
Hubby's Eczema Psoriasis
I sat down with a friend of mine, who happens to be a nurse, and we spent some time researching my hubby's skin condition. She didn't think it was eczema, based on the fact that he said it doesn't itch, but it does burn. We started reading article after article about psoriasis, and we stumbled across psoriatic arthritis. After reading all the symptoms, and seeing pictures I got chills, and realized that he had almost every symptom. He has struggled with gout the last few years, and swelling joints is one symptom of psa that is often misdiagnosed as gout. It was such a relief to finally feel like I know what we are up against, and to link all his symptoms to one autoimmune disease rather than just wondering about all of his unrelated symptoms. So, moving forward, we are just assuming that he has psa. Thankfully, there are a lot of success stories out there of people who have healed their psa through the Autoimmune Paleo diet, and everything I read says that if we go to a doctor they will just give us another round of antibiotics and steroid creams (we already tried that route), so I feel confident that we are still doing the right thing to help his skin.
Is his skin getting any better? Well, we are still early in the process. From what I've read, it can take months for his body to heal enough that his skin starts calming down, but after two weeks I will say that his skin looks like it is beginning to heal. He hasn't had any new spots pop up, and the ones he does have are a bit more healed, and not as angry. This might be due to the diet or the fact that we have started moisturizing them multiple times a day, but something seems to be helping a bit.
Goals from last week
Make some gelatin gummies for snacks.I did! It was great having a container full of gummies in the fridge for quick snacks.
Get the water kefir finished so we can drink more probiotic-rich beverages. I am sad to say, when I went to bottle my water kefir, it had a bit of mold on top. Yuck. I left it a couple days too long, and just assumed it would be okay (like kombucha which just keeps fermenting) but I was wrong! So no water kefir for us at the moment, but we are still drinking kombucha daily!
Make some kind of fermented veggie (sauerkraut, carrots, etc…): I didn't do this. 🙁
Eat organ meats 3x We didn't technically eat three types of organ meats, but we did eat organ meats once, and hubs snacked on pate daily, so I'm counting that as a win.
Order more kelp noodles, and some manuka honey: I put in a big nutritional order for more coconut milk (bpa and guar gum-free), carob powder (to make "chocolate" ice cream), Himalayan pink salt, and arrowroot powder. I will order the kelp noodles and manuka next week.
Goals for Next Week
Make sauerkraut
Eat organ meats 3x
Make some sort of carob ice cream or snack
Bake something (anything!) with the cassava flour and arrowroot
Two Weeks Down!
Whew! I am so glad we have two weeks under our belt. This past week went SO MUCH BETTER than our first week (read that post here), and with a few days off (thanks to my wisdom teeth) I am hoping I can bake, ferment, and cook up a storm this week.
Have you ever been on a restrictive diet? Do you have any tips?