Junk, junk, and more junk.
That is all I saw when I looked at our apartment.
For the last few months, I have been feeling increasingly dissatisfied with our apartment. I don't know if this increased desire to beautify my home is due to the nesting phase beginning (they say that happens during pregnancy), if it is spring fever, or if I just finally feel good enough to start taking an interest in our home again (that first trimester was rough), but every day I've looked around, sighed gustily, and wished that things were different.
This post may contain affiliate links.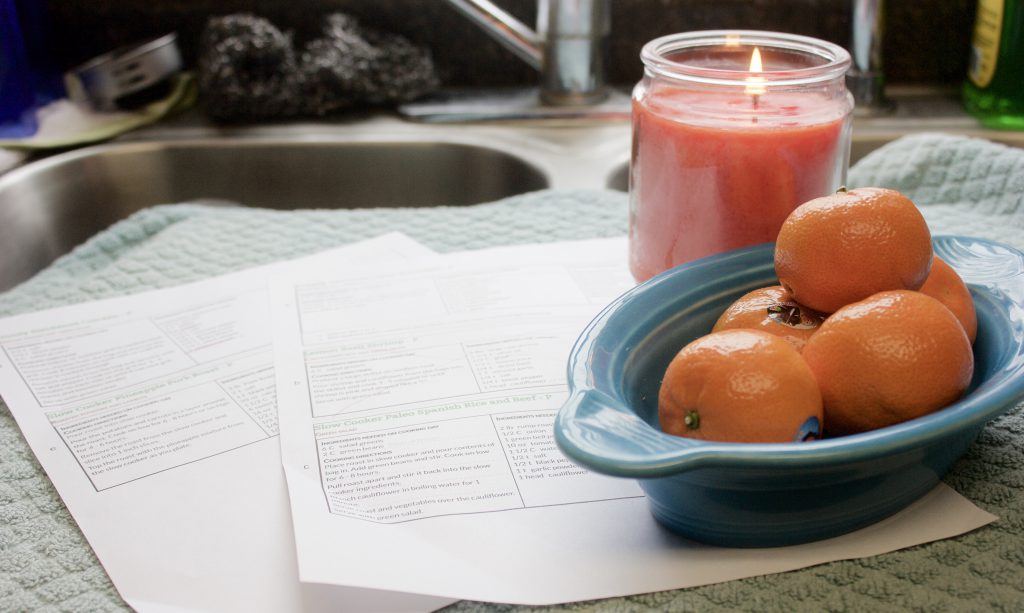 We live in an oddly shaped apartment with a bedroom, two big closets, a little bathroom, and a combined living room/study/dining room/kitchen. Last fall, in a moment of clarity, I threw a gallery wall up, and I was immensely proud of it, but lately even that has started looking crummy to me.
I have really wanted to make my home a beautiful place, but it honestly has felt hopeless: we don't have a ton of money to throw at decorating, the apartment is weirdly shaped as it is (I can never figure out furniture placement), and we have a startling lack of natural light. I am pretty sure that if Joanna Gaines (of Fixer Upper) walked in, the first thing she would do is knock out a few half dozen more windows, but I am also certain that our landlord would not approve of that.
In any case, I felt stuck in frustration mode. I didn't know where to start. I would go to the thrift store, and walk around–and gaze at all the old furniture, knick-knacks, and pictures and know that they were ripe with possibility, but have no earthly idea how to extract that from their worn-out exterior.
I just, honestly, wanted someone to tell me where to even begin.
Then, on a whim, I started the Cozy Minimalist course by Myquilin Smith (the popular decorating blogger, and author of The Nesting Place, one of my all-time favorite books). This course is designed to help anyone use what they have to create a beautifully decorated room.
I had a lot of fears, going into the course, and I really didn't feel like it would help me in my situation: I was afraid that the course would leave me even more unsatisfied as I saw what other people's houses, budgets, and decorating acumen could produce in comparison with mine, but I couldn't have been farther from the truth.
This course has forever changed the way I look at my home, at old items in thrift stores, and at decorating on the whole. It has given me a vision, and the tools to bring that mental picture to life. I now walk into our apartment, and see possibility where there once was hopelessness.
5 Things I've Learned from The Cozy Minimalist Course
Everyone (and every room) has limitations
When I started the course, I truly felt like our oddly-shaped living room/office/dining room was hopeless. I dreamed of the day when we would live in an apartment or house that had better bones for decorating. All I wanted was a living room with four walls, and a few windows instead of trying to fill the expanse that was our studio-ish apartment. However, throughout this course I learned that no matter where I live–from the White House to small town Nebraska–I still have to work around limitations, and that everyone (even Myquilin Smith and Joanna Gaines) has limitations of their own! As Myquilin explained it in the course, every one has to balance four resources: time, money, ideas, and control. Some people don't have much money to decorate, but have more time to devote to hunting down bargain furniture. Other people have quite a bit of money to use, but don't have the power to do exactly what they want (maybe their husband isn't open to the idea, etc…). This really opened my eyes to the fact that I, just like every one else, have some resources at my fingertips as well as limitations. I might not have a ton of money or a ton of control (since I am living in a rental), but I sure do have time and–thanks to the course–ideas!
Shop your own home
I really didn't feel like we had that much nice stuff, until the course encouraged me to start shopping from what I already had. I began digging into our closets, pulling out unused items, and looking at them with new eyes. It is so much FUN to start looking around at home, and seeing what you might use in different ways to decorate! Myquillin decorates beautifully with plates and baskets on the wall, and I began to start to pay attention to things around me that might be better used in a different way. At the same time, I began ruthlessly getting rid of items that weren't useful–that random turquoise clock on the wall that I never liked, the pile of clothes that cluttered up our closet, and the old picture that I secretly loathed. The more things I got rid of, the more beautiful items I continued to discover for decorating purposes!
Putting art on the wall is the *LAST* thing you should do
When I look around my apartment, I often feel like if I just throw a few more pictures on the wall then I will feel better about my decorating acumen, but this course pointed out that we should only decorate our walls after we've put in the furniture, rug, and drapes.
Every item in the room is a decoration.
We had so much stuff sitting out: from our vacuüm cleaner to a dozen kombucha bottles on our fridge. In the course, I learned, that every item you can see has a voice, and everything is part of the decorating theme. So, if I grabbed a pretty basket to hide those bottles, or tucked my vacuüm cleaner away then I would automatically be improving the room's decor. From ugly wires dangling beneath our desk to boxes of books I needed to put away, I began to try to come up with solutions to hide, put away, or get rid of ugly items that were doing the room no favors.
Make a home you are proud of, now. Don't wait for later.
I have everything I need to make a home out of this oddly-shaped apartment. I don't need a new place, buckets of money or a degree in design. All I need is the knowledge from this course, a bit of time, and some ingenuity. I want to create a home that is peaceful, beautiful, and artsy. I have only just begun, and I am already so excited about the changes so far!!
Why You Should Take this Course Too!
I am a huge fan of this course. If I hadn't taken it, I would still be drowning in longing, disappointment, and apathy when I looked at my home. I wish I could gift this course to every one of my readers!

The course teaches you:
Exactly where and how to start any room
What to focus on
Where to invest time & money
How to use just the right amount of stuff to get the look you are after
What not to worry about
How to give yourself permission to take risks and also take your time
Step by step process that teach you Universal Decorating Truths (not rules!) that can be applied to every room of your house.
It is usually $89 (which is a bit out of my budget!), but you can get it for less than a third of that price AND over a hundred other resources to boot as part of the Ultimate Homemaking Bundle, but you have less than twenty-four hours left to grab it!
Today is the LAST DAY to snag the Ultimate Homemaking Bundle (including the Cozy Minimalist course), so don't wait!!